Articulation
Articulation agreements identify individual courses from transfer institutions that are comparable to, or "acceptable in lieu of" corresponding courses at CSU Fullerton. Successful completion of an articulated course assures the student and the faculty that the student has taken the appropriate course enabling progression to the next level of instruction at CSU Fullerton. These agreements are available via the website link below. The ASSIST website is the official statewide repository of articulation information that includes UC Transferable Course Agreements, IGETC lists, CSU Baccalaureate lists, CSU GE Breadth lists, Course to Course Articulation and Major Preparation Articulation for the Universities of California and the California State Universities.
CSU Fullerton enters both individual course articulation and major preparation articulation in ASSIST for 1986 to present.
I. To view CSUF articulation agreements for California Community Colleges, California State Universities and Universities of California:
First open the ASSIST link below and select "Start ASSIST."
At the "Welcome To ASSIST" screen select CSU Fullerton and select the year (dependent on when the course was/will be taken) and then click on 'continue.' 
Next, under "Agreements Between Two Campuses" select the transfer institution where the course was/will be taken and click on 'continue.'
Choose either articulation by department, by major preparation, or general education breadth and click on 'continue.'
The articulation agreement should appear or a statement, if none exists. You can view or print the articulation agreement at this point.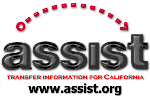 II. To view CSUF articulation agreements for Private Institutions or External Examinations open one of the links below:
Note about PDF:
Requires Adobe Reader to open. If you encounter trouble opening the PDF file above in Internet Explorer right click on the link and select Save Target As... and save the file to your local drive for opening.