Checking Application Status
On this page you will find details on logging into your student portal for the purpose of viewing your application status. CSUF receives thousands of applications. During peak seasons, materials you have submitted, such as test scores or transcripts, do not get processed in the online system as quickly as we would all like. Please be patient if you notice there is information that has not been updated yet. Please also take advantage of the information on the Admissions Office website for answers to frequently asked questions. Not logging into your Student Portal can result in a delayed admission decision or having your application withdrawn for missing a deadline.
Student Portal First Time Login
Before you begin locate your assigned campus-wide ID (CWID) and PIN in your acknowledgement email from the Admissions Office. This email is sent shortly after we receive your application. You need the information on this email to log into the Student Portal. Allow two days from the date on your email acknowledgement before trying to log into your portal.

Step 2 - Under the First time here? click on Create my campus account then proceed to type your Campus-Wide ID (CWID) and your PIN. Click Submit.


Step 2a - You will be asked to verify your identity.

Step 3 - Complete the profile update. You will be asked to choose a personalized campus username and password. Create ones you will remember as you will use your personalized campus username and password the next time you log in to the Student Portal. Always retain your CWID for campus identification. You will also be asked to select hint questions and you will be given the option to update your cell phone number. When you finish entering the required information, click Submit.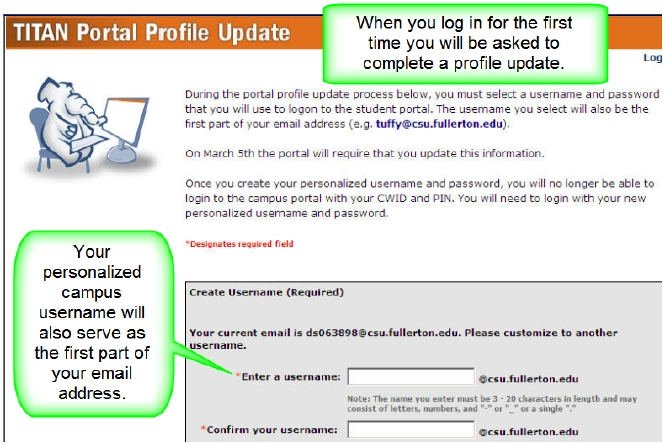 Step 4 - You should now be brought to the Student Portal. For future logins use your custom username and password. The PIN can no longer be used at this point.

Student Portal Subsequent Logins
If you have already created your custom username and password as outlined in the steps above then you are ready to login at http://my.fullerton.edu.
Recovering Lost Username/Password
If you do not remember your username and/or password then you can utilize the "Forgot your password" function.
Step 1 - Go to the Student Portal.
Step 2 - Under the Forgot your password text click Student Portal.

Step 3 - Follow the steps outlined on the Forgot Password Recover page.

Step 4 - If you still cannot recover your custom username and/or password contact the IT Helpdesk at 657-278-8888 for further assistance. Have your Campus-Wide ID (CWID) available.
Viewing Application Status
Step 1 - Login to the Student Portal at http://my.fullerton.edu

Step 2 - Click on Titan Online.
Step 3 - Click on Student Center. Note: If you have pop-up blockers on, you may not be able to access the Student Center. Turn off pop-up blockers, then try again.

Step 4 - Your Student Center appears. Click on the Application Status link at the bottom left-hand side of the page to view your information.

Step 5 - You will see an Application Status page. Click on the View Detailed Information for This Application link above the Accept/Decline button to see where in the process your application is or what tests are required. Or click on the View All To Do Items and continue to click on each item to find what it is and when it is due. If you have applied more than once, refer to the Application Number to verify the documents required or the current status of the application.