WELCOME to Cal State Fullerton Day
This event is designed to introduce students and their families to the Cal State Fullerton Campus.  This wonderful day provides students and their families with the opportunity to meet our faculty, learn about our student services, and tour our campus.
WELCOME to Cal State Fullerton Day is a FREE event  and open to the public
Saturday April 11, 2015
Cal State Fullerton
Titan Gym
REGISTRATION OPENS JANUARY 12, 2015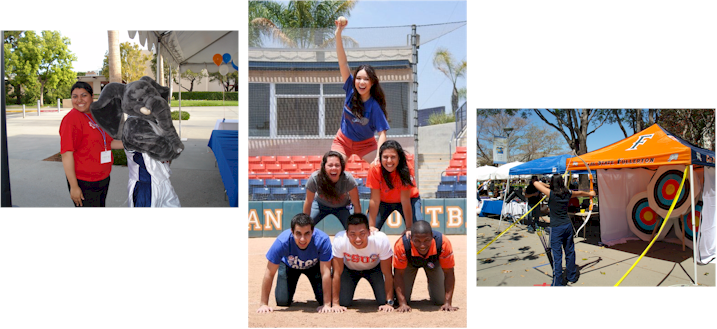 Event Highlights and More
We are excited to meet you and we want to provide you with the best campus experience possible.  To that end we have formulated the following schedule of events:
8:00a.m. – Check In begins.
Our event will take throughout campus with our registration site beginning at the Titan Gym near the State College Parking Structure.  We will have a tent dedicated to welcoming you to our event and provide you with a program/guide for the day. Our Welcome tent will be in front of the Gym.  See campus map http://www.fullerton.edu/campusmap/
A special note for early birds: We know that many of you will arrive early to see your new University.  We welcome your eagerness and we want you to have the best experience possible, even if you come as we are still preparing for your visit.  So for our early birds, coffee will be available for purchase beginning at 8:00 a.m. We may even begin a question and answer session in the gym as soon as 8:00 a.m. if there are enough participants.
8:30a.m. – Formal Welcome from our campus leaders, and an overview of what to expect from the day
9:00a.m. - 12:00p.m.  Explore our campus and enjoy the Titan Expo
9:00a.m. - 1:00p.m. Information sessions will be held throughout the campus and a variety of workshops will begin on the hour until 1:00pm.  The last workshops begin at noon
Workshop Topics:
Attendees may choose from a variety of workshops conducted throughout the morning on such topics as financial aid, freshman programs, student housing strategies, and preparing for new student orientation. Sessions tailored specifically for transfer students from community colleges, future teachers, graduate students and parents are also are scheduled. Additionally, some workshops will be offered in Spanish.