President García Holds Open Forum with ECS Faculty and Staff
March 8, 2017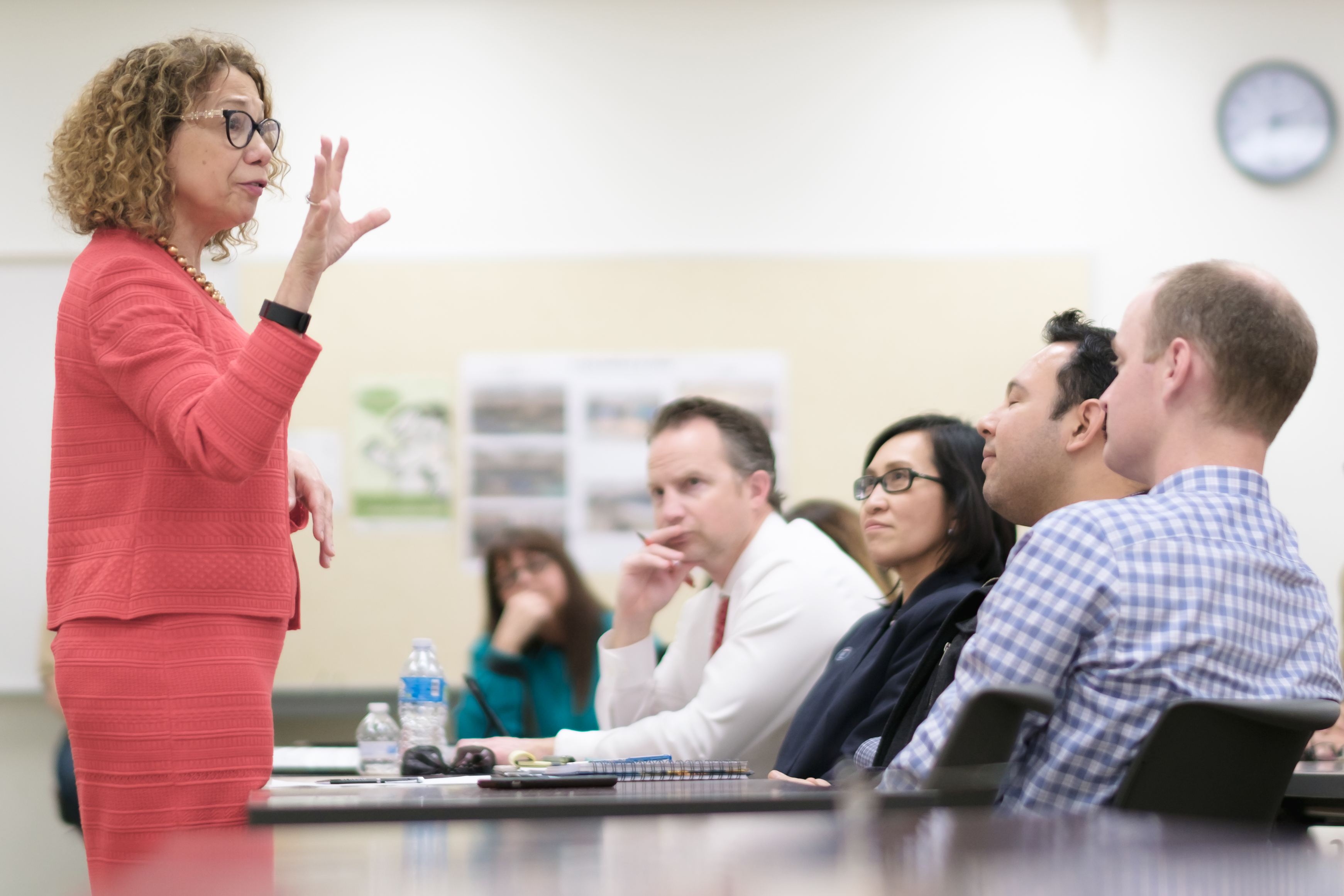 President Mildred García visited the College of Engineering and Computer Science (ECS) and encouraged an open dialogue regarding CSU-wide initiatives, and CSUF goals and programs.
The Open Forum with ECS faculty and staff also provided attendees an opportunity to ask President García questions and provide insight on ECS successes and strategies designed to ensure students are prepared to enter the workforce successfully upon graduation.
Other topics discussed were alumni engagement, student support and connection to campus, and the role faculty and staff play in each student's experience while at CSUF and beyond.
Discussing this, President García said, "Everyone that works at Cal State Fullerton is an educator. How do we use your stories to capture why people should come here?"
Commenting on the visit, Susan Barua, interim dean of the college said, "It was great having President García visit with ECS. I enjoyed the conversation during our one-on-one meeting and the discussion that followed with the ECS department chairs and program coordinators. President García, while acknowledging ECS faculty and student achievements, also reaffirmed the task at hand towards improving our graduation rates and narrowing the achievement gap."
Photos from President García's visit.
Susan Barua, interim dean of the college.It was great having President García visit with the College of Engineering and Computer Science (ECS). I enjoyed the conversation during our one-on-one meeting and the discussion that followed with the ECS department chairs and program coordinators.  President García, while acknowledging ECS faculty and student achievements, also reaffirmed the task at hand towards improving our graduation rates and narrowing the achievement gap." Interim Dean Susan BaruaIt was great having President García visit with the College of Engineering and Computer Science (ECS). I enjoyed the conversation during our one-on-one meeting and the discussion that followed with the ECS department chairs and program coordinators.  President García, while acknowledging ECS faculty and student achievements, also reaffirmed the task at hand towards improving our graduation rates and narrowing the achievement gap."