Outstanding Faculty
"The Faculty Is Amazing and Accomplished."
Professor Raphael Sonenshein, chair of the Political Science Department, is a prolific public speaker and author as well as an expert often quoted in the media about politics in Los Angeles and throughout California. He is the author of Politics in Black and White: Race and Power in Los Angeles and The City at Stake: Secession, Reform, and the Battle for Los Angeles. He served as executive director of a commission charged with creating the city's first new charter in 75 years – a charter later approved by an overwhelming majority of voters.
Sonenshein is committed to teaching as well as research. "We are educating the backbone and leadership of the next California. That's a huge responsibility, and one that makes us essential to the state. I love teaching students who work as hard as ours do, both in and out of the classroom. They will be very well prepared for leadership roles."
A Historian Takes A Broad View of College Education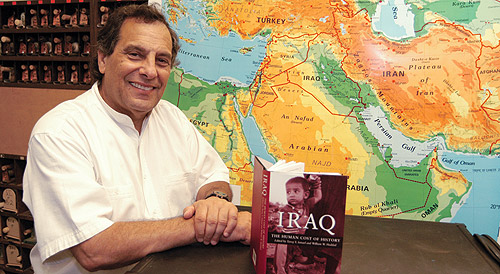 When students ask William Haddad, chair of the History Department, why they should study history, he replies: "I tell them that the purpose of a college education is not to learn a vocation but to teach 'transferable skills': the ability to read critically, to write, to be able to think and synthesize. History gives one those skills. It will make you an informed citizen, something critical to a democracy, and allow you to hold any job that requires thinking, reading and writing."
He finds teaching at Fullerton especially rewarding. "The best thing about teaching here is knowing that you are making a difference. We have thousands of students who are the first in their family to attend college. We have thousands more who are pursuing the American dream: their parents are immigrants, they do not speak English at home, but they all know that an education is key to advancing in American society."
Help recruit outstanding faculty committed to their students.
Give Online »