Go Global This Winter!
Offered over Winter Session, Global Titans First Year Experience provides you the opportunity to study abroad during your first year on campus. The program is available to first-year students enrolled in UNIV 100.
Program Destinations and Learning Goals
The Global Titans program has four destinations, each providing unique academic and cultural experiences. For more details on program highlights and learning goals—as well as a link to the online application—visit the online program brochure.
Baja California Sur, Mexico
San Juan, Puerto Rico
Santo Domingo, Dominican Republic
View Program Brochure
The Puerto Rico program has been cancelled due to hurricane damage
Timeline
Program dates
The Baja California Sur, Mexico program runs from January 2 - 8, 2018. The Santo Domingo, Dominican Republic program runs twice: January 2 - 8, 2018 and January 9 - 15, 2018.
Application deadlines
The final application deadline is October 31. Applicants will receive a decision within a week after applying.
Costs & Financial Aid
Program fees are estimated at $700 and include transfers, lodging, specified service-learning and community-based experiences, designated meals and required international health insurance.
The program fee is based on a minimum student enrollment. If the student enrollment falls below the minimum, CSUF reserves the right to adjust the program fee to accommodate a smaller number of students.  
Additional costs not included in the program fee
International airfare
Designated meals
Passport and visa fees as applicable
Immunizations
Personal expenses (e.g., entertainment, shopping) and excursions not included in the program itinerary
Payment schedule
Initial deposit of $100 due September 15 (refundable up to October 6)
First payment of $200 due October 6 (non-refundable)
Second payment of $200 due October 31 (non-refundable)
Third payment of $200 due November 22 (non-refundable)
Scholarship recipients will only need to pay $100 for the second payment and third payment will be waived.
Scholarships
Scholarships of $300 will be available to select applicants. Scholarship applications are due by October 31. Recipients will be notified with their program application decision.
Apply for your Global Titans scholarship here.
Global Titans Advising
Please use our scheduler to book an appointment to meet with Global Titans Program Coordinator Abigail Segura, who can answer your questions about studying abroad over Winter Session 2018. All meetings will be held in University Hall 244 (campus map
).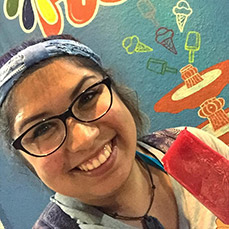 "It is a life-changing experience because it shows you how people within a community work in another country. Nothing can match that."
– Madeleine Ybarra; Studied abroad in Baja California Sur, Mexico (Spring 2017)
Program at a glance
---
Course
Fall 2017 UNIV 100
Faculty
Dr. Kari Knutson Miller
Program Length
One week in January 2018
Application Deadline
October 31, 2017
See timeline for other important dates.
Apply Now
How to Apply
You can start your program and scholarship application anytime through the Study Abroad website; just log-in with your campus email and password.
Apply Now