Nuestra Graduación
The Latinx Community Resource Center is proud to host Nuestra Graduación, the cultural recognition celebration honoring Cal State Fullerton's Latinx graduating students. The inaugural event will be held in May 2022.
2022 Celebration Registration
The first annual recognition celebration titled "Nuestra Graduación" will be held in May 2022 and to honor students graduating in Fall 2021 and Spring 2022. During the ceremony, students will receive a Nuestra Graduación stole as the walk across the graduation stage. There is no cost to attend for graduates or their guests. Registration is required as spots are limited. Only registered students will be able to participate in the ceremony and receive a stole.
Sunday, May 22nd
11am - 1pm
Titan Gym
Registration is now closed.
About the ceremony
Due to limited capacity in the Titan Gym, participants in the inaugural Nuestra Graduación are limited. Registered students will receive an email to confirm their participation.
The graduation ceremony will consist of a processional, remarks from university officials and selected student speaker, reading of graduates' names, and recessional. Each graduate's name will be called, and they will have the opportunity to walk across the stage and receive their stole.
Guests
Loved ones are integral parts of the journeys of graduating students. In addition to celebrating the graduates at Nuestra Graduación, we are also honoring and celebrating the family and friends who have supported and stood alongside the students. Each registered graduating student may bring up to 4 guests to the ceremony with them. Please indicate the exact number of guests you will be bringing on the confirmation form. 
Attire
Graduating students should wear their full CSUF regalia (cap and gown) to Nuestra Graduación. Please visit Titan Shops for details on how to obtain your regalia. Students participating in the ceremony will receive their graduation stole as they walk across the graduation stage when their name is called. 
Parking
Parking is free and permits are not required on campus on the day of Nuestra Graduación. For the closest proximity to the Titan Gym, we recommend that participants park in the State College Parking Structure. Please visit Parking and Transportation Services 

for more information.
Additional Questions
Please visit the DIRC Recognition Celebration FAQs page

for answers to general questions or contact lcrc@fullerton.edu. 
Nuestra Graduación Stole
Nuestra Graduación participants will receive a free stole during the ceremony on May 22nd, 2022.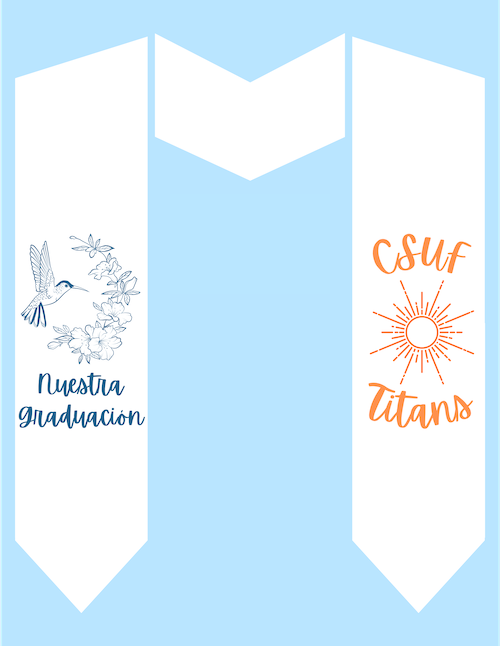 At this time, stoles are not available to students who do not attend the ceremony. 
For information about the serape stole offered at previous Chicanx/Latinx & Native American Graduations hosted by the Chicano/Latino Faculty & Staff Association (CLFSA) please visit the CLFSA website

.