student it helpdesk
New 24X7 Service
---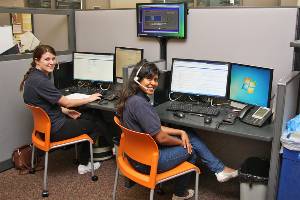 After a successful pilot run, the limited phone and chat hours will be replaced by round the clock, 24x7 assistance!
   Launched in Spring of 2015 as part of the Student Success Initiative (SSI), the Student IT Help Desk is dedicated to providing technical support to CSUF students. Here Titans can get answers to questions about campus related technologies such as Titanium, Titan Online, student email and more. Student academic achievement is a priority for IT, therefore service is provided through numerous channels:
• Phone: 657-278-8888
• Self-service via Portal (navigate to the "Online IT Help" button)
     o Students can submit a general IT question
     o Live chat with a technician
• Email: StudentITHelpDesk@fulletton.edu
• Walk-in: Student Genius Corner, located on the first floor of Pollak Library North                                       
   Additionally, services provided include help with wireless connection to the campus WI-FI and VCL, syncing campus email on all personal devices as well as downloading and installing free campus software from the list available at sts.fullerton.edu. Should assistance with any hardware or operating systems issues be required, students can easily get an assessment from Titan Tech Services. This is a service from Titan Shops, which now has a secondary location next to the Student Genius Corner making all technology troubleshooting fast, convenient and accessible.