Carolyn Mraz
Scenic Design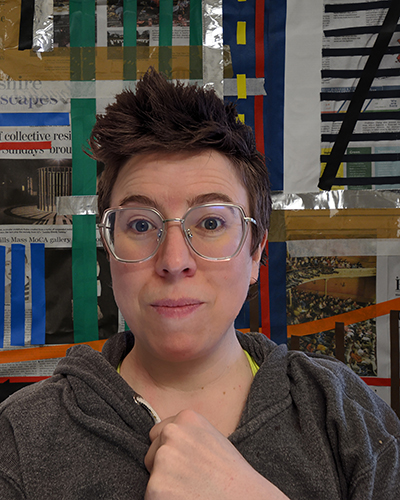 Contact
Location: CPAC 293
Phone: (657) 278 - 7181
Email:cmraz@fullerton.edu

Website

Please contact the Theatre & Dance Department Office  (657-278 -3628) for current office hours
CAROLYN MRAZ (she/they) is a set designer and educator, with an instinct for spectacular yet utilitarian visual methods of story-telling, and inventive yet dramaturgically sound uses of space for performer and audience alike. In these particular times of COVID, racial justice uprising, and political unrest, Carolyn is most interested in how we can all listen more clearly to unheard stories and support the workers that make this collaborative art possible.
Carolyn has collaborated on over 70 world premiere new works with a range including off-Broadway musicals, immersive events, performance art, regional theater, site-specific shows, and international tours, including some favorite design challenges: a magic show, a spaceship, a sexy lounge in the hull of a decommissioned ferry, a rock music staged in an active church sanctuary, and a collapsable artist-stitched performance tent.  Carolyn earned five Hewes award nominations for shows in the downtown NYC theater scene (Cabin, Spaceman, I'll Never Love Again, and The Black Crook) while also working more broadly across the eastern seaboard with Kid Prince and Pablo (Kennedy Center, DC), The Sound of Music (Northern Stage, VT), The Wolves (Philadelphia Theatre Company, PA) and Porgy and Bess (Spoleto Festival USA, Charleston, SC).  Carolyn is a longtime associated artist and collaborator with Target Margin Theater and Clubbed Thumb in NYC, and A Host of People in Detroit.  For a visual understanding of all this and more production work, please visit www.cmraz.com

.
With a devout commitment to student-centered experiential learning, Carolyn has previously taught set design, visual dramaturgy/communication, and technical skills classes --as well as mentoring student productions -- at both BFA and liberal arts programs including Williams College, The University of the Arts, Montclair State University, and The University of New Haven.  Carolyn is an Oberlin College alum with an MFA in Design for Stage and Film from NYU/Tisch, and a proud member of United Scenic Artists, Local USA 829, IATSE.