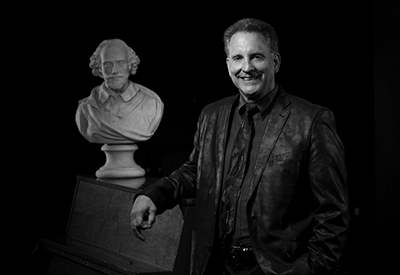 Contact
Location: CPAC 130
Phone: (657) 278 - 3538
Email: jvolz@fullerton.edu

Please contact the Theatre & Dance Department Office  (657-278 -3628) for current office hours
Courses
THTR 351, Theatre Management
THTR 475A,E, World Theatre

Jim Volz is an international arts consultant, author, producer and CSUF professor emeritus. He served as a longtime critic/arts columnist for New York's Back Stage and is the founding editor of the Shakespeare Theatre Association's international publication, Quarto. He has produced over 100 professional productions, consulted for over 100 arts institutions and published more than 100 articles on management, arts criticism, Shakespeare, and theatre in Oxford University Press' Theatre Research International, Hollywood's Drama-Logue, New York's Back Stage, and myriad other articles for national and international publications. He is the 2020 recipient of the international Shakespeare Theatre Association's prestigious Douglas Cook Award and the 2011 recipient of the American Shakespeare Center's international Burbage Award for "advancing the enjoyment of the works of William Shakespeare for the delight and instruction of the world." Dr. Volz was also inducted into the esteemed College of Fellows of the American Theatre at the Kennedy Center in Washington D.C. in 2014.
Jim is the President of Consultants for the Arts, Past President of New York's National Theatre Conference, and was a longtime National Advisory Council Member for the Institute of Outdoor Theatre. He has a long history of service on the National Artistic Board of Directors for Florida's Orlando Shakespeare Festival, the Board of Trustees for the Cal State Fullerton Philanthropic Foundation and the Editorial Board of distinguished Shakespeare scholars for Canada's ISE, based at the University of Victoria. He is a current member of the American Theatre Critics Association and a voting member for the prestigious Tony Award's Regional Theatre Award. His acclaimed book, How to Run a Theatre is in its 2nd Edition (London's Methuen Drama) and An Introduction to Arts Management (Bloomsbury Publishing), Working in American Theatre (Methuen Drama) and The Back Stage Guide to Working in Regional Theater are ongoing textbooks in undergraduate and graduate programs internationally.
Devoted to arts education, Dr. Volz has taught at six universities, administered MFA programs in acting, stage management, and arts administration and served as Head of the BFA in Arts Administration program and acting Chairman of the Department of Theatre and Dance at Wright State University. He is a Ph.D. graduate from the University of Colorado, Boulder.
From 1982-1991, Jim orchestrated the tremendous growth of the Alabama Shakespeare Festival as managing director in partnership with Artistic Directors Martin L. Platt and Kent Thompson. As a tribute to the Board of Directors and volunteers of the Alabama Shakespeare Festival, Volz authored Shakespeare Never Slept Here, published by Cherokee Press of Atlanta. More recently, he served as a presenter at Stratford, England's Royal Shakespeare Company, a grant reviewer for the National Endowment for the Arts and the National Endowment for the Humanities and a consultant to arts companies internationally. He is married to award-winning artist/educator Evelyn Carol Case.