Welcome to the
Biology Greenhouse Complex Website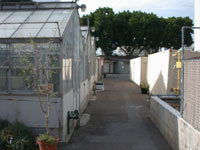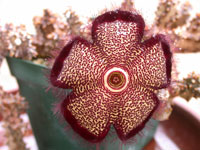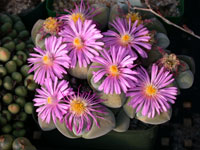 The Biology Greenhouse Complex (BGC) provides space and facilities to teach labs and conduct research. Hidden behind a perimeter of brick wall and unknown to many non-biology students, the complex includes four glass houses, a lath house, a head house, and a large outdoor area. It also houses a diverse collection of plants for use in the biology lectures and labs. Hundreds of students pass through the greenhouses each semester as they learn about plants and biodiversity. Edward Read, the greenhouse manager, and his assistants are constantly working to maintain the grounds and the diverse plant collection. They are happy to help those interested in learning more about plants and the related biology courses.
The BGC is located just west of McCarthy Hall. Hours are M-F 8:30am to 4:30pm. The entrance is near the middle of the east perimeter wall. Appointments to visit the facilities must be made with the manager.
See the Campus Map

, The greenhouses are north of entrance 2.
For information, please contact: Edward Read (657) 278-2766 or e-mail at: eread@fullerton.edu
https://www.facebook.com/CSUFGreenhouse/