Guardian Scholars
Cal State Fullerton's Guardian Scholars Program is committed to supporting current and former foster youth exiting the foster care system. We provide a comprehensive program that contributes to the quality and depth of the student's university experience. We serve as a resource for young adults by assisting in their development and equipping them with the educational and interpersonal skills necessary to become self-supporting, community leaders, role models, and competent professionals in their selected fields. Our services provide holistic guidance and support for student's Academic Goals, Professional Development, and Lifelong Learning. 
Guardian Scholars Services
Basic Needs Support, Career Development, Academic Coaching & Planning, Educational Support Resources, Community Connections, and more.
Center for Scholars services
Study spaces & supplies, Skill development workshops, Summer experiences for incoming students, Retention services, Computer lab, Free printing, and more.
Support provided in collaboration
Priority course enrollment, Priority consideration for year round on-campus housing, Counseling and Psychological Services,  On- and off-campus foster youth resources, and more.
GS - Scholarship Application
Open through March 2, 2023
The Guardian Scholars Scholarship application for Fall 2023 is now open. The GS Scholarship application is part of the Honors and Scholars Application.
Basic eligibility criteria:
Current or former foster youth who were in care on or after their 13th birthday
Under the age of 26
Current or prospective CSUF student
The scholarship application closes March 2, 2023.
Click to Apply via the Honors & Scholars App

GS - FOster youth Program
Open Year Round
A foster youth program which provides holistic support services & academic resources to for current and former foster youth at Cal State Fullerton. We seek to enhance student educational goals, degree completion, personal and professional development, and more.
Applicants will be asked to provide a copy of their foster youth verification documentation or ward of court letter to us for verification via email,   scholars@fullerton.edu
The Guardian Scholars Support Services is open year round for applications. Current and prospective CSUF students can apply at any time. Click below for the Guardian Scholars Support Services Application.
No deadline to apply
Apply Online

How to Access the Honors & Scholars Application
Log in to the student portal - https://my.fullerton.edu/

After logging in search for scholarships in the search box on the right side.
Please note - You must have applied to CSUF in order to access the Student Portal and the Honors and Scholars Application. You do not need to be admitted prior to completing the application. 
Need help logging into your student portal so you can complete the Honors and Scholars Application?
Now Recruiting Scholars 
The Center for Scholars coordinates the scholars selection for the Guradian Scholars Scholarship Program as well as the scholarship programs listed below:
Abrego Future Scholars
Guardian Scholars
President's Scholars 
Click here

to learn more about these Center for Scholars programs.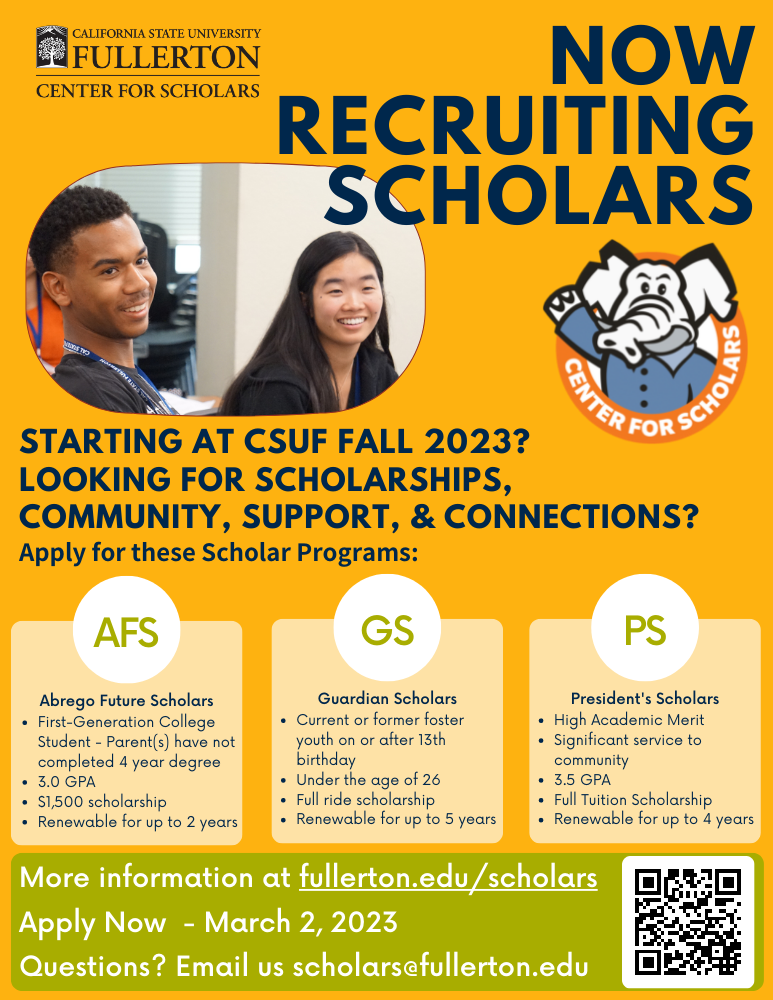 Honors & Scholars Application
The Honors & Scholars Application includes the programs listed above as well as the Business Honors Program and University Honors Program.