Creative Commons Licenses
Creative Commons licenses are not an alternative to copyright. They work alongside copyright and enable the creators of the work to modify copyright terms to best suit their needs.
What is Creative Commons?
Creative Commons (CC) is a nonprofit organization that enables the sharing and use of creativity and knowledge through free legal tools.   Creative Commons is devoted to expanding the range of creative work available for others to build upon and share. Current copyright laws are generally extremely restrictive. Creative Commons has done the hard legal figuring to enable you to simply and easily express your preferences with respect to what people can do with your original work.
What are CC Licenses?
The Creative Commons licenses, also known as CC licenses, are legal tools that provide a simple, standardized way to give the public permission to share and use creative work—on conditions of the owner's choice. All of the licenses require that users provide attribution (BY) to the creator when the material is used or shared. These easy-to use CC licenses let the originator easily add copyright terms to the default BY license.  The three additional license elements are: NonCommercial (NC), which prohibits commercial use of the material; NoDerivatives (ND), which prohibits adaptations of the material; and ShareAlike (SA), which requires adaptations to be released under the same original license.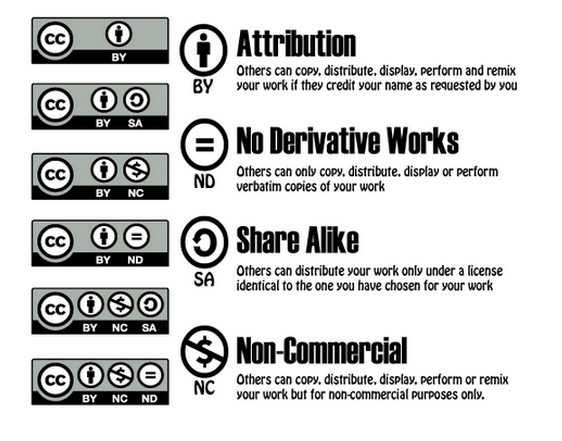 Transcript for    Creative Commons licenses graphic
The Public Domain Mark identifies work that is  unencumbered – free to use without attribution, or material that no longer holds copyright and can be freely used. This tag is recommended for works that are free of known copyright around the world.  Creative Commons do not recommend the Public Domain Mark for identical work that may be restricted by copyright in some jurisdictions while free of copyright in others .
What Kind Of Work can Hold a CC License?
CC licenses may be applied to any type of work, including educational resources, music, photos, databases, government and public sector information, and many other types of materials. The only categories of works for which CC does not recommend its licenses are computer software and hardware, and works that are no longer protected by copyright or are otherwise in the public domain which should be label with the Public Domain Mark.
Which license is right for you?
Choosing to use a Creative Commons license allows a more liberal use and sharing of original work while still maintaining reasonable copyright protection. Before sharing  content that you have created or adapted , make sure that you have all the necessary rights to use or reuse the resource.
Considerations before you Decide what License you Need
The following lists contain basic parameters to observe before choosing a Creative Commons license, or prior to using Creative Commons-licensed material. These records are not exhaustive.
Selecting a CC License
The Creative Commons website provides a   "Wizard" tool to help you select  the license most appropriate for your needs.
Platforms like Youtube, Wikipedia, Flickr, and Vimeo provide users with the option to add a CC licenses to any object uploaded to the sites. 
CC Licenses related reading
Creative Commons licenses and their explanations
The Creative Commons FAQ