Founder &
Executive Director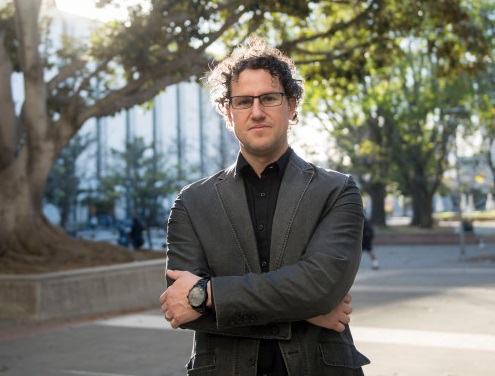 (Photo by Kevin Sullivan, Orange County Register)
Brady Heiner, Ph.D.
(657) 278-2950
bheiner@fullerton.edu
Brady Heiner is a founding member of the CSU Project Rebound Consortium Executive Committee and the Founder and Executive Director of Project Rebound at Cal State Fullerton. He grew up in California's Central Valley, also known as California's "prison alley," where there are more prisons per capita than institutions of higher learning. He holds a B.A. (with honors) in Modern Culture & Media from Brown University, M.A. and Ph.D. degrees in Philosophy from the State University of New York, and is an Associate Professor of Philosophy and Affiliated Faculty of African American Studies at Cal State Fullerton. Heiner is the recipient of the Cal State Fullerton University Leadership Award, the College of Humanities & Social Sciences Outstanding Untenured Faculty Award, and the Dean's Award for Faculty Scholarly Achievement. He was selected by the Orange County Register as one of the "Most Influential People in Orange County."
Brady Heiner and Sarah Tyson, "Feminism and the Carceral State: Gender-Responsive Justice, Community Accountability, and the Epistemology of Antiviolence," Feminist Philosophy Quarterly  3.1 (2017): 1–36.
Brady Heiner, "The Procedural Entrapment of Mass Incarceration: Prosecution, Race, and the Unfinished Project of American Abolition," Philosophy & Social Criticism 42.6 (2016): 594–631.
"Does Plea Bargaining Hurt People of Color?" Interview with Brady Heiner on National Public Radio, Louisville, Strange Fruit Radio Show, September 2015.
"Rethinking Mass Incarceration: Gender, Race, and the Prison Industrial Complex," 44th Annual CSUF Philosophy Symposium, April 10-11, 2014.