TitanCard for Faculty & Staff
The TitanCard is the official identification card issued by the University to students, faculty, staff, or other authorized individuals for the sole purpose of identification and access to campus facilities, services, and activities. The card identifies your primary affiliation with the campus and not temporary or seasonal affiliations. Statuses are generated by the campus student system (PeopleSoft) and/or by Human Resources.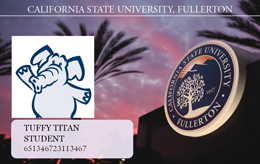 The TitanCard is the only card you will need on campus for identification purchases and to make purchases using TitanTender. For more information about your TitanCard, such as getting a TitanCard or adding funds, review our frequently asked questions page. 
Carding Technologies
Please email the TitanCard Office for more information regarding the additional services we offer:
Access & Tracking Options
Attendance Tracking
Demographic Information
Access Validation
Terms and Conditions
By using TitanTender, a stored value account, or buying a TitanCard Gift Card you agree to the following terms and conditions.
TitanCard Information
Note: Once the TitanCard form has been submitted, please bring valid ID and CWID to the TitanCard office.