Faculty Grants
for service-learning or academic internship courses
All Service-Learning and Academic Internship Grant funds have been expended for the 2018-19  year. 
Funding is provided through the Center for Internships & Community Engagement; the CSU Chancellor's Office Call to Service Initiative; and the Student Success Initiative.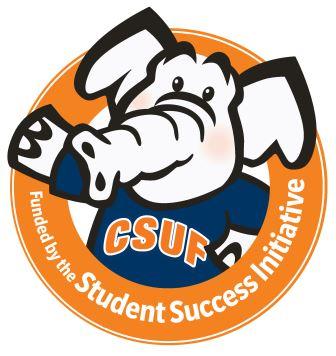 Service-Learning Partnership (Project)
up to $3,000
Faculty will strengthen a partnership between the University and the community through a collaboratively-conceived, course-related service-learning project that targets an unmet community need. Must result in an implemented project within the one-year grant period.
Add Service-Learning to a Course
up to $3,000
A faculty member, lecturer or instructor will modify the curriculum of an established course or create a new course to include a required service-learning component. Service-learning allows students an alternative mode for exploring the course topic by providing 20 to 40 hours of service that meets an identified community need, combined with reflective exercises to connect the service and need to the learning objectives for the course.
Assessment / Scholarship of Service-Learning
up to $2,000
Supports research or scholarship about service-learning. Funds for an assessment project about the impact of a CSUF service-learning course, or development of a manuscript for a peer-reviewed scholarly journal or book chapter about service-learning pedagogy or results. Assessment project or manuscript must be complete by the end of the grant period (December 15, 2018).
Travel for Service-Learning / Academic Internships
Support for faculty travel to establish SL/AI partnerships, and/or to provide partial support for programmatic travel costs linked to U.S. or international SL/AI courses. Faculty advance travel/prep: up to 80% of state-allowed expenses (max $2,000; max one award per faculty). Study away/abroad programme expenses: up to/not more than 50% of state -allowed travel costs. Travel documentation for all travels must be submitted and processed through faculty members departments.
Conference Travel
Support for a member of the permanent faculty (with or without student co-presenters) who will participate in a professional, academic, or service-learning conference to present a paper or attend a session(s) specifically about service-learning or academic internships. Evidence of attendance or presentation at service-related session(s) required for reimbursement.
Faculty: up to $500 toward registration or state-allowed travel. Students: up to $1,000 per student toward registration or state-allowed travel (maximum 5 students); students must be listed as co-presenters and travel with co-presenting faculty member.
2018 Awardees
Ms. Rose Adams, Art
Dr. Pamela Fiber Politics, Administration and Justice
Dr. Carrie Lane American Studies
Dr. Jarret Lovell Politics, Administration and Justice
Dr. Saul Tobias Liberal Studies
Dr. Jennifer A. Yee Asian American Studies
2017 Awardees
Ms. Rose Adams, Art
Dr. Binod Tiwari Civil and Environmental Engineering
Ms. Lisa Draskovich-Long, Theatre and Dance
Dr. Julián Jefferies, Literacy and Reading Education
Dr. Mikyong Kim-Goh, Social Work
Dr. Carrie Lane, American Studies
Dr. Jarret Lovell, Politics, Administration and Justice
Dr. Risto Marttinen, Kinesiology
Dr. Tu-Uyen Nguyen, Asian American Studies Program
Dr. Saul Tobias, Liberal Studies
Dr. Ying-Chiao Tsao, Human Communication Studies Department
Dr. Kathleen Wilson, Kinesiology
Dr. Jennifer A. Yee, Asian American Studies
2016 Awardees
Dr. Laura Chandler, Health Science
Dr. Ryan Gottfredson, Management
Dr. Cora Granata, History
Dr. Julián Jefferies, Literacy and Reading Education
Dr. Sara Johnson, Anthropology
Dr. C. Jessie Jones, Center for Healthy Neighborhoods, Ms. Courtney Wysocki, City of Fullerton, and Mr. Barry Ross, St. Jude Medical Center
Dr. Jarret Lovell, Politics, Administration and Justice
Dr. Risto Marttinen, Kinesiology
Dr. Tu-Uyen Nguyen, Asian American Studies
Dr. Jennifer Piazza, Health Science
Dr. Dennis Siebenaler, School of Music
Dr. Debra Stout, Child and Adolescent Studies
Dr. Sora Park Tanjasiri, Health Science
Dr. Ying-Chiao Tsao, Human Communication Studies
Dr. Chris Ruiz-Velasco, English, Comparative Literature, and Linguistics
Dr. Jennifer A. Yee, Asian American Studies
Dr. Jenny Yen, Child and Adolescent Studies, and Katie Herbst, Jumpstart
2015 Awardees
Dr. Joao Barros, Kinesiology
Dr. Laura Chandler, Health Science
Dr. Julian Jefferies, Literacy and Reading Education
Dr. Stacy Mallicoat, Politics, Administration and Justice
Dr. Kent Marume, Asian American Studies
Dr. Bonnie Massey, Sociology
Dr. Tu-Uyen Nguyen, Asian American Studies
Dr. Orvic Pada, Sociology
Dr. Eric Reyes, Asian American Studies
Dr. Joanne Stohs, Psychology
Dr. Ying-Chiao Tsao, Human Communication Studies
Dr. Kathy Webster, Kinesiology
Dr. Jennifer A. Yee, Asian American Studies
2014 Awardees
Dr. Laura Chandler, Health Science
Dr. Christine Gardiner, Politics, Administration and Justice
Dr. Cynthia Gautreau and Dr. Michelle Vander veldt, Elementary Education
Dr. Arnold Holland, Visual Arts, Graphic Design
Dr. Jack Jinghui Liu, Modern Languages and Literatures
Dr. Patricia Perez, Chicana/o Studies
Dr. Devon Thacker Thomas, Sociology
Dr. Ying-Chiao Tsao, Human Communication Studies
Dr. Martha Webber, English, Comparative Literature, and Linguistics
Dr. Lisa Winstead, Elementary and Bilingual Education, CSUF Bilingual Authorization Program
Dr. Jindong Wu, Geography
Dr. Jenny Yen, Child and Adolescent Studies
2013 Awardees
Dr. John Breskey, Health Science
Dr. Kiran George, Computer Engineering
Dr. Edythe Krampe, Sociology
Dr. Gail Love, Communications Department (Ballentine Endowment for Nonprofit-Campus Research)
2012 Awardees
Dr. Erualdo Gonzalez , Chicano Studies
Dr. Jack Jinghui Liu, Modern Languages and Literatures
Dr. Tu-Uyen Nguyen, Asian American Studies
Dr. Chris Street, Secondary Education
Dr. Saul Tobias, Liberal Studies
Dr. Ying-Chiao Tsao, Human Communication Studies
Dr. Jindong Wu, Geography
2011 Awardees
Dr. Ioakim Boutakidis, Child and Adolescent Studies
Dr. Jennifer Burnaford and Dr. Jayson Smith, Biological Science
Dr. Russell Espinoza, Psychology
Dr. Christine Gardiner, Politics, Administration and Justice
Ms. Breta Hedges, Marketing, whose partner, Second Harvest Food Bank of Orange County, received the 2011 Community Engagement Award for Stellar Student Support
Dr. Arnold Holland, Visual Arts, Graphic Design
Dr. Edythe Krampe, Sociology
Dr. Rebecca Otten and Dr. Mary Wickman, Nursing
Dr. Jennifer Ponder and Dr. Teresa Crawford, Elementary and Bilingual Education
Dr. Jindong Wu, Geography
Dr. Jennifer A. Yee, Asian-American Studies, recipient of the 2011 Community Engagement Award for Outstanding Service-Learning Instructor

SERVICE-LEARNING Grant Resources
2018-19 Grants

All funds have been expended for 2018-19