ECS Week
February 18-22, 2019
---
The College of Engineering and Computer Science (ECS) celebrates ECS Week through a variety of events highlighting the important contributions in these academic and professional fields.  Though ECS Week is largely influenced by the nationally recognized Engineers Week, annually taking place in the same week of George Washington's birthday, in ECS we also recognize the equally important contributions made in computer science.  Founded in 1951 by the National Society of Professional Engineers, National Engineers Week highlights the positive contributions engineers offer to society and emphasizes the importance of learning math, science, and technical skills. 
We invite engineers, computer scientists, students, faculty, staff, educators, and leaders to join in this celebration!
Events
---
 In honor of ECS Week, the following events will be taking place:
Spring Welcome & Club Fair: Monday February 18, 2019
 Date: Monday, February 18
Time: 12:00pm - 2:00pm
Location: ECS Quad Area
Hosted by the ECS Inter-Club Council in collaboration with the ECS Dean's Office, the Spring Welcome and Club Fair is a great opportunity to learn about the student organizations and creates a space to network with ECS students, faculty, and staff.  Pizza and light refreshments will be provided on a first-come, first-served basis.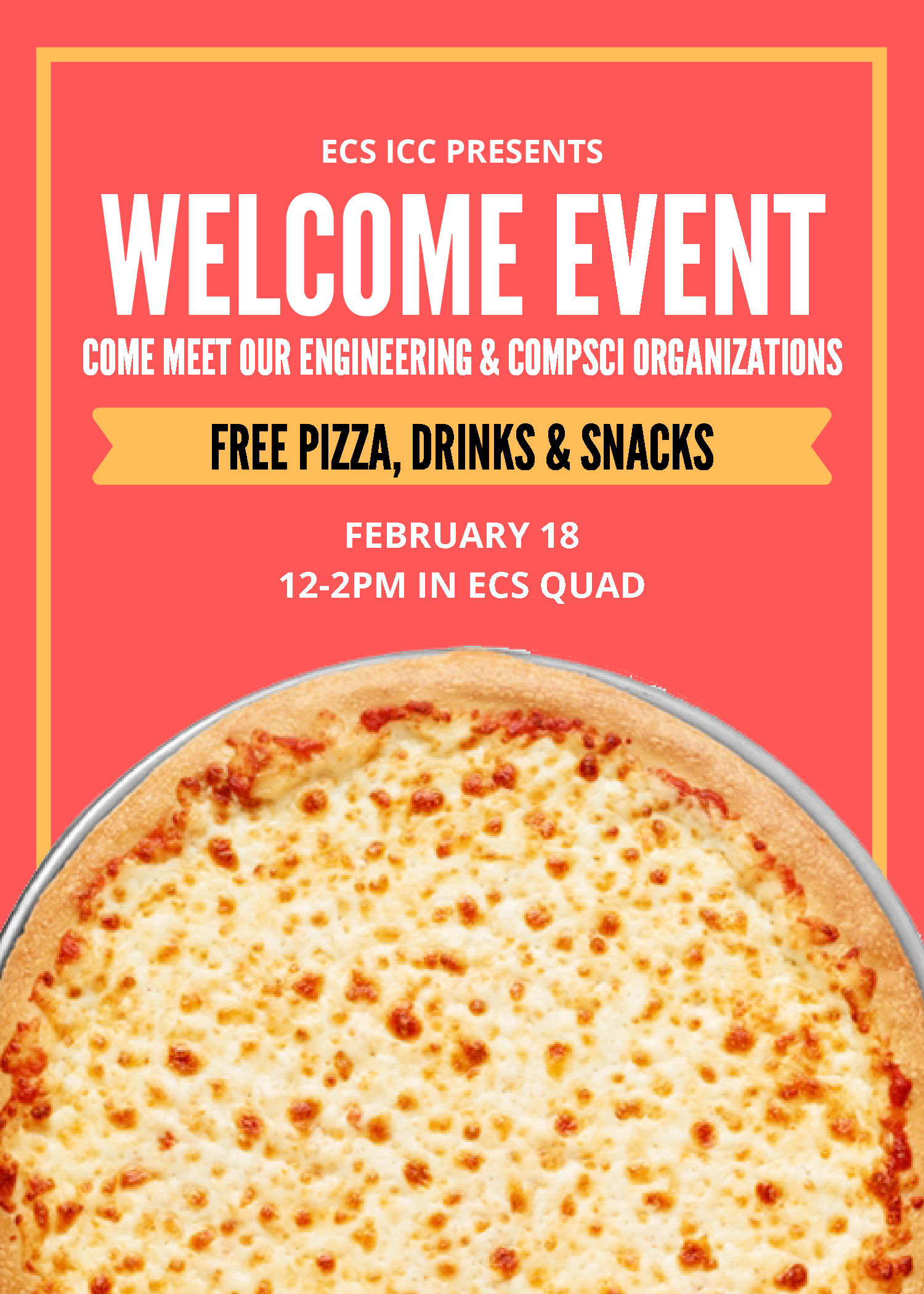 Interactive Seminar: Tuesday, February 19, 2019
 Date: Tuesday, February 19
Time: 11:00pm - 12:30pm
Location: Computer Science 206
Learning to Think Entrepreneurially in Engineering & Computer Science
Entrepreneurial thinking is essential in today's ever-changing world. Thinking entrepreneurially influences our perspectives in a way that highlights opportunities, fosters creativity, ignites ambition, increases resilience, and encourages resourcefulness to adapt to the on-going enhancements in engineering and computer science fields. A by-product of entrepreneurial thinking is the powerful incentive to learn and remain relevant as an individual, company, corporation, or industry.
Industry Talk: Wednesday, February 20, 2019
 Date: Wednesday, February 20
Time: 1:00pm - 2:00pm
Location: Computer Science 206
The Age of Disruption
We no longer live in the Age of Information, but the Age of Disruption. Legacy businesses are vulnerable to becoming obsolete such as Blockbuster, Sears, Toys R Us and more, far more. All US business are faced with loss of market share and an inability to attract critical new generation workers unless they proactively "Self Disrupt", meaning, invoke formal organizational transformation. IT is at the forefront of this sweeping phenomenon. Join an experienced IT industry leader for a discussion on these disruptive changes and the impact / opportunity it creates for fresh CSUF graduates to take advantage of these changes to gain meaningful employment.
RSVP to let us know you're coming!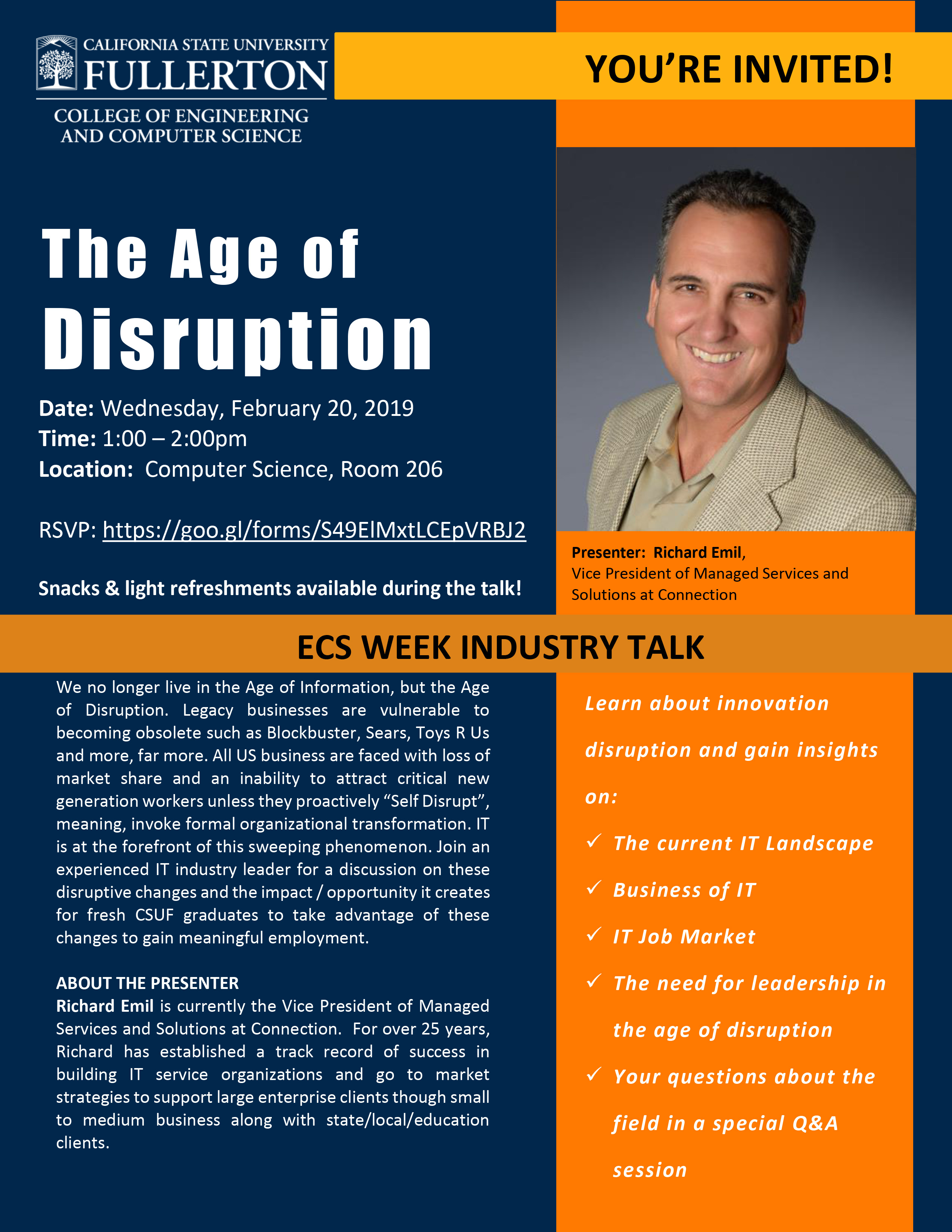 ECS Career Fair Prep: Walk-In Resume Consultation / Wednesday, February 20, 2019
 Date: Wednesday, February 20
Time: 2:00pm - 5:00pm
Location: Computer Science 201C
Ensure your resume gets the best opportunity to stand out from the crowd!    Presented by the CSUF Career Center, students will have access to receive resume review feedback from our ECS Career specialist in preparation for the ECS Career Fair. 
ECS Career Fair: Thursday, February 21, 2019 (RSVP link below)
 Date: Thursday, February 21
Time: 10:00am - 2:00pm
Location: TSU Pavilions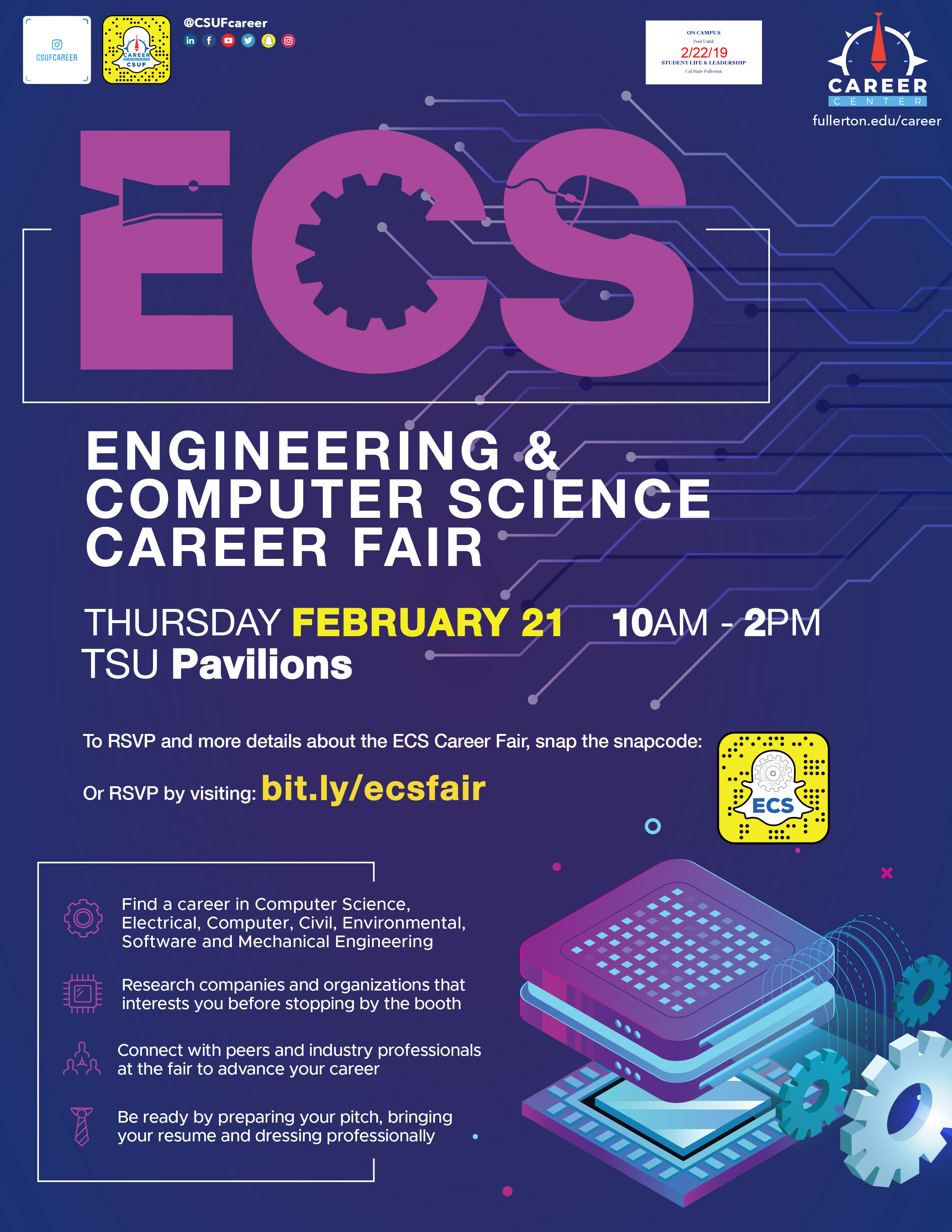 Professor for a Day: Thursday, February 21, 2019
 Date: Thursday, February 21
Time: 9:00am - 5:00pm
Location: Various Locations