Tenure Track Faculty Position Available
Deadline is November 16, 2018
Read brief position description.
Events coming up
PRESENTATION
Monday, February 18, 2019
Dr. Matthew Kirby
"How we study California's history of drought, floods, fire, and vegetation: What the past can tell us about the future"
Pollak Library South, Room 360
SEMINAR
Tuesday, February 19, 2019, 4:30PM
"Tectonic and thermal history of the Black Hills Precambrian basement, South Dakota: Influence of the Ancestral Rocky Mountains Orogeny on Laramide uplifts"
McCarthy Hall 341
SEMINAR
Friday, February 22, 2019, 4:30PM
"Volcanoes and Beyond: Insights from Near-Surface Geophysics and Computational Modeling"
McCarthy Hall 341
SEMINAR
Thursday, February 28, 2019, 4:30PM
"Building Bridges to a New World in Water Resource Management"
McCarthy Hall 341
---
Welcome FROM THE DEPARTMENT CHAIR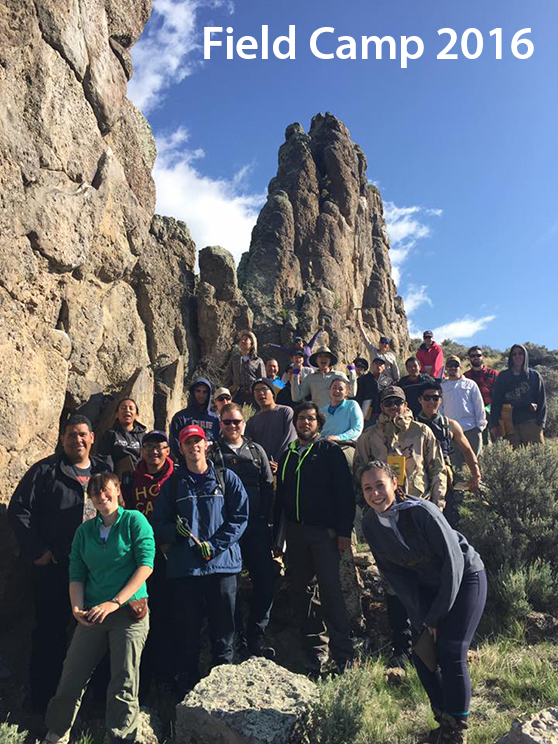 Welcome to the Department of Geological Sciences at C.S.U.F!! I invite you to explore these pages to learn about our department, including our student-centered courses and the incredible research our students and faculty are doing locally, regionally, and around the world. Check out the "Where in the World" poster that shows where you might find C.S.U.F. geologists.
What programs do we offer? Well, we offer two undergraduate degrees – B.S. in Geology and B.A. in Earth Science, an M.S. in Geology, and a minor in Geology. Nearly all of our courses include high-impact field and/or lab learning environments with ample opportunity for original student research. Both our B.S. and M.S. in Geology require an intensive thesis. Our B.A. in Earth Science is designed to offer maximum flexibility to enable students to choose a set of courses that align with their academic and career goals. As our well-established alumni could attest, C.S.U.F. geology graduates continue to be highly sought-after by both employers and grad schools.
That's some of the Dirt! Jeff Knott, Chair