2020 Alumni of the Year - Christine Irwin
ABOUT Christine Irwin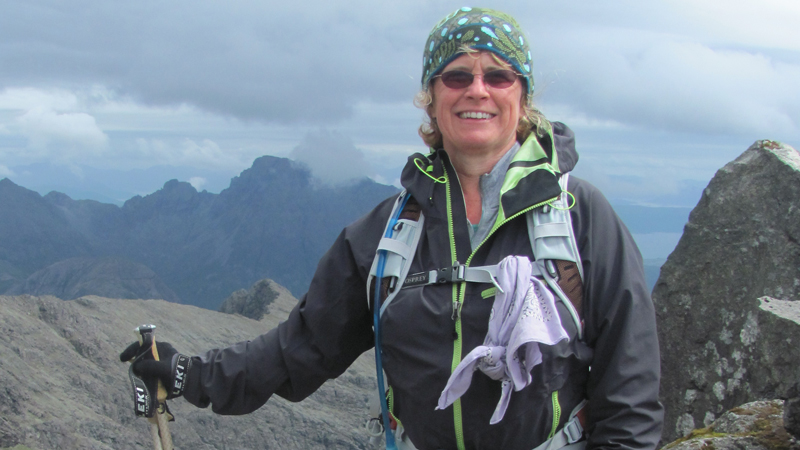 Christine (Barretta) Irwin has long been an outstanding representative and alumni of C.S.U.F. Geological Sciences. In 1993, as an undergraduate, she was the 3rd recipient of the Margaret Skillman Woyski scholarship. The following year, the C.S.U.F. Geological Sciences faculty selected her as co-recipient of the Outstanding Major award. Through her undergraduate thesis work, she was a co-author for a research paper entitled Neoproterozoic-Lower Cambrian Sequence Stratigraphy, Eastern Mojave Desert, California: Implications for Base of the Sauk Sequence, Craton-Margin Hiinge Zone , and Evolution of the Cordilleran Continental Margin (Pacfic Section S.E.P.M, Book 82, pg. 1-19). Upon graduation, Christine was a project researcher and lab supervisor at Scientific Resource Surveys, Inc.
Since 1997, Christine has been a physical science teacher at Fullerton Union High School. She has taught physical oceanography, earth science and A.P. environmental science to thousands of students. From her position at F.U.H.S, she has influenced innumerable students to study geology and earth science as a college major, several at C.S.U.F. (e.g., Katya Beener, Jamie Hoffman and Dillon Henderson), but others at U.C. Santa Barbara, U.S.C, Colorado School of Mines and Oregon. Two students from C.S.U.F. Geological Sciences (Bree Baumgartner and Olivia Pipala) were student teachers under Christine's mentorship. Bree Baumgartner is now a high school science teacher at Bonita High School and Olivia Pipala is a high school science teacher at F.U.H.S.
After nearly 10 years at F.U.H.S, Christine returned to C.S.U.F. and earned a M.S. degree (Phil Armstrong, advisor). Her thesis was on the Burial and Exhumation History of the eastern Los Angeles Basin from Apatite Fission-track Thermochronology. She was also the recipient of several equipment grants as she implemented A.P. environmental science at F.U.H.S. In 2008, she was named Teacher of the Year by the Fullerton Parent-Teacher-Student Association.
In summary, Christine Irwin has used her geology degrees from C.S.U.F. to improve the lives of thousands of Fullerton high school students. She has been recognized by F.U.H.S. as an outstanding educator and has influenced young scientists throughout her teaching career. Christine's career choice and success is also a C.S.U.F. Geological Sciences success story because one of the main missions of the C.S.U. system is graduation of outstanding K-12 teachers. In addition, she and her husband Mike Irwin are strong and generous supporters of Geological Sciences. Rarely do they miss an event hosted by Geological Sciences.
We would normally present Christine with her award at Research Day, which unfortunately had to be cancelled due to the coronavirus pandemic. We hope to present her award at Alumni Night in the Fall of 2020 instead.
Congratulations to Christine!
2020 Alumni Dinner
October 9, 2020, 6PM.
Location: Florentine's in Fullerton, California
102 N Harbor Blvd.
Dear Alumni,
Please R.S.V.P. to Leslie Hargrove, lhargrove@fullerton.edu
We are looking for pictures for a slide show at Alumni Dinner. Please e-mail photos of you out in the field, at your job or even you and your family! E-mail them to Geology@fullerton.edu
Looking forward to seeing you all and catching up.
Cheers!
Nominations for 2021 Alumni of the Year. View link to form download.