Nominations for 2020 Alumni of the Year now being accepted. View link to form download.
2019 Alumni of the Year - Janis Hernandez
ABOUT Janis Hernandez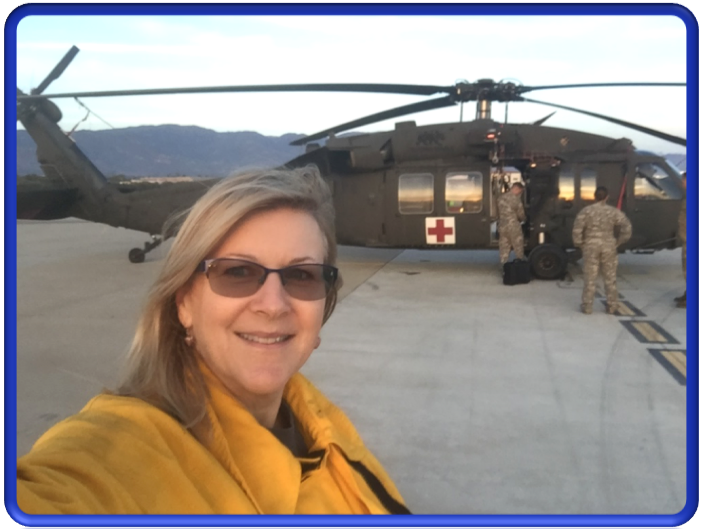 Janis Hernandez obtained her B.S. in Geology from California State University, Fullerton in 1995 during which time she served two years as the President of the Geology Club. Janis completed a senior thesis entitled "Aquifer analysis of the Cucamonga Groundwater Basin" with Dr. John Foster. During the first nine years after graduation, Janis worked as a staff geologist, as a project geologist, and as a client relations manager for geotechnical consulting firms in southern California.
Hired by the California Geological Survey in 1991, Janis was recently promoted to Senior Engineering Geologist (Supervisor) for the California Geological Survey (C.G.S.). In this capacity, she manages the Southern California Regional Office. Her certifications include Registered Professional Geologist #7237 and Certified Engineering Geologist #2260.
Janis's professional experience includes, geologic mapping, fault and landslide investigations, groundwater well construction management, and geophysical studies. Her work at the California Geological Survey has encompassed several programs including Seismic Hazards Zonation, Earthquake Fault Zone mapping, geologic mapping in the Lancaster, Victorville, and Borrego Valley 100k map areas for STATEMAP, and Seismic Hazards Review for the Division of the State Architect. She has performed surface-rupture mapping for post-earthquake events (El Mayor Cucapah earthquake, 2010, and Parkfield earthquake, 2004), and has performed debris flow inundation mapping for post-fire events in Santa Barbara County (Montecito, 2018). She has also collaborated with geophysicists from the U.S. Geological Survey in performing guided wave seismic studies on the Santa Monica, Raymond, and Hollywood Faults.  One of her long-term projects includes new geologic mapping within the Peninsular Ranges Batholith in northern San Diego County, where she is mapping detailed Cretaceous and Jurassic plutons and pre-batholitic metamorphic rocks in collaboration with retired U.S.G.S. geologist, Victoria Todd. Janis is also performing detailed mapping along the Elsinore Fault Zone in this area, which will update the regulatory Earthquake Fault Zone maps. In many areas in San Diego County, Native American Tribal lands are crossed by the Elsinore Fault, and in addition to being given permission to map on the reservations, Janis met with the Tribal Chairmen of these areas to explain location of the fault traces, so the tribal members can be aware of the surface rupture hazard as they plan structures for their communities.
Janis participates in mentorship/outreach activities at the Geological Society of America meetings, and California Science Teacher events. She was a panelist for an N.S.M. Career Week and is currently working to involve current C.S.U.F. students in paid mapping experiences with the C.G.S. Janis is a role model for young women aiming for careers in field-based geosciences.
2019 Alumni Dinner
October 4, 2019, 6PM.
Location: Florentine's in Fullerton, California
102 N Harbor Blvd.
Dear Alumni,
Please R.S.V.P. to Leslie Hargrove, lhargrove@fullerton.edu
We are looking for pictures for a slide show at Alumni Dinner. Please e-mail photos of you out in the field, at your job or even you and your family! E-mail them to Geology@fullerton.edu
Looking forward to seeing you all and catching up.
Cheers!