Nominations for 2019 Alumni of the Year now being accepted. View link to form download.
2018 Alumni of the Year - William Goodman
ABOUT BILL GOODMAN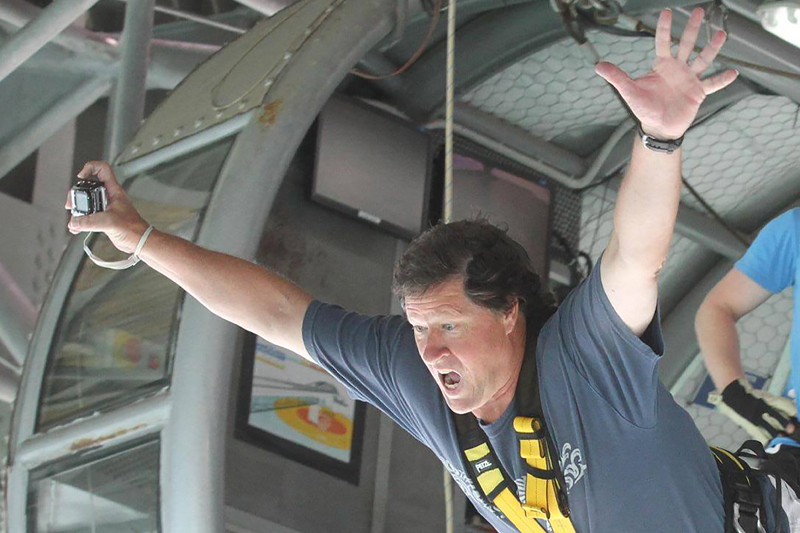 Bill Goodman received his Bachelor's Degree from the C.S.U.F. Department of Geological Sciences in 1983.  As a senior, he was a student assistant for the California Division of Mines and Geology and a research assistant for the Department of Geological Sciences.  He completed his senior thesis under the advisement of Dr. John Cooper.  In 1984 he was hired by Beach Leighton as a staff geologist at Leighton and Associates. 
In May 1994, Bill and two of his colleagues departed Leighton to form N.M.G. Geotechnical, Inc. (N.M.G.).  As the company grew, the opportunity arose to increase staff and Bill immediately looked to the C.S.U.F. geology department for future professionals.  Bill has hired 15 entry level and intern geologists from the geology department at Cal State Fullerton, many of whom are still employed by N.M.G.  He is passionate about geotechnical fieldwork and values the focus the department places on field techniques.  
Bill has remained an active and dedicated supporter of the C.S.U.F. Department of Geological Sciences since the early 1990s.  He has coordinated field trips with the C.S.U.F. geology department to allow engineering geology students an opportunity to experience a day in the life of an engineering geologist.  Students were able to observe downhole logging of a large diameter bucket auger borings, mapping of ancient and active landslides and observing the placement and testing of engineered fill.  The students were also able to interact with professional engineering geologists, geotechnical engineers, soil technicians and grading contractors.   
Bill was on the Advisory Board to the Dean of Natural Science and Mathematics at C.S.U.F. for approximately 5 years.  He is also an active member of the Association of Engineering Geologists, the South Coast Geological Society, and the Association of Environmental Professionals.  He also consults for the Board of Professional Engineers, Land Surveyors and Geologists for review of professional licensing exams. 
Bill is a distinguished alumni who provides an outstanding example to the past, current and future C.S.U.F. geology students of the enthusiasm for geology at the professional level. 
2018 Alumni Dinner
October 12, 2018, 6PM.
Location: Florentine's Grill in downtown Fullerton. At Harbor Blvd. and Commonwealth Ave.
102 N. Harbor Blvd. Fullerton, California
Dear Alumni,
Please R.S.V.P. to Leslie Hargrove, lhargrove@fullerton.edu
We are looking for pictures for a slide show at Alumni Dinner. Please e-mail photos of you out in the field, at your job or even you and your family! E-mail them to Geology@fullerton.edu
Looking forward to seeing you all and catching up.
Cheers!