2017 Alumni Dinner
October 6, 2017, 6PM.
Location: Florentine's Grill in downtown Fullerton. At Harbor Blvd. and Commonwealth Ave.
102 N. Harbor Blvd. Fullerton, California
Dear Alumni,
Please R.S.V.P. to Leslie Hargrove, lhargrove@fullerton.edu
We are looking for pictures for a slide show at Alumni Dinner. Please e-mail photos of you out in the field, at your job or even you and your family! E-mail them to Geology@fullerton.edu
Looking forward to seeing you all and catching up.
Cheers!
2017 Alumni of the Year - James Harrell
ABOUT JIM HARRELL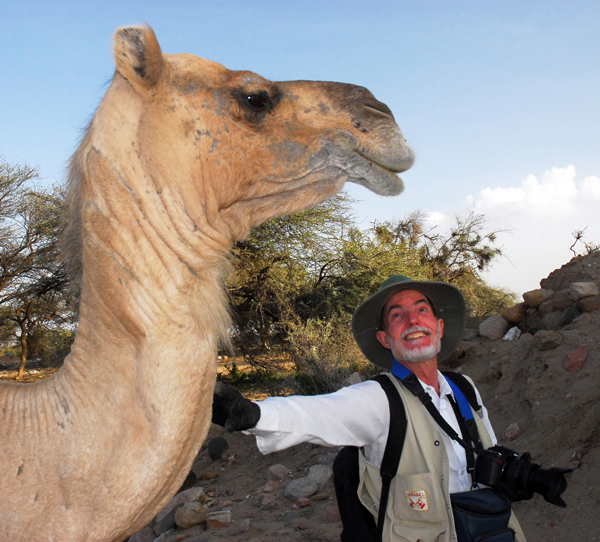 Professor James Harrell is a member of the first class to graduate from the C.S.U.F. Department of Geological Sciences in 1971. He was one of four in that first graduating class. Dr. Harrell graduated cum laude with a B.A. in Earth Science (the only degree awarded at that time) with a minor in archeology. He also completed two years of study abroad at the University of Uppsala in Sweden as part of his B.A. degree. Dr. Harrell went on to earn a M.S. in geology at the University of Oklahoma (1976) and a Ph.D. in geology at the University of Cincinnati in 1983. Professor Harrell has been a faculty member at the University of Toledo since 1979 and in 2009, after 30 years of teaching at Toledo, retired as a Professor Emeritus.
Dr. Harrell's research focus is on the geoarchelogy of Egypt where he is a leader in that field. He has published 96 scholarly papers in archeological geology and 24 articles in sedimentology, geostatistics, and paleoclimate. He has taught a variety of classes at University of Toledo, authored a lab manual, and supervised 17 M.S. theses along with being honored for outstanding faculty research in 1995, and the Distinguished Doermann Lectureship in 1999. He was the 2002 A.A.P.G. National Distinguished lecturer.
Dr. Harrell has had a long and distinguished career that began at C.S.U.F. at the same time as the Department. He is recognized as a prolific and outstanding educator both at his institution, within his profession, and by professional organizations and an excellent representative of the C.S.U.F. Department of Geological Sciences.