2021 Alumni of the Year - Rene Perez
ABOUT RENE PEREZ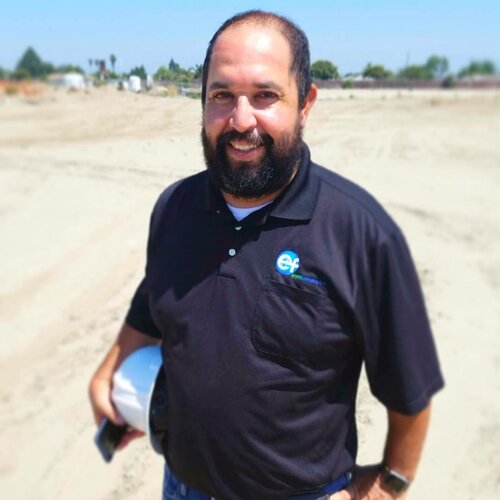 Mr. Perez has earned two degrees from Cal State Fullerton. In 2002, he graduated with a B.S. under the direction of Dr. Phil Armstrong. His undergraduate thesis related to study in the Eastern Sierra El Mayor in Baja California, Mexico… was it the beer or the geology that drew him to that area?
After finishing his undergraduate work and while working full time, Rene opted to begin graduate school. He finalized his M.S. by submitting his thesis entitled "Hydrostratigraphy of the Alto Deep Well: Implications for Sustainable Groundwater Recharge into the Distal Victorville Fan Sediments, Southwestern Mojave Desert, California" in 2009. His graduate advisor was Dr. John Foster. Of note - Rene ran the G.I.S. lab and helped manage the 30+ students who participated in compiling data for the Mojave Water Agency - one of the largest grants our department has received.
Since obtaining his first degree, Rene has been working steadily in the field of Geology for a variety of consulting firms in Orange County. It was while he was working for Earth Consultants International as a staff geologist (and starting graduate school) that Rene became interested in G.I.S. It is not an overstatement to say that in the intervening years, he has become an expert in this exciting field. Mr. Perez's current portfolio of experience includes low altitude aerial photography expertise (he was one of the very first U.A.V. pilots to be licensed by the F.A.A. in 2014), aerial photo interpretation, hydrogeologic investigations/modeling including three dimensional visualization of complex data, contaminate transport study, hydrometeorology, general geology and groundwater issues. Rene enjoys the challenge of helping lay people visual complex data sets. He appreciates using technology for communication of clear and meaningful evaluations of data.
As an alum of C.S.U.F., Rene has given freely of both his time and money to our department. On multiple occasions Rene has come back to campus to help students with G.I.S. and/or remote sensing projects or issues with their thesis. Rene has also come to campus to give professional talks to the students and faculty on his area of expertise of low altitude aerial mapping. As an annual donor to our Fall Alumni Dinner and as one to challenge others to match his giving, he has made a great and positive impact on our present and future students.
Rene has four children: Bradley, Mia, Emme and Noah. He and his wife Laura live in Riverside. Mr Perez is licensed to practice both Geology and Hydrogeology in California. (PG-8184, CHG-997).
Nominations for 2022 Alumni of the Year. View link to form download.
2021 Alumni Dinner
Friday, October 1, 2021 6:00PM P.T.

Dave & Buster's  --  Orange
20 City Dr. West
The Outlets at Orange (formerly the Block)
Orange, California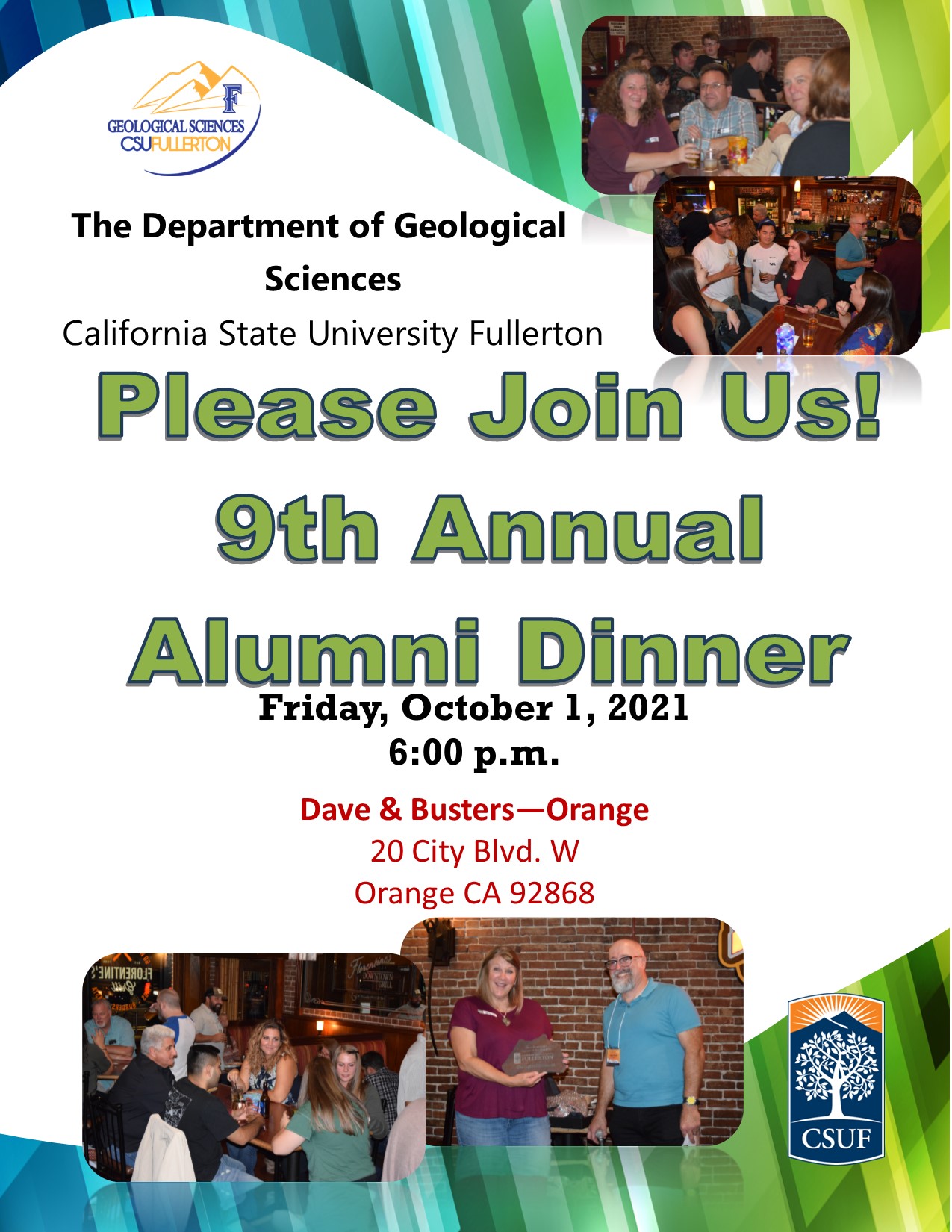 Please support the Department of Geological Sciences to enhance and endow our scholarships.

Looking forward to seeing you all and catching up.
Cheers!