2019-2020 Research Scholars 
We are extremely proud of each of our LSAMP Research Scholars, and would like to share their success! LSAMP Research Scholars have distinguished themselves in many ways: through their academic achievements, research experiences, service to their campuses and communities, and through their compelling personal stories.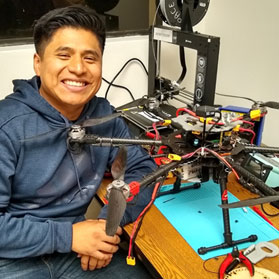 Francisco Arevalo
Francisco Arevalo is a senior Computer Engineering major at California State University, Fullerton. This year is his first year with LSAMP. Currently, Francisco is working under Dr. Yu Bai for his self-driving drone research project and has been since Spring 2019. Francisco's research involves the construction and design of a drone from the ground up to aid in campus security and transportation of a load. Francisco is the team lead of Titan Sentinel and works alongside three other group members. At the moment, Francisco and his team are working to bring powerful functions to Sentinel with various innovative approaches. These approaches include machine learning, 3D printing, and natural language processing. Francisco will use LSAMP funds to provide Sentinel sight with the addition of a camera, spare parts, and new hardware to remotely control it. Lastly, Francisco hopes to pursue a career in machine learning and hardware design. More specifically, he would like to research efficient hardware designs to support various innovative algorithms by exploiting new transistor designs.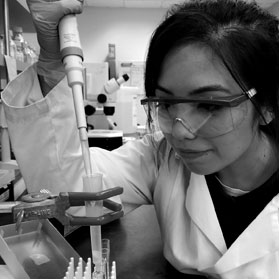 Reianna Campos
Reianna Campos is a senior undergraduate student majoring in Biochemistry with an emphasis in Biotechnology at California State University, Fullerton. She has been an LSAMP participant for two years. Reianna has been conducting research for over two years in a biochemical lab that studies methane producing microorganisms under the guidance of Dr. Madeline Rasche. Methane is the second most abundant greenhouse gas in the earth's atmosphere and has also been correlated with obesity in humans. Reianna focuses her study on the first step of tetrahydromethanopterin (H4MPT) side-chain biosynthesis, a coenzyme which functions as a methyl-transfer carrier within methane production. The first step of H4MPT side-chain biosynthesis is catalyzed by ribofuranosylaminobenzene 5'-phosphate (RFAP) synthase where p-aminobenzoic acid (PABA) and phosphoribosyl pyrophosphate (PRPP) are converted to RFAP, carbon dioxide and inorganic pyrophosphate. Her work is focused on the crystallography of RFAP synthase and on the discovery and kinetic characterization of PABA analogs to use as inhibitors of RFAP synthase. Reianna's career goal is to become a physician-scientist.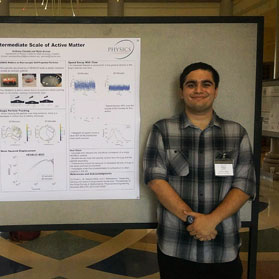 Anthony Estrada
Anthony Estrada is currently a junior Physics major at California State University, Fullerton and is starting his first year in the LSAMP program. He has been participating in Dr. Wylie Ahmed's research group, Soft Living and Active Matter Lab, since May 2019. Anthony's research focuses on active matter on a macroscopic scale through the study of the autonomous motion of self-propelled animatronics. Being an LSAMP research scholar, Anthony can focus primarily on his schoolwork and research. Anthony is planning to go onto a graduate program after receiving his B.S. in Physics. Anthony hopes to do his part in pushing the boundary of the collective knowledge of the world through his academic study.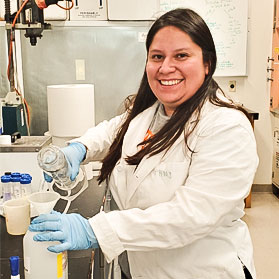 Alejandra Garcia
Alejandra Garcia is a senior Cell and Developmental Biology major at California State University, Fullerton. She has been an LSAMP Research Scholar for two years in Dr. Linder's copper research lab. Alejandra's project involves purifying the protein Alpha-2-macroglobulin from human and pig blood plasma so she can compare how these two proteins function in interacting with copper in mammalian bodies. This research is important to Alejandra for two reasons. She is passionate about helping the scientific community further understand mammalian organisms, and she feels that she has gained valuable research skills in the process. As a result of receiving funding from LSAMP, Alejandra's research has progressed as she has discovered another protein, Hemopexin, that also interacts with copper in pigs. Alejandra's career goals include obtaining a Ph.D. in Biology; she plans to apply to graduate school for the 2020 academic year.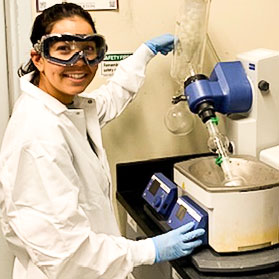 Coral Garcia
Coral Garcia is a junior majoring in Chemistry at California State University, Fullerton and this will be her first year in Louis Stokes Alliance for Minority Participation (LSAMP). She is currently under the guidance of Dr. Pecic as a LSAMP Research Scholar and has been involved in this lab for one semester. Ms. Garcia's research involves using medicinal chemistry techniques to develop soluble epoxide hydrolase (sEH) and fatty acid amide hydrolase (FAAH) inhibitors which can potentially alleviate inflammation and chronic pain. This research has impacted Ms. Garcia because helping others has always been a priority of hers. The LSAMP Research Scholar funds will help aid the development of this significant drug by providing her with the necessary equipment to obtain accurate and precise data. Since she hopes to impact the health care world, Ms. Garcia's career goals are to attend a physician assistant program and to further continue her medicinal chemistry research with Dr. Pecic.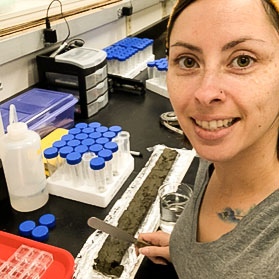 Stephanie Hernandez
Stephanie Hernandez is a senior Earth Science major at California State University, Fullerton and has been involved in LSAMP for one year. She is currently participating in research in Dr. Kirby's Paleoclimatology lab as an LSAMP Research Scholar and has been involved in this lab for over a year. Stephanie's project involves sampling and running analyses on soil sediments from various lakes. This research is of importance to Stephanie because she has a passion for the Environment, which she contributes to by studying paleoclimatology. Stephanie's research has progressed into obtaining more data from more California lakes as she has received funding from LSAMP as an academic year scholar, which has allowed her to put more time in at the lab including a trip over winter break to extract more soil sediment cores. Her career goals include obtaining a Master's and a Ph.D. in Environmental Science, and she hopes to continue her research to reveal important results in paleoclimatology, which will lead to data to aid in addressing future environmental climate issues. Stephanie will apply to domestic and international graduate schools for the 2020 academic year.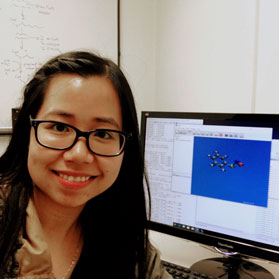 Kate Luong
Kate Luong is a senior chemistry major at California State University, Fullerton. This is her first semester being involved in the LSAMP program. She is currently participating in a research with Dr. Andrew Petit's computational chemistry lab since summer 2019. Her current research focuses in understanding the specific molecular pathways through which nitrosothiophenol (PhSNO) falls apart after absorbing ultraviolet light. This is in collaboration with Nathan Kidwell's experimental laboratory at the College of William and Mary. Her future work will involve studying how excited NO can transfer energy to other gas molecules, beginning with O2. This work is important for better understanding atmospheric and combustion chemistry. Kate's career goal is to work in industry while she hopes to obtain a PhD in chemistry to continue research after her graduation.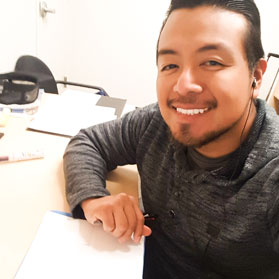 Gabriel Martinez
Gabriel Martinez is a senior majoring in applied mathematics at California State University, Fullerton. He has participated as an LSAMP Scholar since the fall of 2017. His newfound interest in dispersive partial differential equations has led him to his current project on elasticity and asymptotic reductions for thin sheets under the mentorship of Nicholas Brubaker, Ph.D., from the department of mathematics. Gabriel is interested in dispersive equations because they describe the propagation of waves for a certain medium, such as the energy of elastic surfaces, which could lead to properties of interactions at the quantum level. Understanding and investigating these mathematical systems is Gabriel's primary goal for graduate school. He will be applying to graduate school for the 2020 academic year in hopes of achieving a Ph.D. to become a professor of mathematics.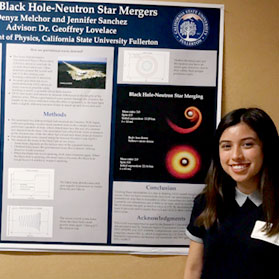 Jennifer Sanchez
Jennifer Sanchez is a senior physics student at Cal State University, Fullerton. This is Jennifer's second year being involved with LSAMP. She is currently working at CSUF's own Gravitational Waves Physics and Astronomy Center, also known as GWPAC. Jennifer has been working at the GWPAC for three years with her advisor, Dr. Lovelace. Her research is focused on modeling black hole-neutron star (BHNS) mergers using the Spectral Einstein Code (SpEC) and using ParaView to visualize them. She is also contributing code to a new astrophysical software called Spectre which will be replacing SpEC in the future. These simulations are steps in helping the Laser Interferometer Gravitational-Wave Observatory (LIGO) search for gravitational waves. Her career goals include attending graduate school to obtain a doctorates degree and hopes to continue to do research in gravitational waves.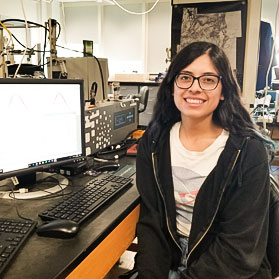 Stephanie Salas
Stephanie Salas is a chemistry major at California State University, Fullerton. She participated in the LSAMP program last year and is excited to start this semester as a Research Scholar. Stephanie plans to continue her research in Dr. Curtis' aerosol chemistry lab, where she has worked over the past year. Her research involves the use of cavity enhanced absorption spectroscopy (CEAS) to measure the scattering and absorption of light in aerosols to determine their correlation to climate change. Stephanie's research is of importance to her because she is genuinely interested in sustainability and environmental change. Her career goal is to pursue a Ph.D. in analytical chemistry and work toward advancements in alternative energy sources with sustainability in mind. Stephanie will be applying to graduate school in fall 2020.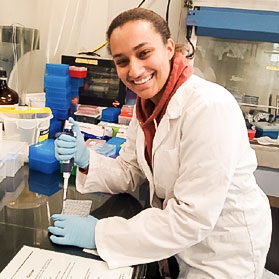 Aleeyah Savoy
Aleeyah Savoy is a senior Biochemistry major at California State University, Fullerton. This is her first year in LSAMP. She is currently participating in Dr. Linder's lab as a LSAMP Research Scholar, and has been in the lab for 1 year. Aleeyah's project involves treating rat kidney and liver cells with estrogen to observe the expression of copper-related pumps and carries within the body. This research is important to Aleeyah because copper is an essential trace element and is much needed for varying biochemical processes. Aleeyah's research has progressed to analyzing live rat subjects and comparing this data to the data obtained in a cell culture model. Her research goals are to continue collecting data on the live rat subjects and providing sufficient data. Her career goals include educating the public about the importance of research and allowing research to provide better knowledge about human health. She hopes to apply to graduate school for 2021 academic year.