2nd Annual Alumni Night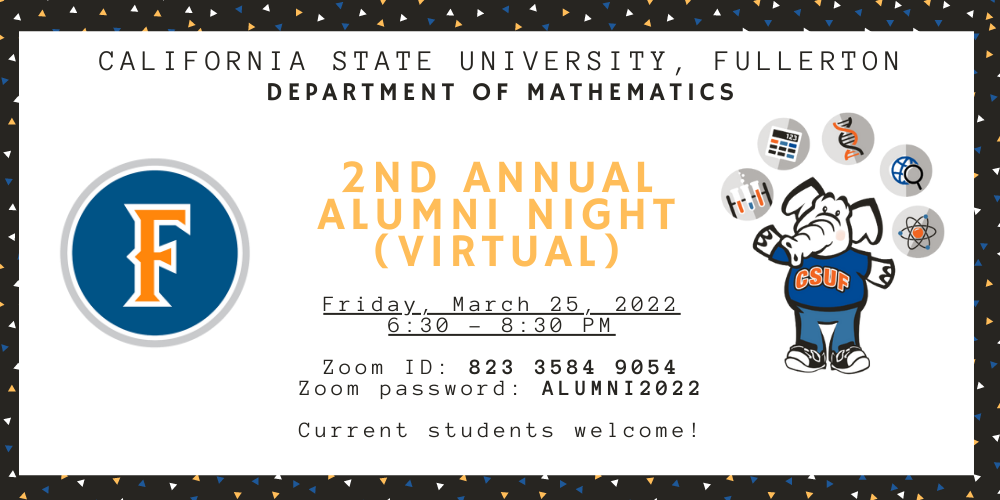 Friday, March 25, 2022
6:30 PM PST
RSVP at mathoffice@fullerton.edu

Meeting ID: 823 3584 9054
Meeting Password: ALUMNI2022

Be sure to update/download Zoom meeting to at least version 5.3.1.
Program Overview
Learn of University and Department updates, innovative student research, distinguished alumni spotlights, and meet new & old friends. 
CSUF Mathematics undergraduate and graduate students are welcome and encouraged to attend. Especially for our alumni session as alumni recount how they got into their current positions and tips they have for current students to find their dream job. 
6:30 pm:             MC Introductions & Vice Provost Dr. Estela Zarate welcome remarks
6:40 pm:             Department updates and changes
6:55 pm:             Student research videos
7:15 pm:              Dean's Office Development Team remarks
7:20 pm:             Entertainment
7:30 pm:             Alumni videos
7:50 pm:             Closing remarks
7:55 pm:             Breakout rooms
Show Your Support Today! 
We have a fundraising goal of $8,000 for this event. All donations will support the Mathematics Summer Research Program (MSRP). MSRP provides crucial faculty-mentored research opportunities. Your contributions will create opportunities for our students to develop oral and written communication skills, enhance graduate school workforce preparedness, lessen our students financial burden and lead to a more robust research infrastructure in our department. Any donation helps!
The fundraising campaign ends Friday, April 29, 2022 @ 5 PM PST.