The University Learning Center
A College Reading and Learning Association Certified Tutoring Center
The University Learning Center (ULC) is an important component of Undergraduate Academic Programs, in the Division of Academic Affairs at Cal State Fullerton.  We believe that all learners need support that extends beyond the classroom to reinforce and amplify daily lessons. Research shows that students who engage in tutoring, and attend study groups, achieve higher grades than those who do not. Our focus is the undergraduate 100 & 200 level high-impact, bottleneck General Education courses.
The carefully selected and certified ULC tutors support students in most CSUF undergraduate general education courses. We offer one-to-one (as well as groups of three from the same course) peer tutoring and many more services to help you reach your academic goals. You will find us on the first floor, north side of the library.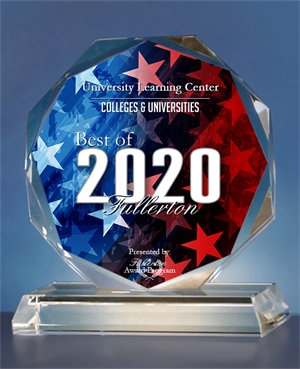 To make an Appointment for Tutoring
FIRST - read the Tutoring Center Agreement under the "Academic Assistance" tab. Then read the directions below. TitanNet does not support on-line writing assistance.
Navigate quick instructions for making appointments.
All matriculated students can access Navigate by 1) clicking on 'Make An Appointment' at the top left of this website (easiest) or 2) log into the Portal, search and select the TitanNet tile in your portal.

You are now at Student Home. Click on 'Make Appointment' on the right side of the screen. Select 'Tutoring', Service 'Course Based Tutoring'. Click the 'Next' arrow. Select 'Location': University Learning Center-Pollak Library North.  Pick the course you want tutoring for. (If what you want is not available, it is because what you are enrolled in is not a subject we offer. Check the "Subjects Offered" below). Select a time. You can choose first available or a specific day up to a week in advance. Confirm your appointment.
Our cancellation and no-show policies are still enforced.
Students can schedule one 30-minute appointment per day, per subject, up to three times a week for a total of one and one half hour of tutoring. Appointments for which a student does not 'show' are part of the weekly count for all tutees.
Please indicate what topics you are interested in receiving tutoring for when you make an appointment so that the tutor can better prepare to help you.
Assistance for Graduate Students
REMINDER:
TUTORING WILL BE AVAILABLE DURING FINALS WEEK.
Monday-Thursday: 9am-5pm
Friday: 9am-12pm
Closed during Spring and Fall recess and Winter and Summer intersessions.