Student Portal & Student Center
 So now that you have completed your applications you maybe wondering what your next steps will be. We have created this guide to help you navigate the Student Portal and Student Center. If you need additional assistance you can contact us.
FINANCIAL AID's STUDENT PORTAL & STUDENT CENTER GUIDE
1. Log In
First you need to check your student portal. You can access it from the CSUF main website

 by clicking on "Portal Login".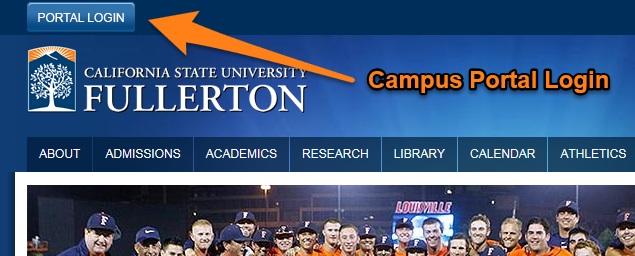 On the next page you will need your username and password, if you need help or forgot your information you can click "Need Help signing in?" for more assistance.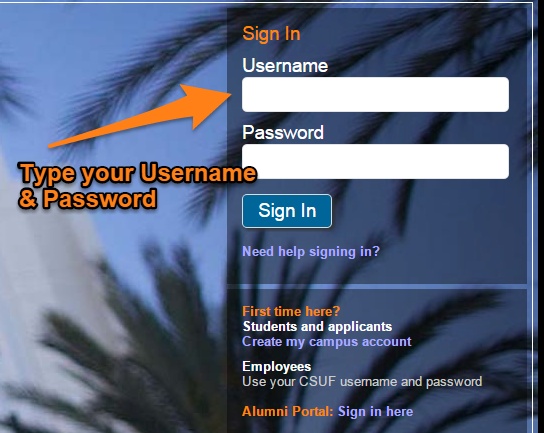 2. CSUF Portal
Now you are seeing the main campus Portal page. From here you can find many useful resources. 

A. - Titan Online - gives you access to your personal academic information & CSUF services. As a student, you will have the ability to access your Titan Online Student Center which is the central location for information about your academic records, including your financial aid & your student account. 
B. - Student Email - student emails are now powered by Google. The email system will give you the ease of communicating with Admissions, Financial Aid, utilizing Titanium & most importantly, offer an improved means of communication with faculty members & fellow students.
C. - Scholarships - one method of applying for scholarships that is open to all students. Simply fill out your profile, you will be matched to scholarships which you may be eligible for. 
! - You can also click "Show More" to find additional useful campus resources.
3. Titan Online
Clicking on Titan Online is the start of connecting you to the the student center. After you click on the Titan Online Icon in the CSUF Portal, a new page will load and you will need to click on the Titan Online button.

Once in Titan Online you will select "Student Center" on the right hand column. 

4. Student Center
You have now reached the Student Center, this base page provides a lot of useful information and notices from multiple campus departments and services.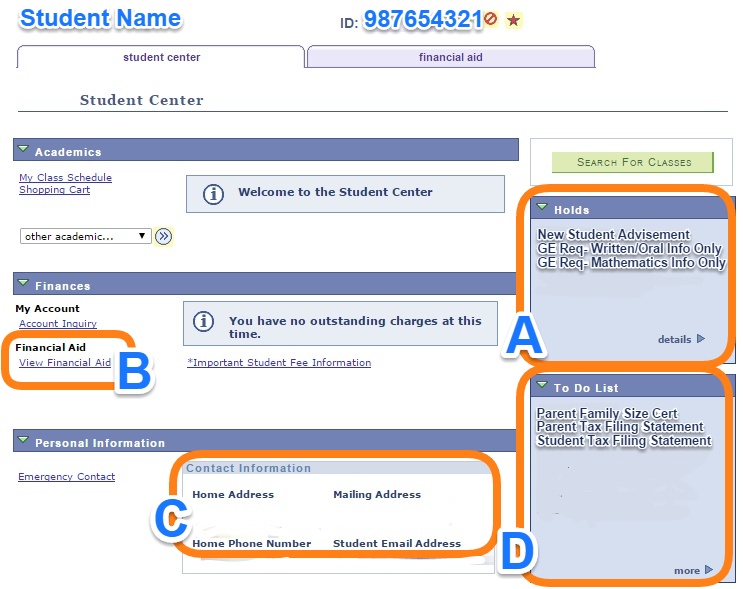 A. Holds - You can click on each item to identify if an action is required or to find additional information on holds. 
B. Financial Aid - By clicking on the "View Financial Aid" tab, newly admitted CSUF students can view their financial aid award estimates. Official financial aid award packages will be made available after financial aid applications and all requested verification items are reviewed.
C. Contact Information - It is important to update your contact information any time it changes so that campus departments can contact you if needed.
D. To-Do List - Campus departments and services post items that must be completed here. Financial Aid Verification Documents are published here if required. You can click on "More" for additional information. 
*Once a To-Do List item has been selected, a new page will show if an individual item has a document available to download, its submission deadlines, and the current status. 
Note: Timely submission of requested documentation allows the office with ample time to review your file, make required changes if needed, award financial aid, and remain in compliance with Federal guidelines.