California Dream Act Application

(CDA)
The   California Dream Act application

  allows eligible students enrolled in California Colleges, Universities and Career Education Programs to apply for state and institutional financial aid.
The California Dream Act (CDA) application is oversee by the   California Student Aid Commission (CSAC)

  and should be completed by students who may be eligible for California state aid programs only under the AB540 status.
CSUF School Code: 001137
For Additional Help with your California Dream Act Application (CDA), visit our YouTube Channel.  CSUF Office of Financial Aid YouTube Channel

California Dream Act Application (CDA) Workshop information

Preparing to Apply
To get started with the CDA application process you should know you have two options to complete the application: 
Online Application

 

- Highly Recommended as the application process is faster and easier.
Paper Application

 

- If you do not have a computer with Internet access at home, you can find Internet access at your local library, high school, or college financial aid office.
---
 Gathering Info | Dependent Student (Yours & Parents) | Independent Students (Only Yours)
W-2 forms and other records of income
Income Tax Returns (For more information if you or your parents returns have not been completed, follow the instructions on the Dream Act application)
Records of child support paid (if applicable)
Current bank statements for assets (cash, saving) as of the date you completed your application (if applicable)
Current stock, bond, and other investment records (if applicable)
Current business and farm records (if applicable)
---
A recommendation if you are applying online:
Before going online, print out and complete the Dream Act application worksheet. This will help you complete the application.
Then, go to the CDA application. You will first establish your user name and password before being guided through a step-by-step application process.
"California Dream Act application is not shared with Federal Databases. Student and parents information is protected by the same privacy and information security laws and safeguards as all other state financial aid applicants."

Information from the California Student Aid Commission (CSAC)
Let's Apply
Beginning on October 1st, students may complete the

 

California Dream Act application (CDA) .
Complete the California Dream Act Application (CDAA) if you: (a) do not have a Social Security Number (SSN) or (b) were approved for Deferred Action of Childhood Arrivals (DACA).
Double check your information before submitting.
Submit and Sign the application.
Read on the comment section if there are any errors and fix it, then re-submit and sign again.
Make sure your email address is listed on your CADAA.
Record your log-in information in a safe place and regularly check your email account for any communication from the California Student Commission and the colleges to which you have sent your CADAA.
The

 

deadline to apply is March 2nd. 
Establish a webgrants4students account to monitor your state financial aid eligibility for Cal Grant.
What Happens After You Apply?
Once you submit your application CSAC analyzed your application, using a formula established by Congress to calculate an Expected Family Contribution (EFC). 
Your application then is sent to the universities/colleges you listed on your application.
You can check your application status

 

online .
Paper applicant can check their status in 28 days from the date you mailed in the application.
Another way to check is by calling

 

CSAC .
Eligibility Requirement for Aid
Complete the California Dream Act Application (CDAA) by March 2nd.
Attending a University of California (UC), California State University (CSU), California Community College, or Career Education Programs.
Be a permanent resident or have (AB540, AB 2000, or SB68)* student status.
Meet certain income/asset and other financial aid standards.
Maintain Satisfactory Academic Progress
Not be incarcerated
Be enrolled in 6 or more units
Have no third-party paying for tuition fee
Not in default on a student loan 
What is AB 540, AB 2000, and SB 68?
AB 540, AB 2000, AND SB 68 exempt certain students from paying nonresident tuition (higher than resident tuition) and allows them to apply for different types of   California Dream Act financial aid

.
Student must meeting the following
1. Satisfaction of either of the following:
a. A total attendance of - or attainment of credits earned while in California equivalent to - three or more years of full-time attendance or attainment of credits at any of the following:
(i). California high schools
(ii). California high schools established by the State Board of Education.
(iii). California adult schools established by any of the following entities
* A county office of education.
**A unified school district or high school district.
*** The Department of Corrections and Rehabilitation.
(iv). Campuses of the California Community Colleges
(v). A combination of those schools set forth in (i) to (iv), inclusive.
b. Three or more years of full-time high school coursework and a total of three or more year of attendance in a California elementary schools, California secondary schools, or a combination of California elementary and secondary schools.
2. If applicable, a complete(d) affidavit to legalize immigration status as soon as you are eligible.
3. If you meet the requirement above, you should complete the   CA Dream Act Application

  for financial aid. (A   verified GPA

  is also necessary for Cal Grant consideration.)
4. You college is responsible for verifying your AB 540 eligibility. Check with your Admissions Office early in the summer before the Fall Term starts. 
* To be eligible ensure that you complete your   financial aid application

 by March 2nd.
** This grant is administer by CSAC. Please review the qualification. 
*** Scholarships have its own deadline, please review the scholarship information you are applying to for those deadlines.
Check Your Student Center For Requirements
LOG IN
First you need to check your student portal. You can access it from the CSUF main website by click on "Student"

On the next page you will need your username and password, if you need help or forget your information you can click "Need Help Logging In?" for more assistance.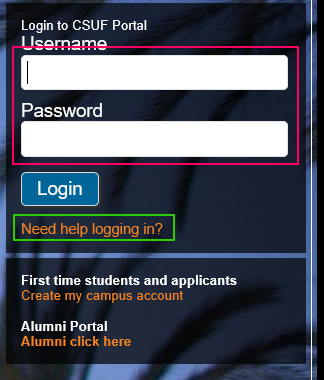 CSUF PORTAL
Now you are seeing the main campus Portal Page. From here you can find many useful resources.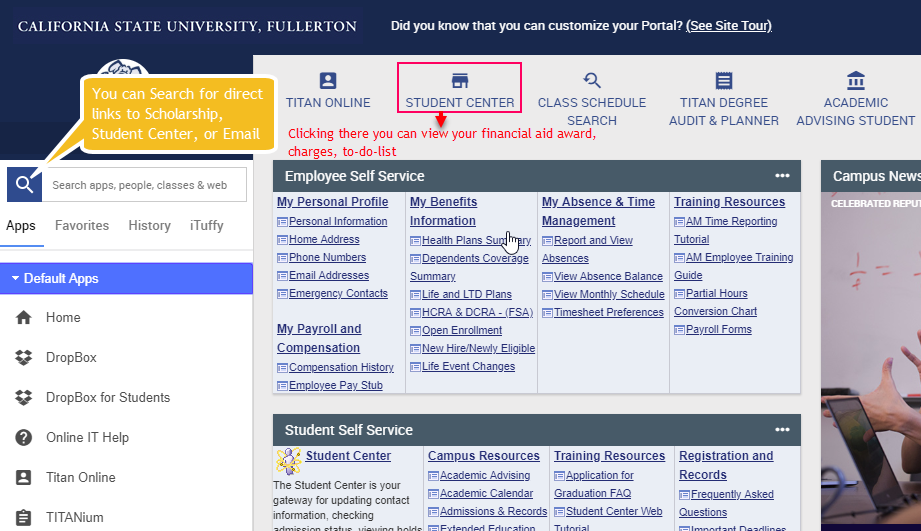 Scholarships  - one method of applying for scholarships that is open to all students. Simply fill out your profile; you will be matched to scholarships which you may be eligible for.
Student Email  - student emails are now powered by Google. The email system will give you the ease of communicating with Admissions, Financial Aid, utilizing Titanium and most importantly, offer an improved means of communication with faculty and fellow students.
STUDENT CENTER
You have now reached the Student Center, this based page provides a lot of useful information and notices from multiple campus departments and services.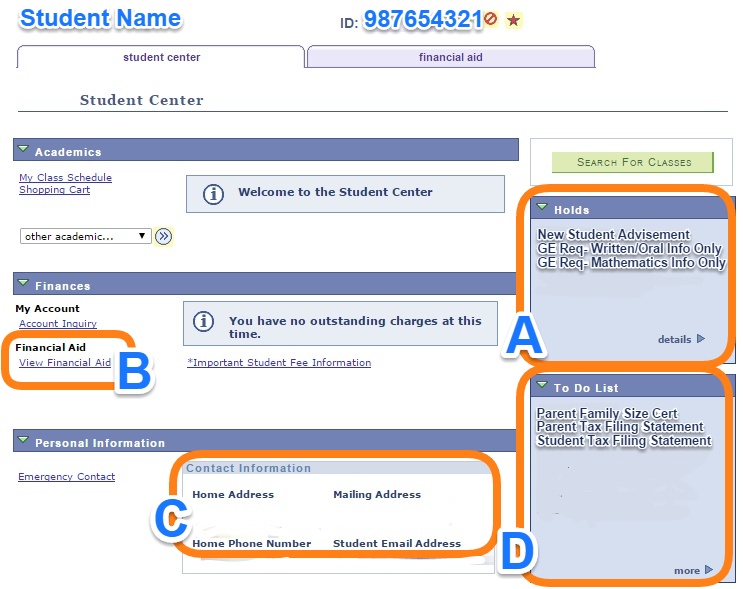 Holds - You can click on each item to identify if an action and/or additional information is required.

Financial Aid - Clicking on "View Financial Aid" is where our students can view their financial aid award. First-time CSUF can see their estimated financial aid award there as well.

Contact Information - It is important to update your contact information any time it changes so that the campus departments can contact you if needed.

To Do List - Campus departments and services post items here that must be completed Financial Aid verification Documents are posted here, if required. You can click on "More" for additional information
TO DO LIST
Once the To Do List has been selected a new page appears that shows the individuals items, if documentation is available for download, associated due dates and the current status.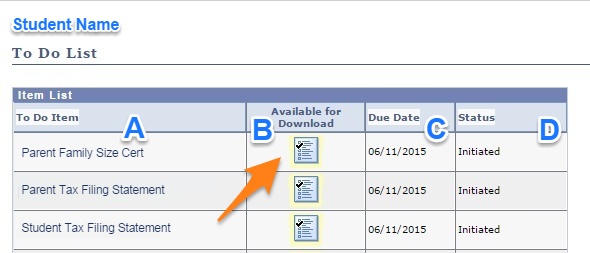 Verification
Verification is the process in which the Office of Financial Aid (OFA) is required to confirm the data on the students FAFSA to the requested documentation the student submitted to the OFA is accurate. If you are selected for verification don't assume you're begin accused of doing anything wrong.
The department of education randomly selects students, while others are required to verify some information prior to awarding. All you need to do is provide the documentation that is asked for.
Be sure to do so by the deadline listed with the checklist item as it may delay processing your financial aid.
On your To-Do-List, submit them to the Office of Financial Aid, if requested. Your file is incomplete, until these are received. Follow the instructions at the top "Check Your Student Center for Requirement" to get to the to-do-list.
Continue to check your To-Do-List and campus email for supplemental requested information.
Read the forms entirely. Ensure you filled them out appropriately and clearly. Make sure they are signed and attached a copy of required documents.
Documents submitted incorrectly are marked as return but the students should reprint the form, complete and return it to the OFA.
The verification process is on hold until all requested documentation are submitted and consider complete.
The verification process takes 4-6 weeks or longer during peak times, once the OFA receives all completed documents.