Free Application for Federal Student Aid (FAFSA)
Completing the   Free Application for Federal Student Aid (FAFSA)

  is the first step toward getting federal aid for college, career school, or graduate school. They provide more than $150 billion in grants, loans, and work-study funds each year, but you have to complete the FAFSA to see if you can get any of that money. Completing and submitting the FAFSA is free and quick.
The FAFSA should be completed for each academic year the student will be attending college. New applications are released in October for the upcoming academic year (Fall & Spring).  It is recommended that CSUF students file their FAFSA electronically by the March 2nd priority filing date.
CSUF School Code: 001137
For Additional Help with your CDA/FAFSA application, visit our YouTube Channel.  CSUF Office of Financial Aid YouTube Channel

Eligibility Requirement
In order to file a FAFSA application

, you must:
Be a high school graduate or equivalent,
Be a U.S. citizen or an eligible non-citizen (Information for non-citizens )
Have a valid Social Security Number (SSN)
Be register with Selective Service , if you are a male between ages 18-26
Additional basic eligibility criteria information

Am I Dependent oR Independent?
Knowing your dependency status can help you when you are going to fill out your financial aid application.
If you're a dependent student, you will report yours and your parent's information.
If you're and independent student, you will report your information (and, if you're married your spouse's information as well).
Watch the video below to determine whether you're a dependent or independent student.
Getting Ready to Apply
FAFSA APPLICATION

Get your and your parents' FSA ID ready (Create one if you or your parents does not have one.)
Gathering Your Documents
Your Personal Information: Name, DOB, SSN, Driver License, and Alien Registration (if you are not a U.S. citizen)
Your Parent Personal Information (for Dependent Students Only): Name, DOB, SSN, Martial Status
Financial Information of Parents (Dependent Students) and Student/Spouse (if married) such as:
*Federal Taxes: 1040, 1040A, 1040EZ, and W-2
*Foreign tax return (if you work outside of the U.S)
*Tax return for Puerto Rico, Guam, American Samoa, the U.S. Virgin Islands, the Marshall Islands, the Federated States of Micronesia, or Palau
*Records of your untaxed income such as child support received, interest income, and veterans non-education benefits, for you and for your parents (if you are a dependent students)
*Information on cash, saving and checking account balances; investments, including stocks, bonds, real estate (do not include the home in which you live) and business/farm assets for you and your parents (if you are a dependent student)
Keep These Records! You May Need Them Again.
Click the link for more guidance when you are completing the application - Preparing to File the FAFSA

Check Your Student Center For Requirements
Log In
First you need to check your student portal. You can access it from the CSUF main website by click on "Student"

On the next page you will need your username and password, if you need help or forget your information you can click "Need Help Logging In?" for more assistance.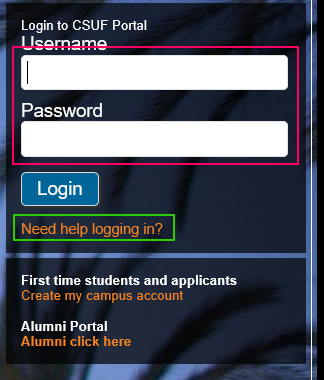 CSUF Portal
Now you are seeing the main campus Portal Page. From here you can find many useful resources.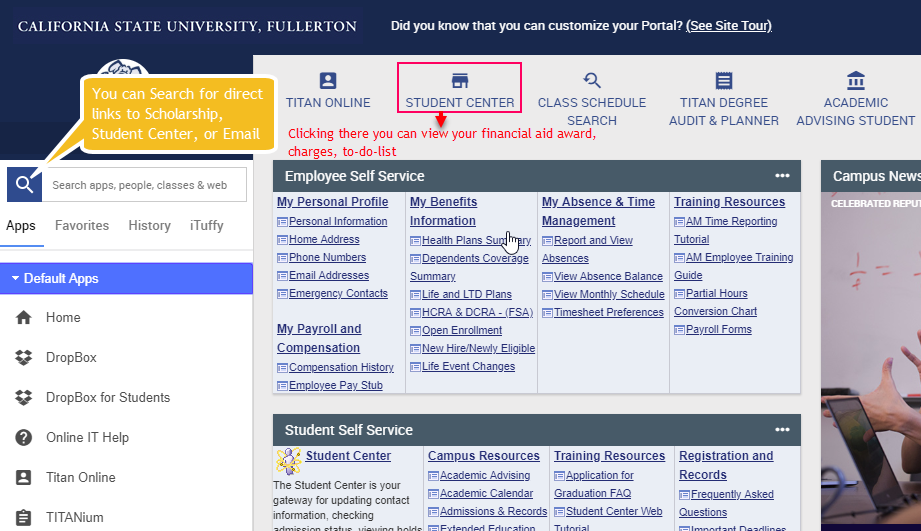 Scholarships - one method of applying for scholarships that is open to all students. Simply fill out your profile; you will be matched to scholarships which you may be eligible for.
Student Email - student emails are now powered by Google. The email system will give you the ease of communicating with Admissions, Financial Aid, utilizing Titanium and most importantly, offer an improved means of communication with faculty and fellow students.
Student Center
You have now reached the Student Center, this based page provides a lot of useful information and notices from multiple campus departments and services.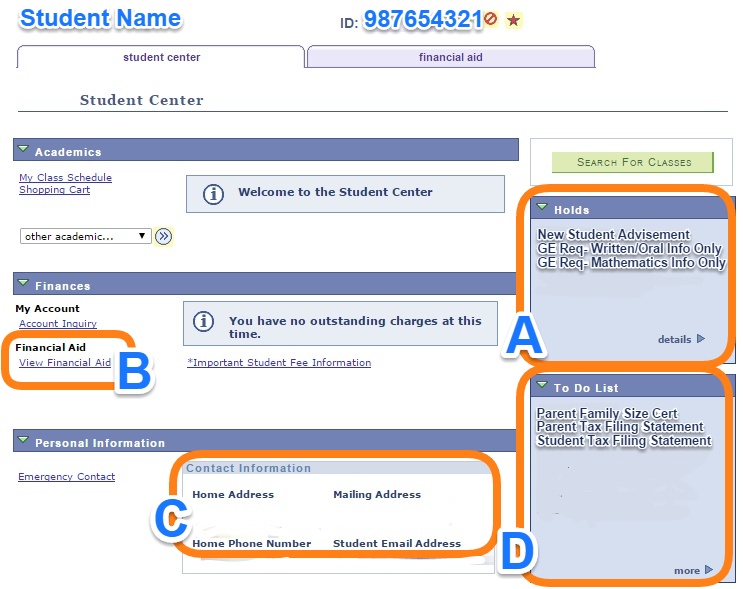 Holds - You can click on each item to identify if an action and/or additional information is required.

Financial Aid - Clicking on "View Financial Aid" is where our students can view their financial aid award. First-time CSUF can see their estimated financial aid award there as well.

Contact Information - It is important to update your contact information any time it changes so that the campus departments can contact you if needed.

To Do List - Campus departments and services post items here that must be completed Financial Aid verification Documents are posted here, if required. You can click on "More" for additional information
To Do List
Once the To Do List has been selected a new page appears that shows the individuals items, if documentation is available for download, associated due dates and the current status.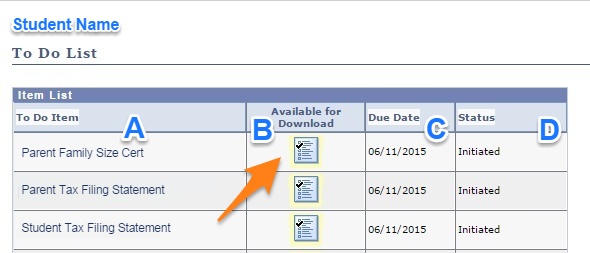 Important Note
Timely submission of requested documentation allows the office ample time to review your file, make required changes if needed, award financial aid, and remain in compliance with Federal and State Guidelines.
Please take this to heart for all departments that request action/documentation from you.
Verification
Verification is the process in which the Office of Financial Aid (OFA) is required to confirm the data on the students FAFSA to the requested documentation the student submitted to the OFA is accurate. If you are selected for verification don't assume you're begin accused of doing anything wrong.
The department of education randomly selects students, while others are required to verify some information prior to awarding. All you need to do is provide the documentation that is asked for.
Be sure to do so by the deadline listed with the checklist item as it may delay processing your financial aid.
On your To-Do-List, submit them to the Office of Financial Aid, if requested. Your file is incomplete, until these are received. Follow the instructions at the top "Check Your Student Center for Requirement" to get to the to-do-list.
Continue to check your To-Do-List and campus email for supplemental requested information.
Read the forms entirely. Ensure you filled them out appropriately and clearly. Make sure they are signed and attached a copy of required documents.
Documents submitted incorrectly are marked as return but the students should reprint the form, complete and return it to the OFA.
The verification process is on hold until all requested documentation are submitted and consider complete.
The verification process takes 4-6 weeks or longer during peak times, once the OFA receives all completed documents. 
Estimated Financial Aid Awards
Estimated awards are provided to First Time Freshmen and Transfer students. The estimated aid is based on preliminary FAFSA information, prior to any corrections made by the students or the verification process.
The estimated award offer is subject to change after the review of the application and depending on final eligibility.
Actual awards offer will not say "Estimated."
Below is an example of an estimated award. Please, notice that the award description for each award begins with "Estimated" and the amount are note accepted.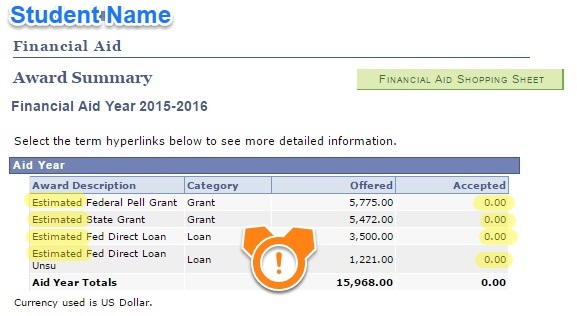 Frequently Asked Questions
Am I Dependent or Independent?
All applicants for financial aid are considered either "independent" or "dependent." Dependent students are required to include information about their parents on the application. By answering a few questions, you can get a good idea of which category you fit into.
Will you be 24 or older by Dec. 31 of the school year for which you are applying for financial aid?
Will you be working toward a master's or doctorate degree (such as M.A., M.B.A., M.D., J.D., Ph.D., Ed.D., etc.)?
Are you married or separated but not divorced?
Do you have children who receive more than half of their support from you?
 Do you have dependents (other than children or a spouse) who live with you and receive more than half of their support from you?
At any time since you turned age 13, were both of your parents deceased, were you in foster care, or were you a ward or dependent of the court?
Are you an emancipated minor or are you in a legal guardianship as determined by a court?
Are you an unaccompanied youth who is homeless or self-supporting and at risk of being homeless?
Are you currently serving on active duty in the U.S. armed forces for purposes other than training?
Are you a veteran of the U.S. armed forces?
If none of the criteria listed above apply to you, you may be considered a dependent student and may be required to provide your parents' financial information when completing the application. If you answered yes to any of these questions, then you may be an independent student. You may not be required to provide parental information on your application.
Who is my parent according to these applications?
If you need to report parent information, here are some guidelines to help you:
If your legal parents (your biological and/or adoptive parents, or parents as determined by the state—e.g., a parent listed on your birth certificate) are married to each other, answer the questions about both of them, regardless of whether your parents are of the same or opposite sex.
If your legal parents are not married to each other and live together, answer the questions about both of them, regardless of whether your parents are of the same or opposite sex.
If your legal parent is widowed or was never married, answer the questions about that parent.
What if my parents are divorced or separated?
In this case, how you fill out the application depends on whether your parents live together or not.
Keep the following in mind as you read this section:
For financial aid purposes, your married parents are separated if they are considered legally separated by a state, or if they are legally married but have chosen to live separate lives, including living in separate households, as though they were not married.
When two married persons live as a married couple but are separated by physical distance (or have separate households), they are considered married for financial aid purposes.
Divorced or Separated Parents Who Do Not Live Together
If your parents are divorced or separated and don't live together, answer the questions about the parent with whom you lived more during the past 12 months.
If you lived the same amount of time with each divorced or separated parent, give answers about the parent who provided more financial support during the past 12 months or during the most recent 12 months that you actually received support from a parent.
Divorced or Separated Parents Who Live Together
If your divorced parents live together, you'll indicate their marital status as "Unmarried and both parents living together," and you will answer questions about both of them on the application.
If your separated parents live together, you'll indicate their marital status as "Married or remarried" (NOT "Divorced or separated"), and you will answer questions about both of them on the application.
What if I have a stepparent?
If you have a stepparent who is married to the legal parent whose information you're reporting, you must provide information about that stepparent as well.
Including your stepparent's information on the application helps form an accurate picture of your family's total financial strength.
What if I live with someone other than my parents?
It does not matter if you don't live with your parent or parents; you still must report information about them. The following people are not your parents unless they have legally adopted you: grandparents, foster parents, legal guardians, older brothers or sisters, uncles or aunts, and widowed stepparents.
What if I'm unable to provide parent information due to special circumstances?
In situations such as the ones below, you may be able to submit your application without parent information despite being considered a dependent student:
Your parents are incarcerated.
You have left home due to an abusive family environment.
You do not know where your parents are and are unable to contact them (and you have not been adopted).
You are older than 21 but not yet 24, are unaccompanied, and are either homeless or self-supporting and at risk of being homeless.
The online application will ask you whether you are able to provide information about your parents. If you are not, you will have the option to indicate that you have special circumstances that make you unable to get your parents' information. The site then allows you to submit your application without entering data about your parents.
However, it is important for you to understand the following:
Although your application will be submitted, it will not be fully processed. You will not receive an Expected Family Contribution (EFC) and must contact the Office of Financial Aid.
The Office of Financial Aid at CSUF will ask for you to complete a

 

Dependency Override Appeal Form

 , 

to determine whether you can be considered independent and have an EFC calculated without parent data. Gather as much written evidence of your situation as you can. Written evidence may include court or law enforcement documents; letters from a clergy member, school counselor or social worker; and/or any other relevant data that explains your special circumstance.
What if my parents are unwilling to provide their information?
You can't be considered independent of your parents just because they refuse to help you with the applications. Still, we do understand that in some cases, the parents are not supporting the dependent student at all and refuse to provide their information on the student's application. If you're in that situation when the application asks you whether you are able to provide information about your parents, say no. Select the option that says you don't have a special circumstance but you still can't provide parent information.
The Office of Financial Aid will receive your partial application and will request the completion of a   Parent Statement of Non-Support Form

. The form requires that your parent sign a statement certifying that they do not and will not financially support you.  If approved, you won't be able to get any federal student aid other than an unsubsidized loan.  
If you are considering this option and have any questions, please contact our office. You may want to come in and speak to financial aid staff to determine if this is the best course of action for your circumstances.
What if my parents are concerned about providing their information because of their citizenship status?
Your parents' citizenship status does not affect your eligibility for federal student aid. In fact, the applications don't even ask about your parents' status.
Note: If your parent does not have a Social Security number, you may enter all zeros for him or her on the application where it asks for that information.