Meeting Room Seating Capacities
|   | Theater | Classroom | U-Shape | Hollow Square | Conference | Banquet | Banquet Rounds | Banquet Squares |
| --- | --- | --- | --- | --- | --- | --- | --- | --- |
| Gastronome 160 | 40 | 24 | 16 | 22 | 16 | 36 | N/A | 24 |
| Pine 111 | 76 | 42 | 22 | 32 | 28 | 42 | 72 | N/A |
| Pine 140 | 76 | 42 | 22 | 32 | 28 | 42 | 72 | N/A  |
| Juniper 111 | 76 | 42 | 22 | 32 | 28 | 42 | 72 | N/A  |
| Juniper 150 | 64 | 30 | 18 | 26 | 20 | 44 | 56 | 24  |
| Multipurpose Room (MPR)* | 300 | Upoon Request | N/A | N/A | N/A |  Upoon Request | 192 |  Upoon Request |
* MPR reservations will be prioritized for groups over 75
Meeting Room Setup Configurations
Our staff is able to configure the furniture in your meeting space to best suit the needs of your program. For a specific style not listed below, just ask our staff. Contact our Event Services team at housingevents@fullerton.edu.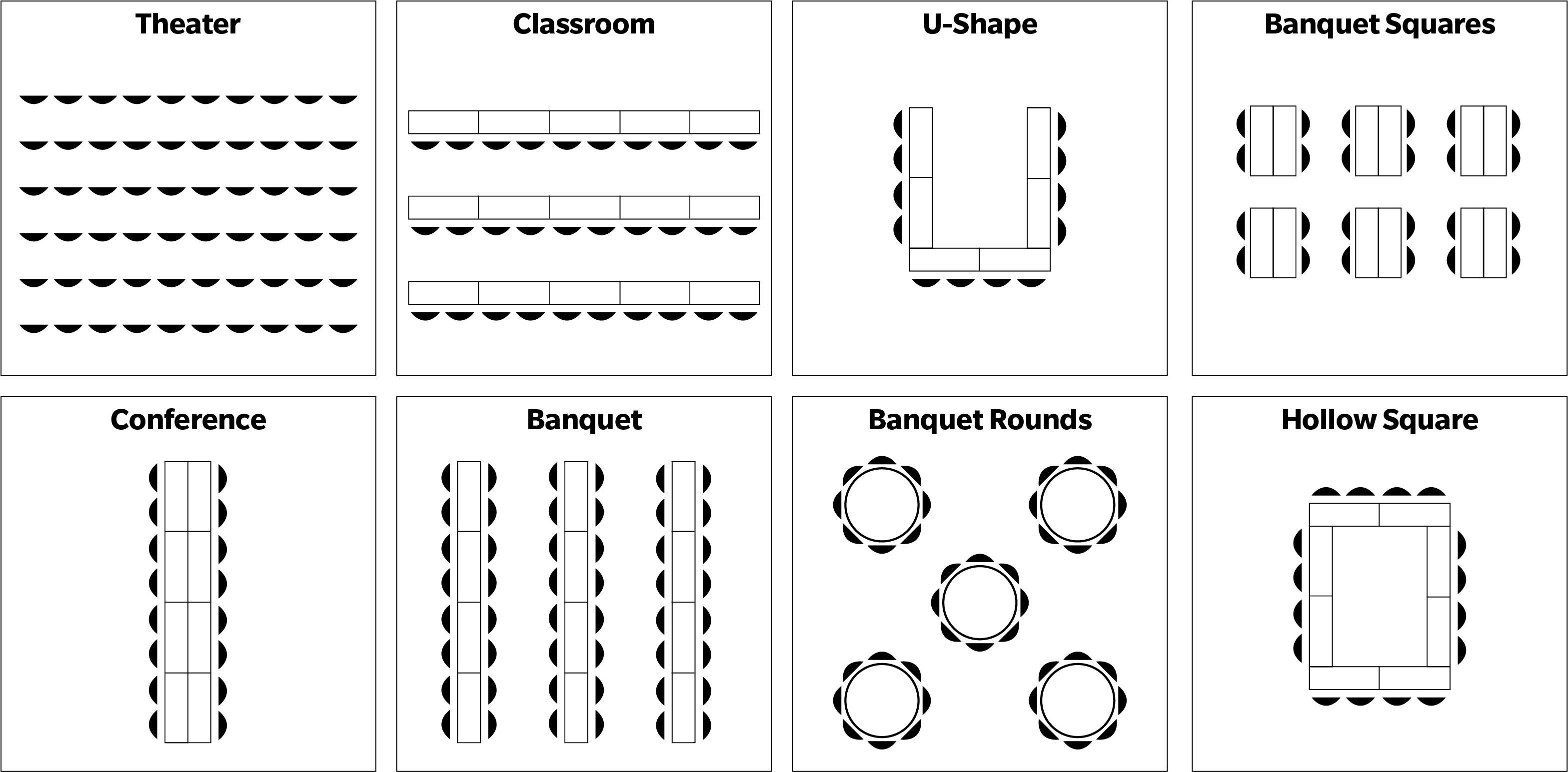 Note: The actual number of tables and chairs varies per meeting room. See the capacities chart for details.
For on-campus groups, after your event, an invoice will be sent that reflects all of the charges incurred. Payment can be made via check or ETR.
For off-campus groups, an invoice will be sent prior to your event. A 50% deposit is required two weeks before your event. A final invoice will be sent after your event with all charges incurred. Final payment is NET30.
 
1 - 4 Hours
 4 - 8 Hours
 Recognized Student Club or Organization
No Charge
On-Campus Department or Conference Group Rate 
$50 or included with a
$300+ catering order
$100 or included with a
$600+ catering order 
 Off-Campus Group
$100 or included with a
$500+ catering order 
$200 or included with a
$1,000+ catering order  
 Semester Rate
One day per week: $750
Two days per week: $1,500
Three days per week: $2,250  
 One day per week: $1,500
Two days per week: $3,000
Three days per week: $4,500  
 Special Accomodations
$30 per hour