Site Setup 
The very core information about your site is located in this file.  This is where you'll go to change the site name, division information, contact info, and setup your social media information.  Changes to this file will affect every content page in your site without needing to republish your content pages.
To make changes, simply check out the page and use the properties > parameters section to update your site settings.  It may have additional fields that is fine to leave blank.  Save your work when you're finished and publish the file to see the changes on your web pages.
The file located from your website root /_setup/_sitesetup.pcf.
This file has one editiable zone with content for alert messaging.  At this time those are for future development and will not impact your site.
Alert Message
This is a future development area.  At this time it will not effect your pages.
Site General Info
Site Name: The name in the header of your pages.
Development URL: The URL where OU will publishing to.  This needs to be a fully realized URL.
Public URL: The URL that the public site is at.  This also needs to be a fully realized URL. 
Contact Us Options: These are for future development.  
Alternate Support Email: Email in the footer on your website.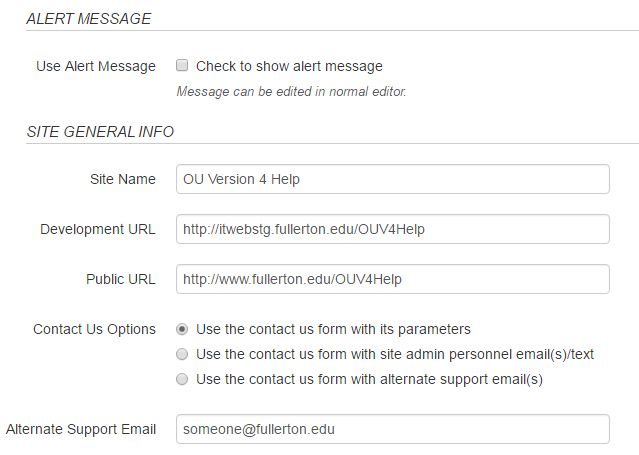 Division / College / Top Department Info
Text Name: Above the header text it is the parent or divisional website.  If there is no parent to top level site you can leave it blank.
The Site URL: URL to the top parent or division site.  Again if none is needed leave blank.
Footer Info
Who Supports This Site: Use information above will use the Alternate Support Email in the footer.  The second option allows you to choose a different department to link to if your site is managed by someone else on Campus.
Text Name: The site name for who manages your website.
The Site URL: The managing site's URL.
Support Email: An email address for questions or concerns.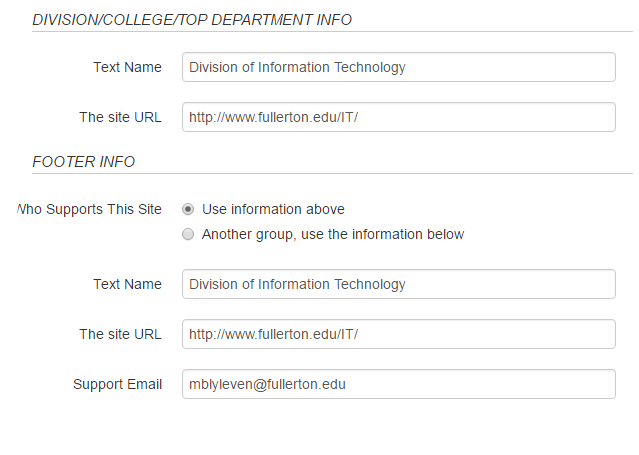 Site Admin Personnel
This section is for future development.
There are multiple instances here and each of them are for seperate users.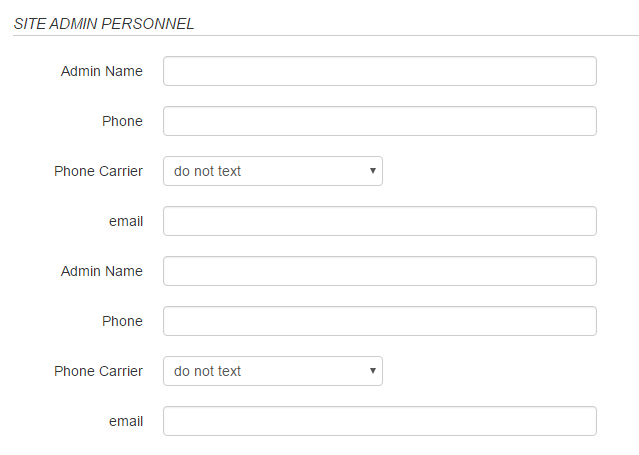 Social Media Defaults
Icon Location: Icons appear under main header section automatically or you can choose to put them in the right sidebar.  Right sidebar must be active per page for icons to show.
Icon Color: If right sidebar is selected you can change the icon color style to black, gray, blue, or orange.
Various social media sites are listed below with check boxes for activating the link along with a URL for each media site.  These are website wide and will update each page by changing it here.  You do not need to republish your content pages to add or remove social media sites.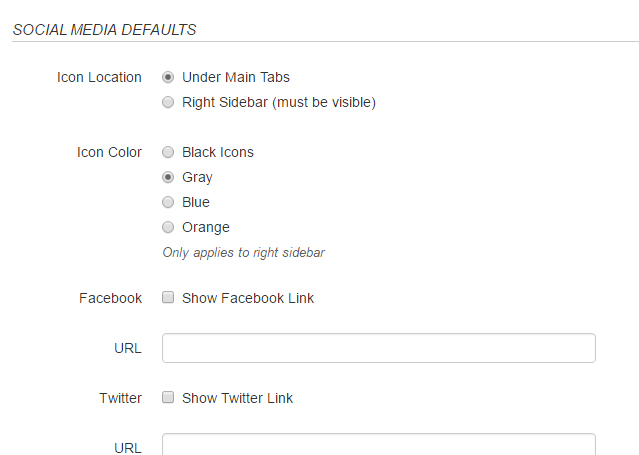 MulTI Media / Blog Defaults
This section is for future development.  This is projected to provide a way to integrate your exterior social multi media and blogs into your pages without needing to do it at a per page level.
If you have a blog and want to use it on a single page you can already do that in the page properties for that page.