Masters of Science
Environment Engineering

Application for Fall 2017
The Master of Science in Environmental Engineering program admits new students in the fall semester only. Applications for Fall 2018 will be accepted beginning October 1, 2017.
More information on Cal State Apply!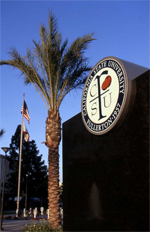 CONTACT
Program Coordinator
Phone: (657) 278 3968
Email: btiwari@fullerton.edu
Department of Civil  & Environmental Engineering
800 N. State College Blvd. 
Fullerton, CA 92834
Phone: (657) 278-3012
Fax: (657) 278-3916
Email:  enveng@fullerton.edu
Overview
The Master of Science in Environmental Engineering is an online engineering master degree that will educate and prepare the future leaders in environmentally related fields. The structure of the program is based on a cohort model in which students move through the 2-year curriculum as a group. The course schedule will be based on four 16-week semesters and one eight-week summer session. The online format creates an environment where much learning occurs through completion of individual and team projects and analysis of case studies.
This program will provide students with practical information and technical knowledge on contemporary environmental topics and issues including potable water treatment, wastewater treatment and disposal, water reclamation and reuse, stormwater runoff management and treatment, solid and hazardous waste management, remediation of contaminated groundwater and soil, landfill design, air pollution control engineering, global warming issues, and sustainable development. Students will be trained for consulting companies, industries, or as officials for local governments as well as state or federal regulatory agencies. At the end of this degree program, students will be prepared to sit for the professional engineering exam in environmental engineering.
spring 2017 GRADUATE ADMISSION DEADLINE:

A CSUF application and all supporting documents  (including official transcripts from all institutions attended, marksheets, degree certificate, and official TOEFL/ IETLS/ PTE sores)  must be received by the ECS Graduate and International Admissions Office by November 18, 2016 for both international students and domestic applicants. Please visit the ECS Graduate and International Admissions  website for more information.