Center for Academic Support in
Engineering and Computer Science
CASECS Mission Statement
The Center for Academic Support in Engineering and Computer Science (CASECS) is an academic support program designed to recruit, retain and graduate students. CASECS serves educationally disadvantage students, to the extent possible by law and emphasizes participation by students from groups with low eligibility rates for four-year colleges. CASECS is a program of Student Academic Services in the Division of Students Affairs with joint collaboration of the College of Engineering & Computer Science and Student Affairs.
Objectives:
Increase Enrollment & Retention
Increase Scholarships
What CASECS Does
Some of the features of the program include:
Building a support community among students with similar career goals.
Constructing the bridges necessary to establish a mentor-protégé relationship between faculty and students
Expecting excellent performance by students
Effectively communicating support for the students' success at the University and in the selected profession.

The program has ten specific service components designed to support students' successful pursuit of an academic program and their achievement of a timely graduation, as well as to assist them with their personal concerns. These service components include:
1. Study Center
Students meet in the CASECS Study Center where they work with fellow students, network, tutor and are tutored, use the computer, learn about scholarships and job opportunities, exchange information about professional clubs, and/or relax between classes.
2. Tutoring
Tutoring in lower-division technical courses helps students before potential academic difficulties arise. Tutoring by advanced students is provided in the CASECS Study Center on a walk-in basis.
3. Academic Counseling
Appropriate advising is critical to student success. CASECS students have designated faculty in the computer science and engineering departments to advise them, as well as a CASECS counselor.
4. Student Organizations
CASECS students are involved in student chapters of many college organizations, such as the Society of Mexican American Engineers & Scientists (MAES), the National Society of Black Engineers (NSBE), the Society of Women Engineers (SWE), and the Society of Hispanic Professional Engineers (SHPE).
5. Scholarships and Incentive Grants
Even with state support for each student's program of study, educational costs can be significant. As much as $30,000 of industry-supplied grants has been awarded to CASECS students in past years.
Contact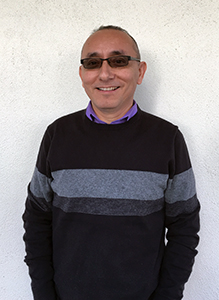 Sergio Guerra, Director
Room: CS-201 
Phone: 657.278.7302  
Email: sguerra@fullerton.edu
Bio: Received his B.A. & M.A. in Mathematics and Education Counseling degrees from California State University, Dominguez Hills in 1990 & 1992. He was the MSP and MEP Director at CSU, Bakersfield from 1992-1995. He is the advisor for the Society of Hispanic Professional Engineers (SHPE); the National Society of Black Engineers (NSBE); the Society of Mexican American Engineers and Scientists (MAES); and the Society of Women Engineers (SWE).