Lavender Graduation
a pre-commencement ceremony for lgbtq students & allies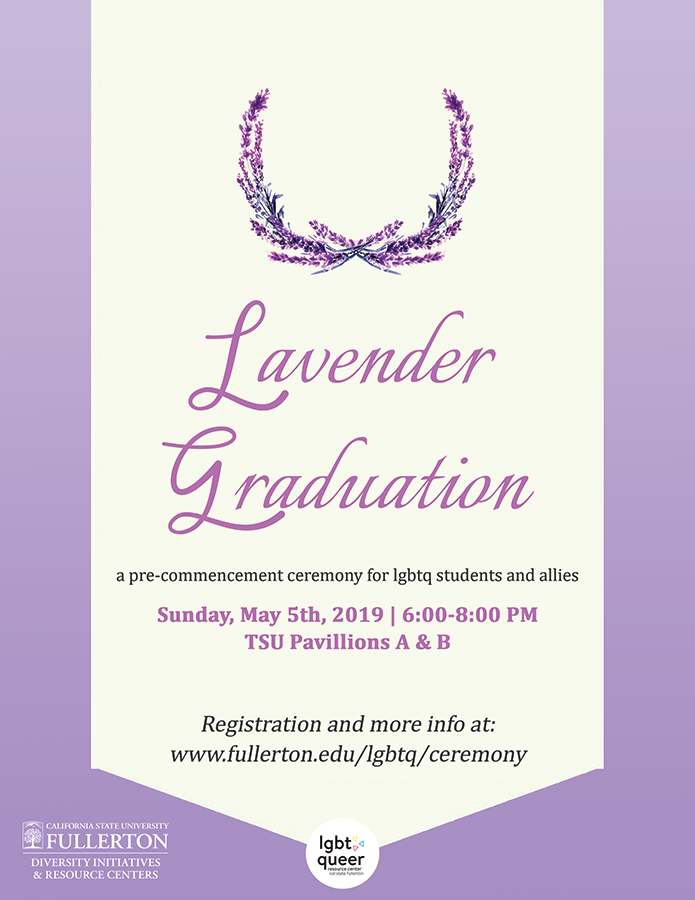 When: sunday, may 5, 2019 - 6:00-8:00P
Where: titan student union PAVILIONS
The annual Lavender Celebration is a time to honor our LGBTQ and ally graduates, recognize LGBTQ students, and have an end-of-the-year celebration for the community! 
Registration for Lavender Graduation is closed. If you have any questions, please contact us at lgbtq@fullerton.edu or  (657) 278-4218.
what lavender celebration is:
Something you would invite your family/close friends/those most important to you
Something you would invite a mentor, favorite professor, and someone who has impacted your acadmic journey to attend
An opportunity to honor graduating undergraduate and graduate students, volunteers and academics
An opportunity to get dressed up and show up as YOU!  Academic reglia other than academic sashes will not be worn.
Something that over 150 folks usually attend, sometimes more
The last formal program of the year from the LGBTQ Resource Center
The event where graduating folks get a Lavender Cord; yay!!
A night of fun!  The ceremony includes music, positive vibes, a photo booth, and light refreshments!