Gender Inclusive Restrooms
The LGBTQ Resource Center fully advocates Cal State Fullerton's endeavor to create more accessible, all gender restrooms. A choice that is automatic for cisgender people requires careful thought and consideration for TGNC folx, as they may experience prejudice inside these restrooms for their perceived use of the "wrong" restroom. In a study conducted by the National Center for Transgender Equality (2015) of transgender Americans, 59% of respondents reported avoiding using a public restroom, and 24% had their presence challenged. Trans people are at risk in public for injustices such as these, all for the express purpose of using a restroom for a few minutes. We at the center believe that TGNC folx deserve the privilege to use restrooms in public without having to make a choice that invalidates their identity. All-gender restrooms achieve that purpose while deconstructing the gender binary at the same time.
The all-gender restrooms located on Cal State Fullerton's campus are denoted by the symbol of a white triangle within a circle as pictured below.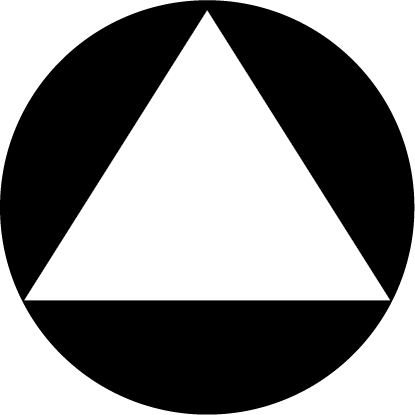 | Where? | Description |
| --- | --- |
| Education Classroom | Located on the 2nd and 5th floors. |
| Engineering West Wing | Located on the 1st, 2nd, and 3rd floors. |
| Engineering East Wing | Located on the 5th floor. |
| Engineering North West Wing | Located on the outside perimeter of the building. |
| Engineering South West Wing | Located on the outside perimeter of the building. |
| Golleher Alumni House | Located within the Alumni House. |
| Humanities and Social Sciences | Located on the 1st floor. |
| Clayes Performing Arts Center (CPAC) | Located on the 1st and 2nd floors. |
| Kinesiology and Health Science | Located on the 1st floor. |
| Department of Military Science Center | There are 3 restrooms located here; the doors unlock automatically when you knock firmly 3 times. |
| Student Health and Counseling Center | Located within the center. |
| Titan House | Located within the Titan House. |
| University Police | There is 1 restrooms located here. |
| Pollak Library South (PLS) 1st floor | After entering the library through its south-side double door entrance, these restrooms are located on the right side of the library. |
| Titan Student Union (TSU) 1st floor | After entering through the double sliding doors, this restroom will be on the left-hand side past the large TV screen. |
| Titan Student Union (TSU) 2nd floor | This restroom is located right next to TSU 254. |
| Student Recreation Center | There are 2 restrooms located here. They are located on the second floor, but can only be accessed from the stair case on the left immediately entering the doors of the SRC. They cannot be accessed once you sign in and walk through the gates. |