ECS Corporate Partners Program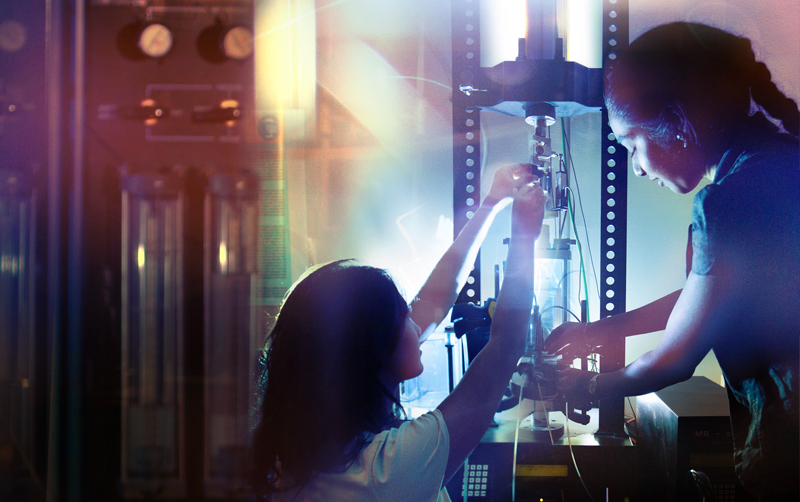 The ECS Corporate Partners program delivers:
A recruitment pipeline of talented and motivated students
Student teams offering a fresh perspective on challenges facing your company
Increased visibility in the CSUF community
Partnership with the ECS Centers
Advanced multi-disciplinary research through faculty partnerships
Mentorship of new engineering and computer science talent
We're passionate about empowering female students by providing a learning community and sense of belonging to show them that they can do it and that women are just as capable as males to thrive in engineering and computing disciplines.

Susamma Barua
Dean, College of Engineering and Computer Science
Partnership Opportunities
ECS Professional Practice Program
This program provides an opportunity for students to demonstrate proficiency and talent through the team and individual senior design projects, capstone projects, industry projects, and collegiate design competitions.
Some examples include:
Titan Formula SAE car, Titan Baja SAE, and Titan Rover
Concrete Canoe, Steel Bridge, and Geowall
GE CSU Hackathon, and
Industry projects for Disney, Boeing, Unisys, Raytheon, Mercury Defense Systems (a partial listing)
Professional practice industry projects are a collaborative discussion between faculty and ECS Corporate Partners. These projects are sponsored by a specific company through an educational grant, typically lasting one year, and involve industry mentorship as well as the opportunity for students to directly impact current challenges faced by our corporate partners.
Advanced Faculty Research
ECS faculty are involved in advanced research spanning multiple disciplines. The expertise of our faculty can be helpful as companies explore new opportunities or confront systemic challenges.
Recruitment Partner
Your recruitment partnership with ECS could include:
Positions posted on Titan Connection
On-campus interviewing
Titan Takeover Job Shadowing
Invitations to events to meet Dean's List and student club leaders
Career fairs and more!
For information on becoming a Corporate Partner, please contact:
Mike Karg
Senior Director of Development
Room: CS-510
Phone: (657) 278-3348  
E-mail: mkarg@fullerton.edu