Center Co-Directors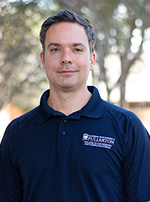 Faller, Kenneth (John)
Associate Professor
Computer Engineering Program
Room: E-408
Phone: (657) 278-8171
E-mail:   jfaller@fullerton.edu
Website:   http://www.fullerton.edu/ecs/cpe/faculty/jfaller.php

Dr. Kenneth John Faller II received his Ph.D. in Electrical Engineering from Florida International University (FIU) in 2009. From 2009 to 2011, Dr. Faller was a NASA postdoctoral research fellow. His research interests are in the areas of Digital Signal Processing (DSP) and embedded systems. He has published several peer-reviewed papers as part of his research. At CSUF, Dr. Faller has taught several engineering courses ranging from the freshman level to the graduate level. His teaching interests are in the areas of computer architecture, embedded systems, mixed-signal design, hardware security, and DSP. The courses he has taught since joining CSUF include microcontrollers, embedded processor interfacing, current topics: wearable computers, hardware security, computer organization and design, advanced computer architecture, and real-time audio processing. Dr. Faller is also the co-advisor of the IEEE Computer Society (CS) chapter at CSUF. 
---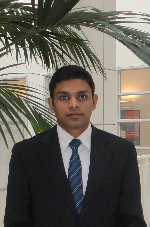 James, Sagil      
Assistant Professor
Department of Mechanical Engineering
Room: E-409
Phone: (657) 278-3337
Email:   sagiljames@fullerton.edu
Dr. James received his Ph.D. in Mechanical Engineering from the University of Cincinnati in 2015. His teaching interests are in the areas of Manufacturing Processes, Computer-Aided Design and Manufacturing (CAD/CAM) and Mechanics of Materials. His primary research areas are Advanced Manufacturing, Nanomanufacturing, Metrology, Process Modeling and Simulation. His doctoral research focused on the development of an innovative nanomachining process - Vibration Assisted Nano Impact-machining by Loose Abrasives (VANILA). He has also worked as a product engineer at Larsen and Toubro Limited in Mumbai, India.
Faculty Associates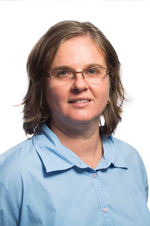 Bein, Doina
Associate Professor
Department of Computer Science
Room: CS-542
Phone: (657) 278-4822
Email: dbein@fullerton.edu 
---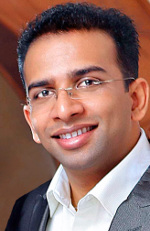 George, Kiran
Professor
Computer Engineering Program
Room: E-213
Phone: (657) 278-2640
Email: kgeorge@fullerton.edu
Website: http://www.fullerton.edu/ecs/faculty/kgeorge/

Dr. George received his Ph.D. degree from Wright State University, Dayton, Ohio. His research interests include high performance computing, intelligent systems, verification and testing of VLSI circuits and systems, VLSI and FPGA implementation for advanced signal processing and communication algorithms for digital wideband receivers, and biologically-inspired electronics and designs. Dr. George brings in several years of research and teaching in engineering disciplines, deep knowledge and a keen understanding of the local high tech industry, and is committed to recruit more women and minorities to the College. He has extensive experience in conducting collaborative research and has authored a number of peer-reviewed technical articles and reports, and is a recipient of several grants and awards for both scholarly activities and teaching including the 2012 NSF CAREER award. Since his appointment at CSUF in 2007 he has been awarded several highly competitive extramural grants from both NSF and the US Army Research Labs totaling over $1.3 M. Dr. George serves as an academic advisor for computer engineering students and since his appointment in 2007 has supervised several undergraduates and graduates on various student projects, including students from local community colleges as part of the STEM grant summer research program. He is the PI and program director for the ECS Academic Catalyst for Excellence (ACE) program, NSF funded program at CSUF that targets academically promising but economically disadvantaged students with emphasis on first generation college students and underrepresented students.
---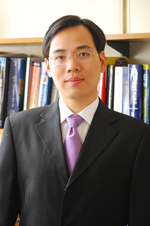 Huang, Jidong
Professor
Department of Electrical Engineering
Room: E-417
Phone: (657) 278-7140
Email: jhuang@fullerton.edu
Dr. Jidong Huang is an Associate Professor of Electrical Engineering at California State University, Fullerton. He received his Ph.D. in Electrical Engineering from Ohio University where he worked at the Avionics Engineering Center on multiple research projects in the area of GPS and Advanced Navigation System Design. He had also worked at NavCom Technology Inc., a John Deere company, as a GNSS software design engineer to develop advanced navigation algorithms.
His research had been supported by National Science Foundation (NSF), Federal Aviation Administration (FAA) and industry. His student project teams have been active and won multiple times at various competitions including the Institute of Navigation (ION)-sponsored Robotic Lawnmower Competition, the CSU Student Research Competition, and the Annual UC Davis, and UC San Diego Natcar Races.
Currently, his research interests are focused on robotics; the design of high-precision, integrated navigation system with high integrity; and their indoor/outdoor applications. He is an editorial board member for the journal of "GPS Solutions"; and has served as a reviewer for multiple journals in the area of GPS and navigation. He is a member of Institute of Navigation (ION); and a senior member of Institute of Electrical and Electronics Engineers (IEEE).
---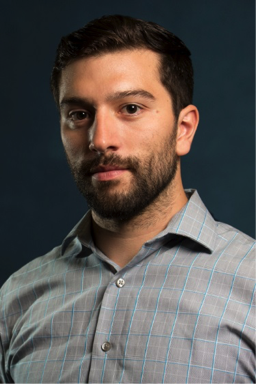 Mayoral, Salvador
Associate Professor
Department of Mechanical Engineering
Room: E-414
Phone: (657) 278-2198
Email: smayoral@fullerton.edu
Dr. Salvador Mayoral received his Ph.D. in Mechanical and Aerospace Engineering from the University of California, Irvine in 2013. As a graduate student, Dr. Mayoral worked on the shielding of jet noise by a hybrid wing body aircraft. His current research interests are aeroacoustics, experimental fluid mechanics, and unmanned aerial vehicles. Dr. Mayoral is a currently working on developing a relative positioning system for unmanned aerial vehicles using propeller noise and modeling the aeroacoustic diffraction from the momentum wake of an aerial vehicle. Dr. Mayoral aims to develop an aerospace specialization within the Department of Mechanical Engineering and is currently restoring the Wind Tunnel Laboratory. Before joining the Department of Mechanical Engineering at Cal State Fullerton in the Fall of 2014, Dr. Mayoral worked as a Research and Development Engineer at Sonendo Inc. developing and testing medical devices for endodontics.