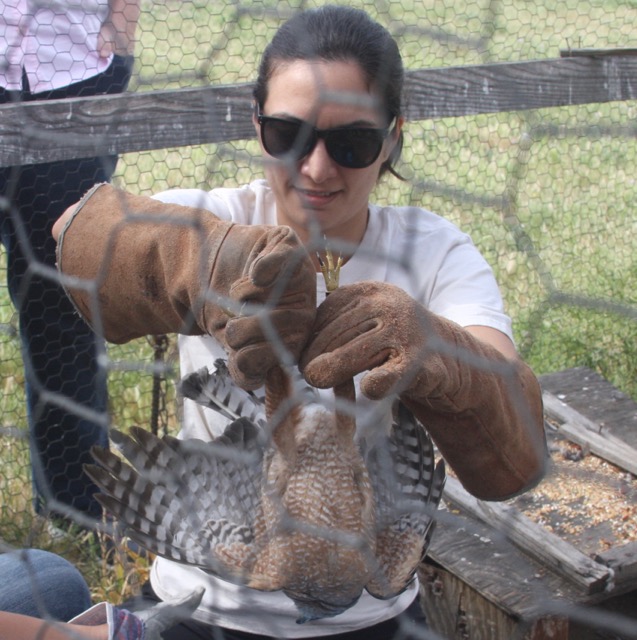 Alumni Spotlight: Sabrina Blash
Tidepool Educator Coordinator at Laguna Ocean Foundation, and Environmental Services Intern at California State Parks.
Major & Concentration:
B.S. in Biological Sciences from CSUF with a concentration in Ecology and Evolutionary Biology, 2016.
What are you doing now?
I work for Laguna Ocean Foundation (LOF), a non-profit in Laguna Beach, whose mission is to provide the community with the education and inspiration needed to protect our coastal natural resources. I report to two intertidal locations in Laguna Beach and interact directly with the public. I engage their interest in marine life with scientific facts and encourage all visitors to follow "good tidepooler" rules. Laguna Ocean Foundation is associated with the Orange County Marine Protected Area Council (OCMPAC), a group dedicated to working with all agencies responsible for Marine Protected Areas (MPAs) in Orange County, and ensuring that all agencies deliver a consistent, education, and positive message to visitors.
What were you involved with at Cal State Fullerton?
I used the NSM Opportunity Center (MH-488) as a place to study with my friends, seek tutoring, and meet my peers. There, I met several students who were in research labs, and I eventually met with a professor to ask how I can join a lab. I emailed several professors and was accepted into Dr. Hoese's research lab, where I stayed for three and a half years. I completed my own research project which investigated the relationship between a student's learning style and their ability to understand phylogenies. I also worked with graduate and undergraduate students on their projects, and assisted them in the field. Additionally, I participated in networking events, where I met with alumni who have found jobs locally. I served as a volunteer assistant for field trips in some of the core biology courses. During all of these experiences, the conversations I had with my peers, graduate students, alumni, and professors helped me understand what steps I needed to take to gain the experience I needed and to become competitive for the jobs that I wanted.
How did Cal State Fullerton prepare you for your current career?
I took advantage of the Career Center, Opportunity Center, and office hours, as well as used every opportunity to work with professors, faculty, and Assistant Deans on preparing for the professional world.
What advice would you give to incoming, current, or graduating biology students?
Regarding jobs and job interviews, the old saying goes, "it's not what you know, but WHO you know." I have found that having both a strong knowledge and a strong network allowed me to be more competitive in my field. Keep learning and studying subjects in your field during your free time, and take the time to meet and get the contact information from professionals in the field you are interested in.
Consistently maintain professionalism, especially in your emails and on your resume or CV. The Career Center taught me invaluable lessons about how to create a strong resume, cover letter, CV, and  prepare for interviews.
Lastly, there are lots of opportunities to volunteer and gain the skills or experience you need for the job you want after graduating. Throughout my undergraduate career, I volunteered for several non-profits and agencies who all had shared-goals in conservation biology, education, and restoration. These experiences helped me gain experience and expand my network.