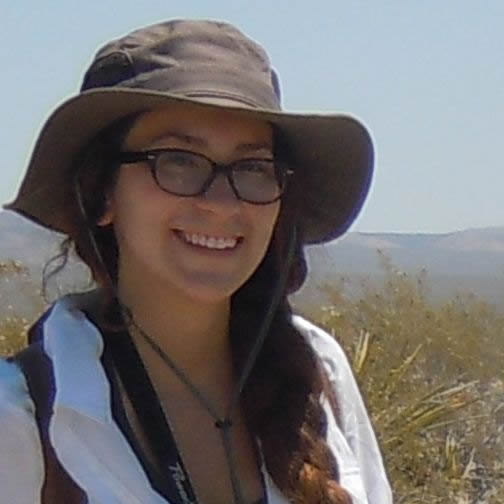 Alumni Spotlight: Emily Sanchez
Graduate Student, Cal State Fullerton Department of Biological Science.
Major & Concentration:
B.S. in Biological Sciences from CSUF with a concentration in Ecology and Evolutionary Biology, 2015.
What are you doing now?
I am a  graduate student in biology at Cal State Fullerton; I work in Dr. Chris Tracy's physiological ecology lab. My thesis research investigates the intersexual behavioral strategies of thermoregulation in the common chuckwalla, an iguanid found in the deserts of North America. As part of my research I spent several months studying and observing chuckwallas and worked out of the Boyd Deep Canyon Desert Research Center in Palm Desert, CA.
What were you involved with at Cal State Fullerton?
As an undergraduate at Cal State Fullerton I was a scholar in the Southern California Ecosystems Research Program (SCERP), 2013-2015; SCERP is funded by a grant from the National Science Foundation (http://biology.fullerton.edu/scerp/). As a SCERP scholar I conducted and completed an independent research project on thermoregulation of the common chuckwalla; I presented my research at several regional and national biological conferences. I was also active in the Undergraduate Biology Club, and during my last year at CSUF I served as the event coordinator for the club.
How did Cal State Fullerton prepare you for your current career?
I think Cal State Fullerton is a great place for undergraduates to get hands-on experience in their field of interest because it emphasizes teaching and provides opportunities for undergrads to get involved in research. Even if you do not plan on pursuing a career in research, these experiences will help you grow as a professional and form professional relationships. That is exactly what Cal State Fullerton did for me.
What advice would you give to incoming, current, or graduating biology students?
Do not hesitate to put yourself out there, explore your options, talk to people with different backgrounds and interests, or take advice or help that is offered to you.