Canvas Support Resources for Students
Students can access Canvas via the MyCourse widget in their campus Portal or by using the Canvas Mobile app.
Faculty have until Summer 2021 to transition to Canvas. Student courses may be available in Canvas or TITANium, depending on faculty preference.
How to send a  message to your course instructor(s)
For questions related directly to your course and not about technical issues within Canvas, you can easily contact your instructor from the Canvas help menu.
Step One: Click "Ask Your Instructor a Question" in the Canvas help menu.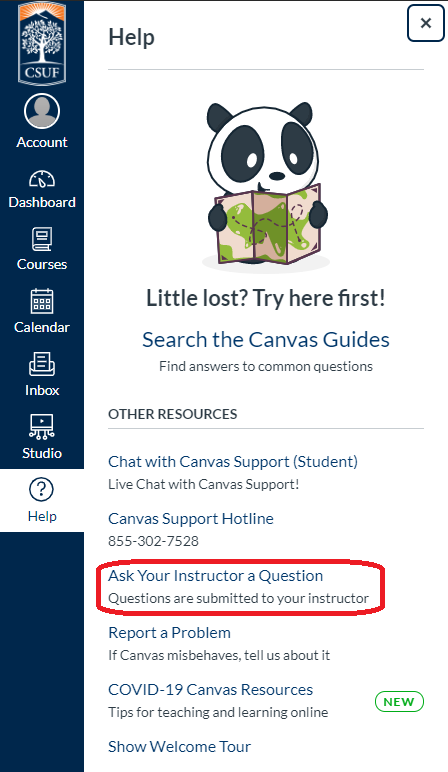 Step Two: Select the course, enter your message text, and click "Send Message." All instructors and teaching assistants in the course will receive a Canvas message in their inbox.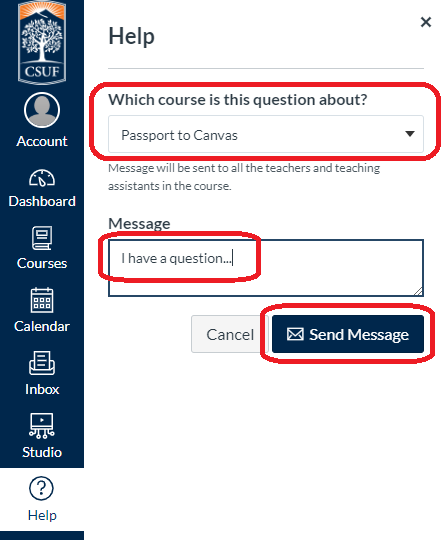 How to Contact Canvas Support
Canvas support is a great resource for most issues encountered in Canvas.  Canvas offers full support for Canvas and limited support for 3rd party integrations like Proctorio, Turnitin, and Dropbox.
To chat with Canvas support:
Step One: Click "Chat with Canvas Support" in the Canvas help menu.  A chat application will open in a new browser tab.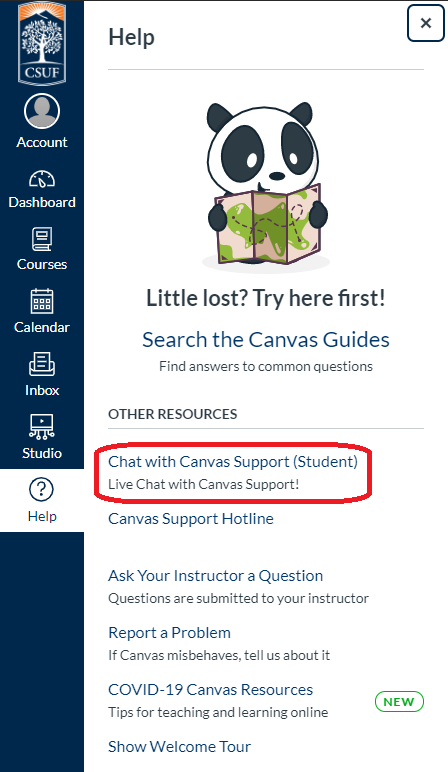 Step Two: To submit a support incident to Canvas, click "Report a Problem" in the Canvas help menu.  A support representative will respond via email.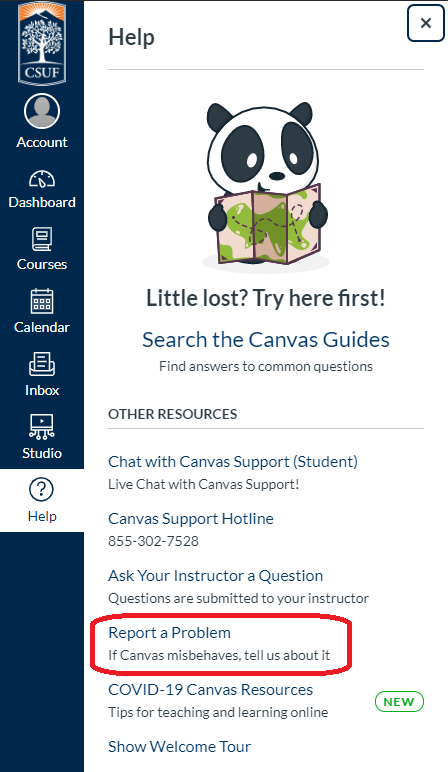 Proctorio Secure Exam Browser for Proctored Online Quizzes and Exams
Live chat, installation steps, and minimum requirements. For all issues with proctored online exams, the Proctorio support website is a great resource.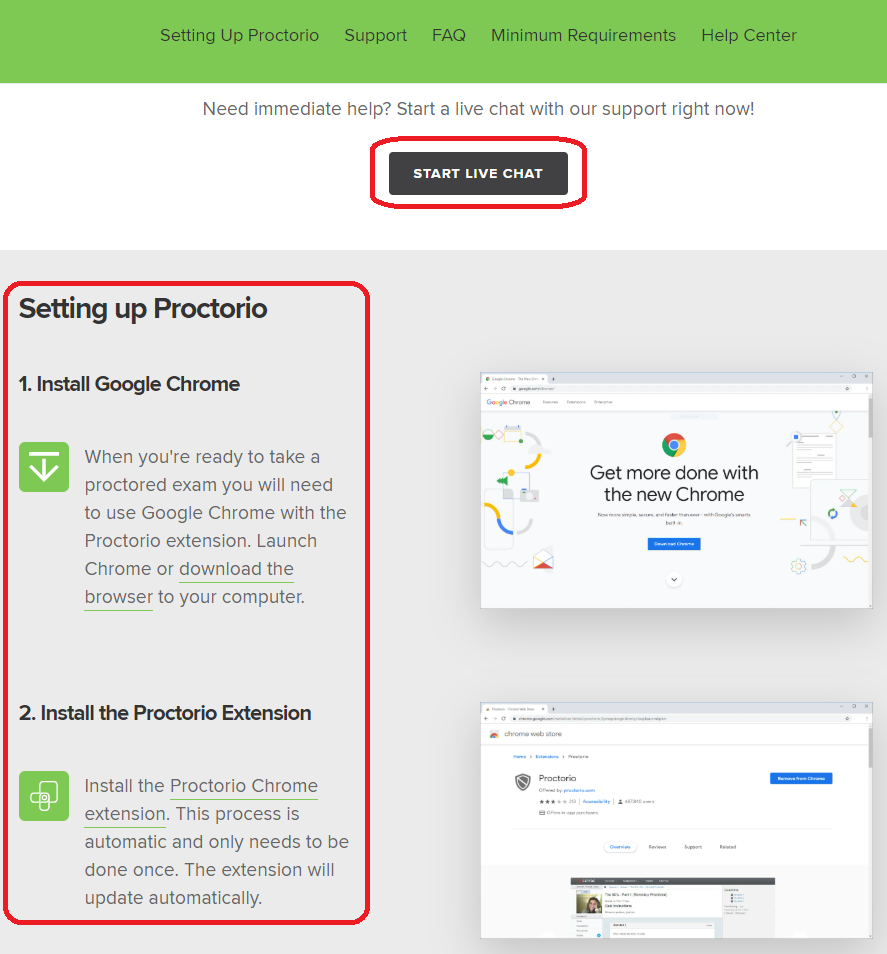 CSUF Student Help Desk
The Student IT Help Desk provides technical support to students for campus-related technologies such as Canvas, Titanium, Titan Online, Portal, Campus Email, etc.
Live Chat is available by clicking the "Online IT Help" app in the campus portal.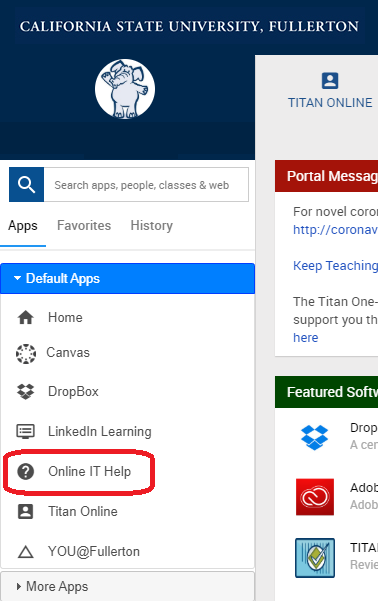 Click "Live Chat".  A new window will open with a question box.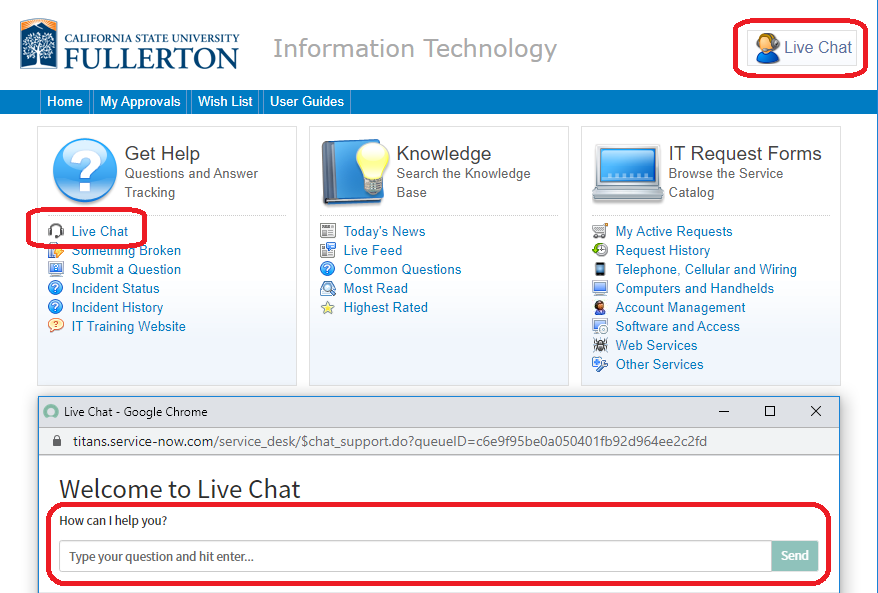 Email us a support request to   StudentITHelpDesk@fullerton.edu

Call us for support over the telephone at (657) 278-8888.
Passport to Canvas course
You can access the Passport to Canvas course in your Canvas dashboard.  The course goes over the basics of many commonly used Canvas features.