CSUF Skype for Business
Microsoft Skype for Business is a communication tool that not only offers instant messaging, but many other features to enhance collaboration and communication.
Easily start a meeting right within Outlook using the Skype for Business icon
Share files
Collaborate with large groups of people
Skype for business: Getting Started
Confirm Skype for Business is installed on your PC or Mac. If not, contact the Help Desk at helpdesk@fullerton.edu . 
Submit a Skype for Business request form to request an account. (requires campus login)
In 2-3 business days after submitting your request, your account will be ready and you will receive a confirmation email with a set of instructions.
Skype for Business:
How to Schedule meetings
Outlook provides you with a New Skype Meeting (Windows) or Online Meeting (Mac) button, which you can use to set up a Skype for Business. 
For more help scheduling a meeting through Outlook  view Set up an online meeting in Outlook user guide and video.

Participating in a meeting is just as easy. Through the link provided in the Skype meeting, invitees can join a meeting.  Participants who do not have Skype for Business installed can join a meeting using the same link but connecting as a "guest" through the Skype for Business web app.
Skype For Business: Additional Resources
Need more information? Check out our collection of Skype for Business knowledge articles

.
Microsoft provides a number of helpful articles. You can visit Microsoft's Skype for Business Help & Learning website

 to learn more.
View a LinkedIn Learning playlist (18min)

 on Skype for Business basic features.
Skype for business: FAQ
1. What is the difference between Skype for Business and Skype?
Skype for Business is an enterprise grade communication and collaboration tool. You can have both Skype and Skype for Business installed on your device. They are independent applications that do not interact with each other. The main differences are the account you use to sign-in and the features that are available. Skype for Business uses your campus email address and allows you to communicate with co-workers and provides scheduling from Outlook and the ability to share content. 
  2. Can I connect to Skype users and contacts using Skype for Business?
No, Skype for Business and Skype for Desktop are two separate environments. Contacts and calls between the two are not available.
3. Can I make phone calls to regular phone numbers?
Not until the Enterprise Voice is enabled will you be able to make regular calls from within the desktop application. Phone calls to standard phone numbers are available only by using Enterprise Voice, a Skype for Business feature only available to employees with a campus issued mobile device.  If you were issued a campus mobile device and are interested in this capability please contact the IT Help Desk helpdesk@fullerton.edu, or call 657-278-7777. Please note for this application to work you will need to have a desk phone as well as a mobile phone.
4. Do I need a PIN, work number, or extension?

Not always. Most of the time when you call in to the meeting, you get connected right away. You only need a PIN and extension if:
•You're the leader (Organizer) of the meeting, and calling from a phone that isn't connected to your account; such as a cell phone.
•You're an attendee, but the meeting is secured and you need to be identified before joining, (referred to as Authenticated caller).
When prompted, use your phone dial pad to enter your number and PIN.
If you don't remember your PIN, click Forgot your Dial-in PIN in the meeting request and follow the instructions on the page to reset.
5. How can I have Skype for Business start  automatically when I turn on my device?
Click the gear icon on the upper-right-hand side of your contact list
Select Personal from the list of options on the left
Check Automatically start the app when I log in to Windows
Click OK to save your changes
6. How do I use Skype for Business on my iPad?
The Skype for Business app for iOS is available as a free download from the iOS App store. View Microsoft's page on installing Skype for Business on a mobile device

 for more information.
7. How do I make a call with Skype for Business?
You can make calls over the Internet in one of two ways.
  1.    If you are already in a Skype for Business meeting or instant message conversation
a.  Click the phone handset icon at the bottom of the message window
b. Click Skype Call
  2.   From your contact list:
a.  Right-click the name of the contact you wish to call
b. Hover over Call
c. Click Skype Call
8. How do I schedule a Skype for Business meeting?
To schedule a Skype for Business meeting within Outlook, do the following:
From the Mail window click New Items to expand a list of Outlook tasks and select Skype Meeting
A new meeting window should pop up and the body of the invite will be pre-populated with a link to the Skype meeting, as shown below:
Fill in all meeting details such as To, Subject and Start/End time
Click Send
To join the meeting, attendees must click the Join Skype Meeting link during the established time. Attendees can also test the meeting link beforehand to ensure that their audio and video are working properly.
You can also schedule a Skype meeting by clicking the New Skype Meeting button from the Outlook Calendar view, as shown below.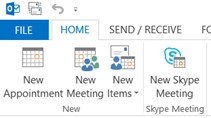 9. What is the Skype for Business Web App?
The Skype for Business Web App is a browser-based version of Skype for Business that can be used to join a meeting if you do not have Skype for Business installed on your machine. This is especially useful for inviting people from outside CSU Fullerton to your Skype for Business meetings. For instructions on using the Skype for Business Web App see Microsoft article

.  List of browsers that support the Skype for Business Web app

.
10. Can we request an Skype for Business Enterprise voice account for my student assistant? 
Student employees and administrative accounts are not eligbile for an Enterprise voice account. A campus issued cell phone and deskphone with an assigned extension are required. 
11. Will IT provide my student assistant Skype for Business hardware accessories (e.g. webcam or headset)?

We have a limited supply of accessories which will go to faculty and staff first. If you would like a recommendation please contact the IT Help Desk, 657-278-7777 or email helpdesk@fullerton.edu.
Skype for Business: System Requirements
Skype for Business Enterprise Voice Client: Getting Started:
Skype for Business clients automatically get the Enterprise voice feature. All you have to do is take the training and have a campus issued mobile phone.
Here are some next steps once your account as been enabled
Unsure if you are eligible?  Email telecom@fullerton.edu

to find out.