Microsoft Office 365
As an enrolled student at CSU Fullerton you are eligible to install Microsoft Office 365 on up to 5 PCs or Macs, 5 tablets, and 5 smartphones.  Office 365 comes with Word, Excel, Powerpoint and is available to you through your desktop to web and the devices in between.  Office 365 delivers the tools you need to get work done.
Along with Office 365 you will be given access to Microsoft's OneDrive @ Cal State Fullerton.  A cloud storage platform which provides 1 TB of extra space for all your files.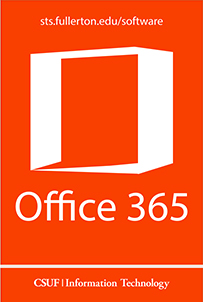 Install 365 for mobile / tablets
Just a few pointers on getting the most out of Office 365 on the go. Connect your tablet and mobile devices.
OneDrive Management
Cloud storage opens up opportunities. For answers to your questions see OneDrive help.
Frequently asked Questions
Office 365 is a new way to use Microsoft Office.  If you've got questions, we have some answers on our Office 365 FAQ guide.
Manage Installed Devices
You've got 5 devices to use Office 365 we can help you figure it out. Learn how to manage installations.