Qualtrics
Qualtrics is the world's leading insight technology provider. They help you get the data and insight you need to make better decisions. The software enables users to do many kinds of online data collection and analysis including market research, customer satisfaction and loyalty, product and concept testing, employee evaluations and website feedback. With Qualtrics Research Suite survey software, it's a breeze to capture, analyze, and act on insights.
Online surveys have never been easier. Qualtrics Research Suite software makes it easy to master customer insights. These insights drive strategy and are used to anticipate the needs of customers. And with happy customers, everyone wins.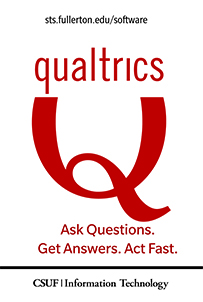 How to access qualtrics
Log in to your Portal

 and click on the Qualtrics app under the More Apps section. 
Would you like to learn more?
Take a look at Qualtrics' training site and their getting started materials to help you learn Qualtrics in 5 steps
LEARN QUALTRICS IN 5 STEPS

Academic Insights
The survey-based research platform academics trust.
Academics push the limits. Qualtrics gets them there. Who's using Qualtrics to get academic insights? Quarltrics is proud to have over 1,400 universities across nearly 60 countries and 99 of the top 100 business schools as their clients.