Microsoft Windows 10 Education
As an enrolled student at Cal State Fullerton you are eligible to install Microsoft Windows 10 Education. 
Windows 10 is designed to be compatible with the hardware, software, and peripherals you already own.
Note:  Windows 10 Education provided through Cal State Fullerton is an upgrade, which means you must have a previous version of Windows installed on your computer.  You will have 30 days to download the software and product key.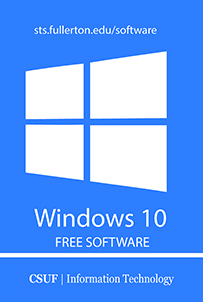 How to Get the Software
Once you have received the product key, you will need to download the software.
Software can be downloaded here:
Microsoft Download Center

 Kivuto WebStore*

*Kivuto WebStore download is only available for 30 days after product key has been requested.
Note:   Installation assistance is not provided by Student Genius Center or Student IT Help Desk.
Technical Support
Product Key Support (Kivuto)
 Software Installation Support (Microsoft)