Summer Research Symposium at Cal State Fullerton
August 5, 2021, starting at 10:00 a.m. 
Project RAISE hosted the Summer Research Symposium virtually on August 5, 2021, from 10:00 a.m. to 12:30 p.m. The symposium showcased the summer projects that students in the Undergraduate Research Experience completed in 2021.  Additional CSUF students from these labs participated in the symposium.
Symposium Program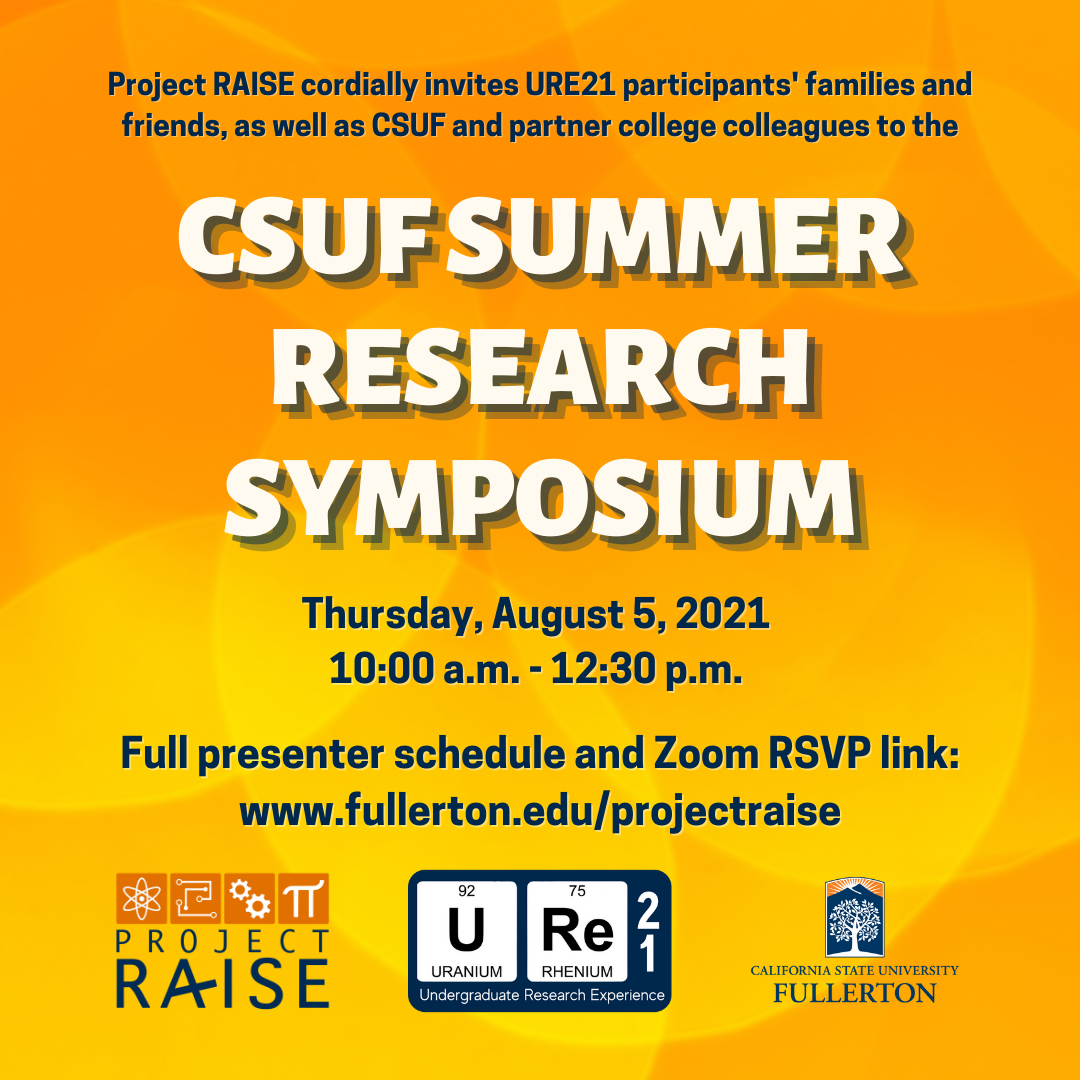 Event Agenda
10:00-10:15 a.m. Welcome
10:15-10:45 a.m. Session 1
Breakout A: Ana Venegas Hernandez, Mike Nguyen & Van Vu
Breakout B: Aimee Carranza, Germaine Mendez & Susie Arriaga
Breakout C: Casey Truong, Kimberly Baez & Carmen Romero
10:45-10:50 a.m. Break
10:50-11:20 a.m. Session 2
Breakout A: Manh Khang Nguyen, Armando Rodriguez & Julio Villegas
Breakout B:: Venjaminne Fua, Alyssa Goldpenny & Czara Baker
Breakout C: Constanza Perez, George Contreras & Thien Nguyen
11:20-11:25 a.m. Break
11:25-11:55 a.m. Session 3
Breakout A: Dylan Ta, Luis Garcia & Casca Pham
Breakout B: Donelle Aguayo, Daniel Jairyn Campos & Phong Nguyen
Breakout C: Justin Urquilla, Kaylee Chiou & Hy Dao
11:55-12:00 p.m. Break
12:00-12:30 p.m. Session 4
Breakout A: Maureen Sison, Kyle Currier & Dayana Flores
Breakout B: Blue Araujo, Dahlia Serrato & Jocelyn Atilano
Breakout C: Gabe Muñoz & Alex Gaspar