RTP Workshops and Events

Spring 2020 
Due to the current environment with COVID-19, RTP workshops are moving to a virtual format. We are working diligently to create an interactive format that will best benefit students. Please check your e-mail regularly for updates regarding RTP workshops. Additionally, you can meet with your Peer Advisor to satisfy this requirement; please reach out to your Peer Advisor for more information. If you have questions about what can satisfy this requirement, please contact raise@fullerton.edu
Students have through May 22, 2020 to complete and log spring 2020 RTP activities.
Spring 2020 Virtual Events
Career Center Virtual Resources
Learn more about Career Center resources and how to make an appointment with a career specialist.
Netflix Party - Monday, May 4, 2020 | 7:00 p.m.
Destress for finals and join us for our first Netflix Party!
If you are interested in attending, please RSVP by Monday, May 4th at 9:00 a.m. to receive the Netflix Party URL and instructions.
In order to join Netflix Party, students must have:
- A Netflix account to use
- Google Chrome browser on their desktop/laptop (Netflix Party only works with Google Chrome)
Go to netflixparty.com and follow the instructions below:
1. Install Netflix Party - Click the "Install Netflix Party" button and select "add to Chrome to finish installing"
2. Join Netflix Party - click on the party URL (which will be emailed to you); you will be redirected to Netflix, where you need to select the NP button (next to website address bar) to join the party.
If you have any questions, please email raise@fullerton.edu.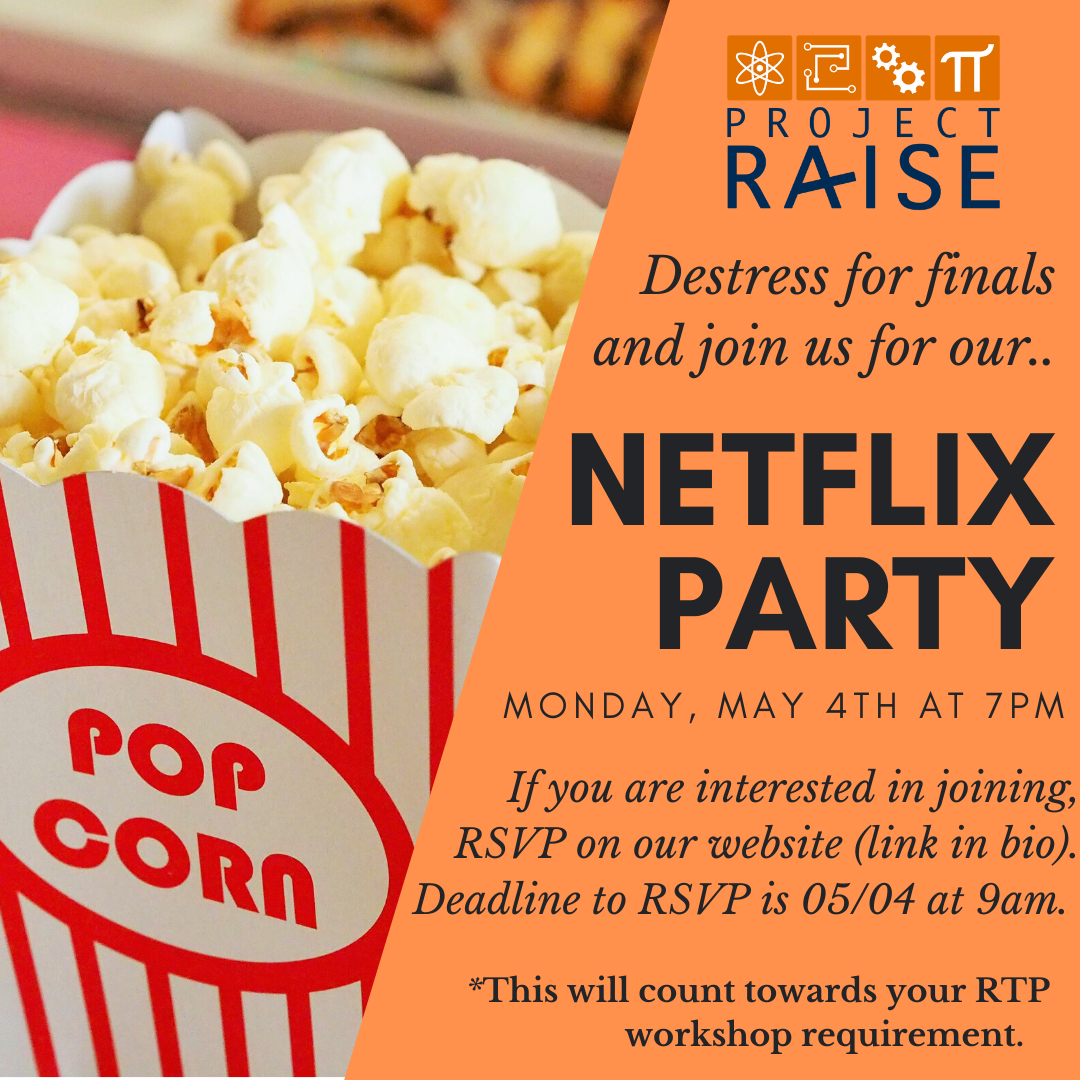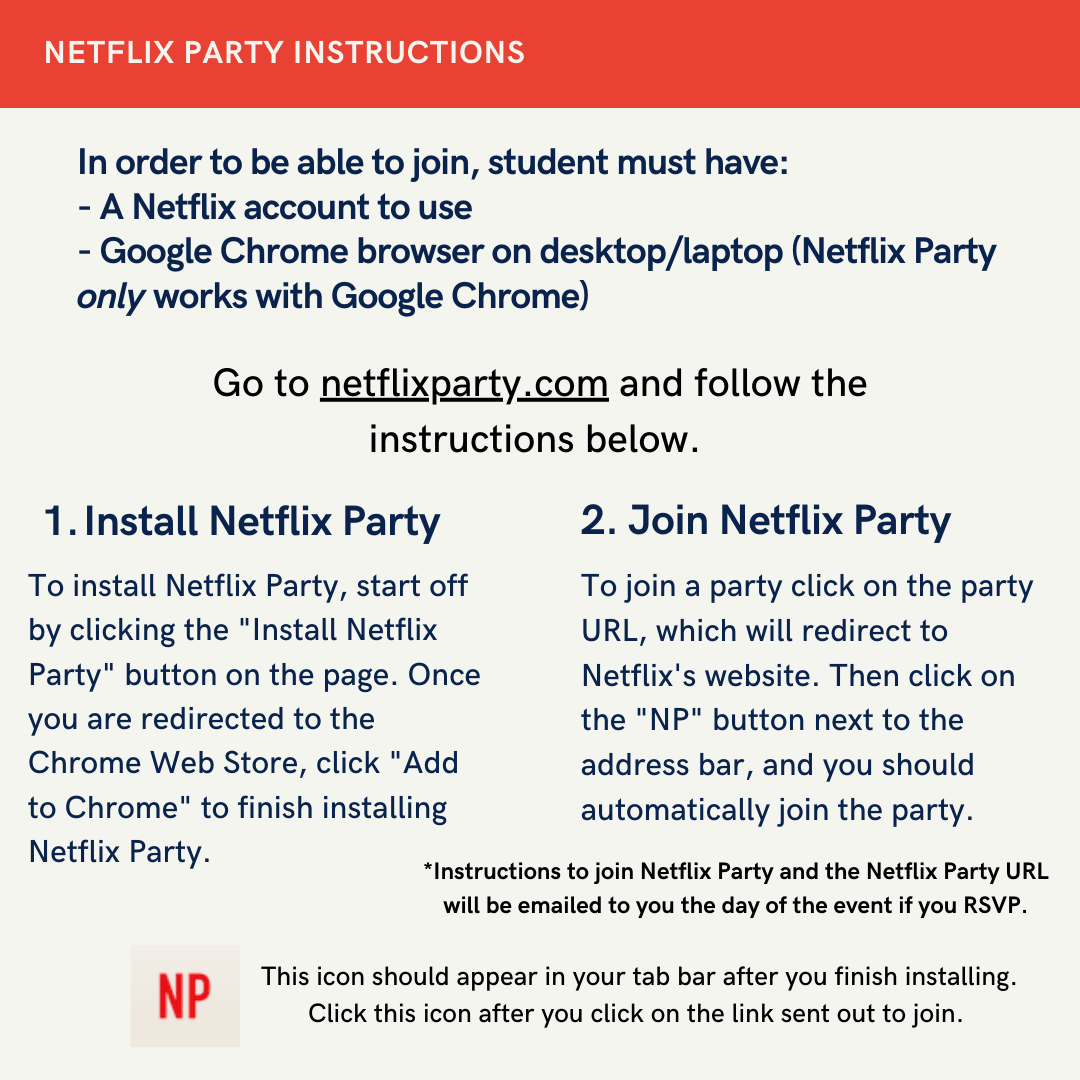 Let's Play: Animal Crossing New Horizons!
Thursday, May 7, 2020 | 6:00-7:30 p.m.
Thursday, May 14, 2020 | 6:00-7:30 p.m.
Destress for finals and join us for Animal Crossing!
Bring your best furniture & catch up with other Project RAISE students. Dodo code shared in the Zoom meeting.
Meeting ID: 971-5206-1453, password: csufacnh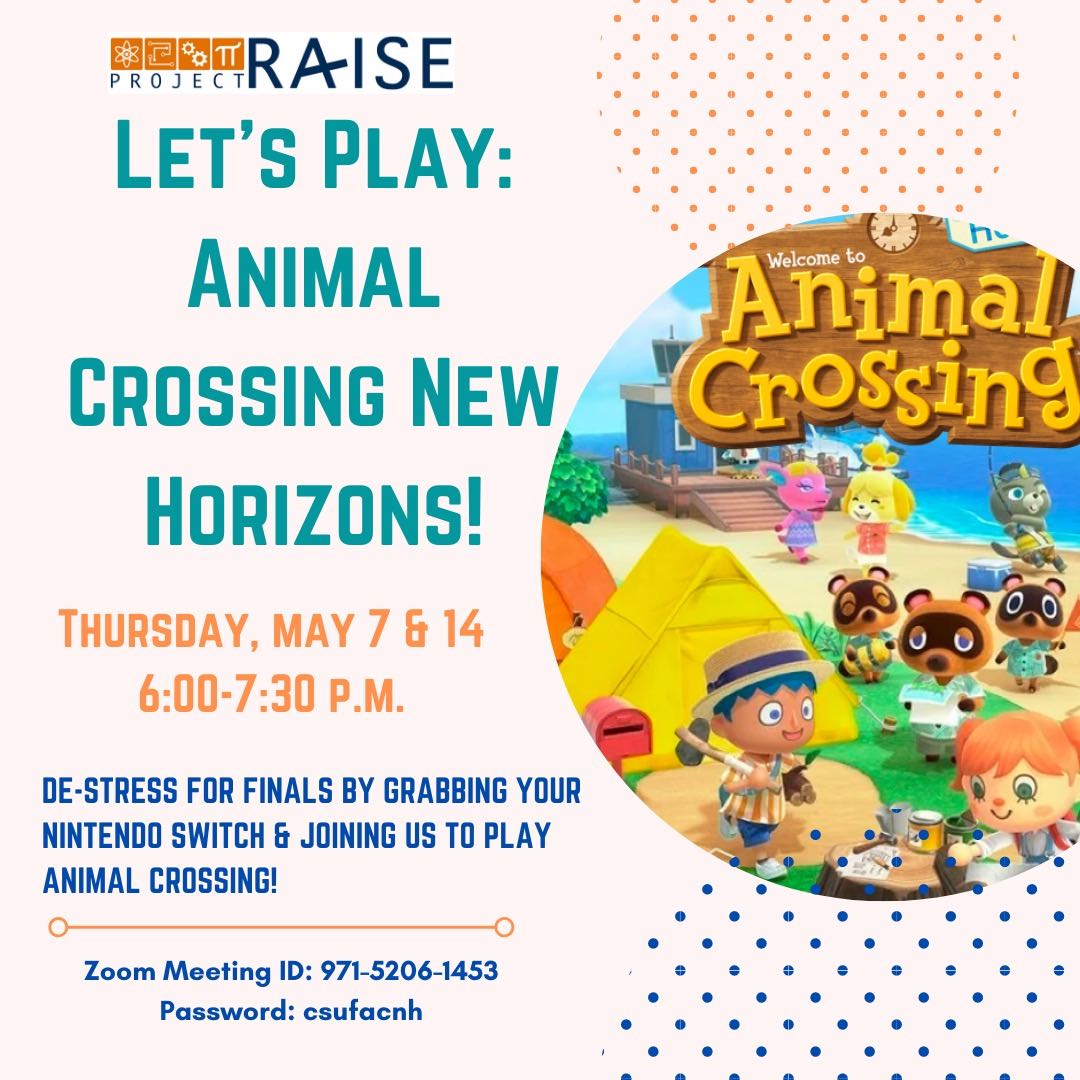 Here is a sample of the types of workshops and activities we typically have:
RAISEwalks
Join us on nature walks or tours of campus facilities, including the Arboretum, rec center, library, and student union. 

Sharpen Your Soft Skills - the skills your employer will be looking for!


Join us in collaboration with Osher Lifelong Learning Institute (OLLI) to improve and learn the importance of soft skills. OLLI mentors will model and teach you the important soft skills needed for workplace success, such as:

 Being a team player; 

Learning flexibility; 

How to effectively communicate; 

Enhance your problem-solving and resourcefulness skills; 

Creative thinking; 

Learn to accept feedback; 

Build your confidence.  

Come meet OLLI mentors, hear from a panel about the hiring process, using soft skills effectively, and how OLLI mentoring helped one of your peers succeed. Lunch will be provided.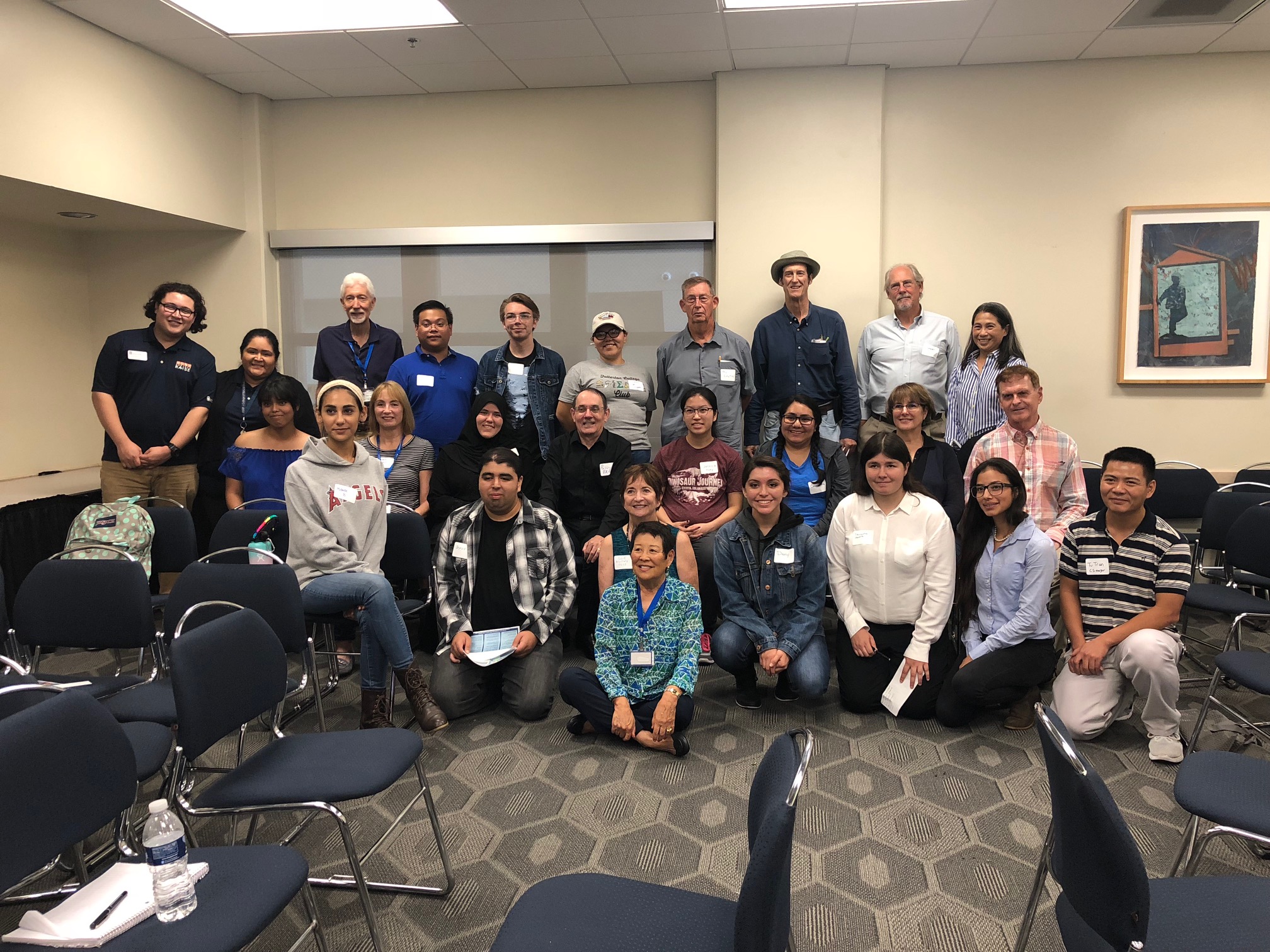 STEM Networking and Social


Join us in collaboration with the NSM and ECS ICCs and student organizations for networking and learning about involvement opportunities on campus.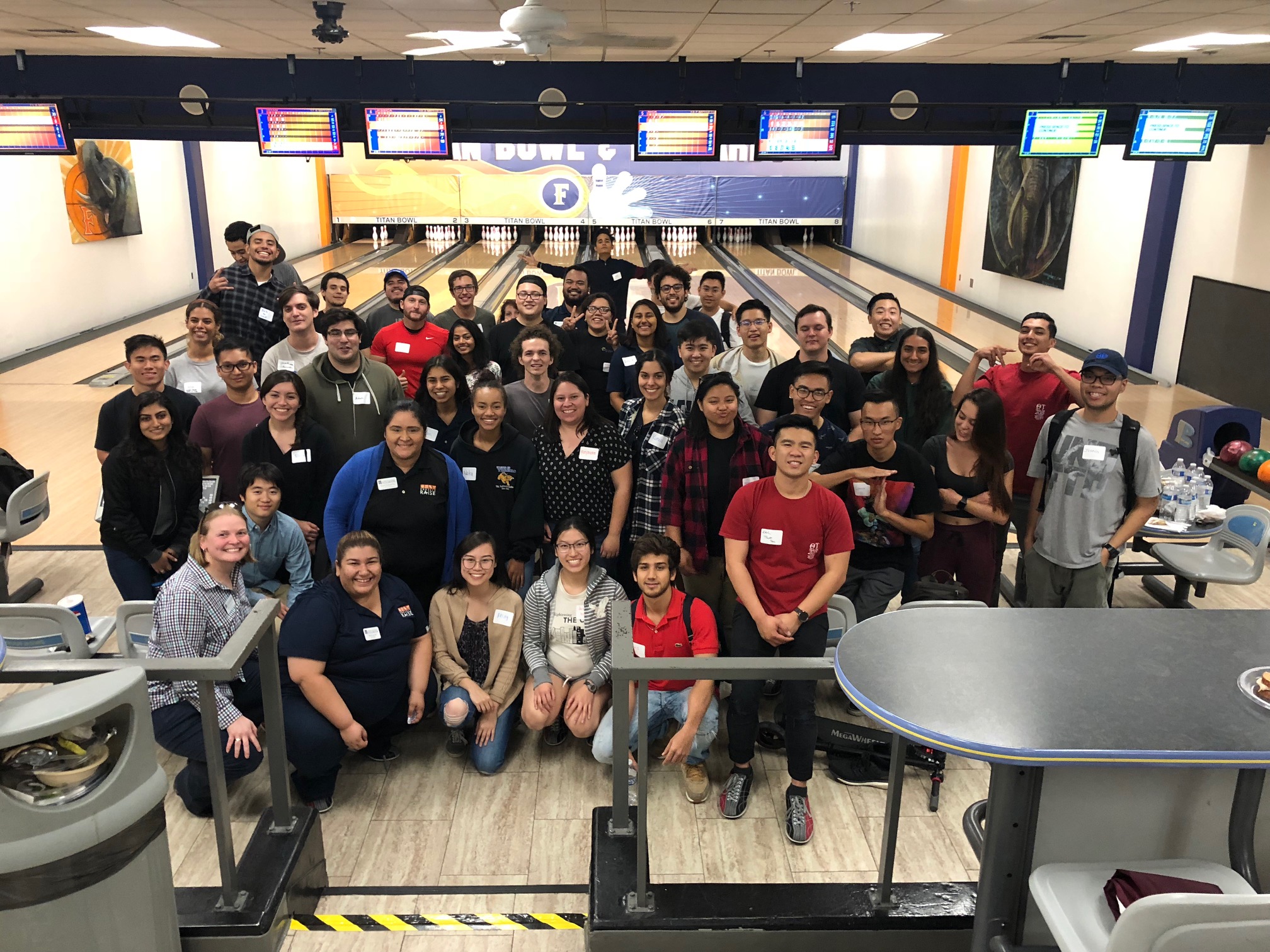 Workshops

Time Management

. This workshop will share important tips and strategies on how to manage your time better. 

Study Skills. 

Gain helpful tips on how to better prepare for your midterms and exams.

Wellness and Stress Relief. Learn how to integrate self-care behaviors into your routine.

CSUF Resources. General and focused sessions to help you maximize support on campus.
End of Semester Event

Connect with other RTP students, participate in stress free activities, and learn important tips to get you through finals.
Other Campus Workshops and Events
ECS Career Fair
Teacher Job Fair
Internship and Career Expo

For more information please visit the Career Center website.