APIDA Heritage Month
The Asian Pacific American Resource Center provides extensive educational programming, social events, and celebrations for the Asian, Pacific Islander, and Desi American (APIDA) communities at California State University, Fullerton during APIDA Heritage Month. We aim to engage the campus community in dialogue and reflection that highlights the excellence, allyship, and advocacy that caters to our community during the month of April.
About APIDA Heritage Month 2021
Dear Ti tans,
This year's theme " Reflecting on  O ur Narratives " is a homage to  our many different identities within the APIDA community and celebration of  our  different  stories,  histories ,   and cultures. We want to highligh t intersectional identities such as our APIDA Trans ,  non-binary , and undocumented   folx, and create our own storytelling visuals  to express our thoughts and feelings about ourselves and the current national climate.  We want to acknowledge our growing pains during this pandemic, the rise of Asian American hate crimes , and speak up to protect our community against ha rassments and violence. We want to provide a listening space for you to debrief and share resources  with one another. Finally, we want to take time for self-care, discuss the importance o f  healing, and  appreciate our resiliency,  resistance , and  perseverance   in  the fight against xenophobia ,  and systemic racism.  W e are stronger together when we take the time to reflect on our collective  experiences and share  our many different narratives .  
Sincerely,
Hathiya Chea,
Coordinator, Asian Pacific American Resource Center
Download the 2021 APDIA Heritage month calendar (pdf)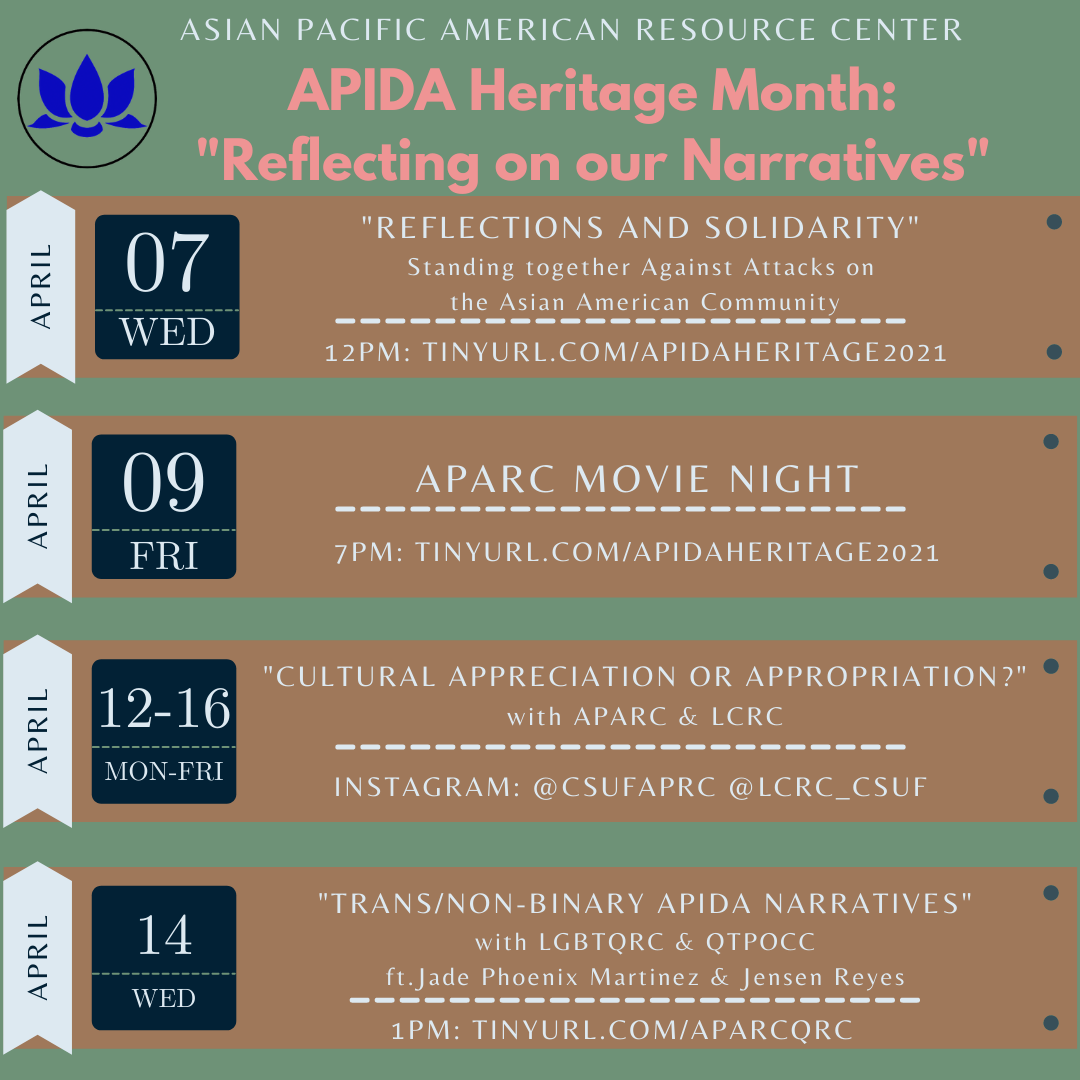 2021 Events at a glance
Event Title (virtual location linked in event title)

Date and Time

"REFLECTIONS AND SOLIDARITY" Standing together Against Attacks
on the Asian American Community
Wednesday, April 7th at 12pm
APARC MOVIE NIGHT
Friday, April 9th at 7pm
"CULTURAL APPRECIATION OR APPROPRIATION?"
on APARC Instagram & LCRC Instagram
Monday April 12th - Friday April 16th 
All week on Instgram 
TITAN TABLE TALK: CIVIC ENGAGEMENT IN APIDA COMMUNITIES
by office of Diversity, Inclusion, and Equity Programs
Wednesday, April 14th at 11:30am - 1pm
"TRANS/NON-BINARY APIDA NARRATIVES"
with LGBTQRC & QTPOCC
featuring Jade Phoenix Martinez & Jensen Reyes
Wednesday, April 14th at 1pm
"HEALING AND RESISTANCE" in APIDA History
with Bayanihankollective
Tuesday, April 20th at 4pm
"BE WATER" film Screening
with ASAM
Thursday, April 22nd at 2pm
"MAKE A BOOK" & create a new chapter in your life
with librarian Jie Tian
Monday, April 26th at 12pm
"UNDOCUAPIDA NARRATIVES PT II"
with TDRC
Wednesday, April 28th at 1pm
Origins of APIDA Heritage Month at csuf
Originating in 1978, the first ten days of May celebrated "Asian-Pacific Heritage Week." Since 1992, the week-long celebration has officially become a month-long celebration. Due to our academic calendar, April marks the beginning of Asian Pacific Islander Desi American (APIDA) Heritage Month at California State University, Fullerton. This month celebrates the cultures, traditions, and rich history of Asian Pacific Islander Desi Americans in the United States.
For more information and other inquiries, please contact the Asian Pacific American Resource Center at 657-278-3742 or via email at APARC@Fullerton.edu.