Adobe Creative Cloud Pro
 Adobe Creative Cloud Pro is a cloud based subscription service utilizing your campus login in conjunction with the Adobe Creative Cloud Pro desktop and mobile apps to install and validate your subscription.
In order to sign up your Adobe Creative Cloud Pro License and Account students must follow the procedures using the links on this page.
 Note: License is valid for one year and must be renewed each year of eligibility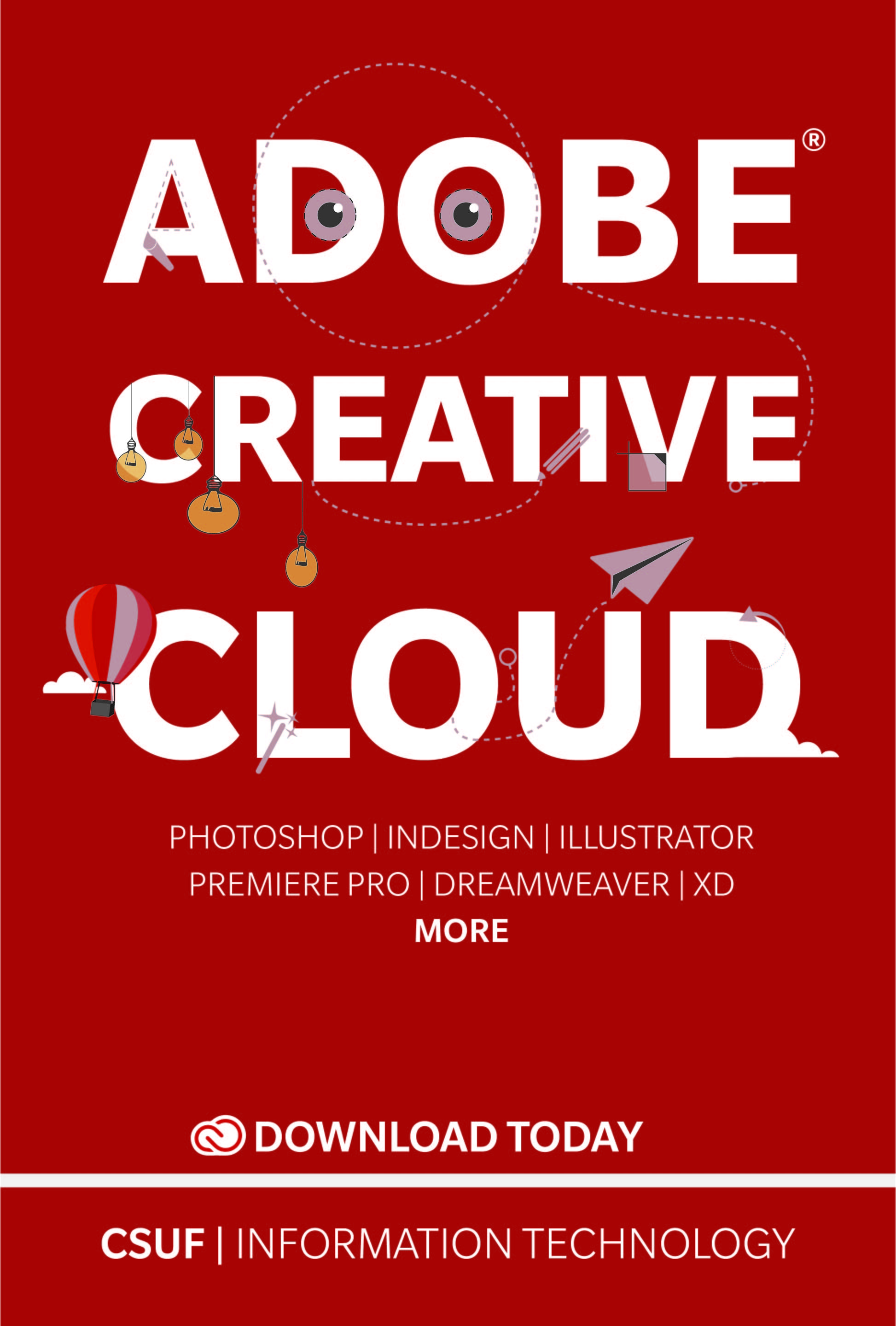 Install Creative Cloud
Step by step instructions on how to get Adobe CC Pro working.
Step One
Sign Up Page

Sign Up Instructions

Step Two
Installing the Adobe Creative Cloud Desktop Application

Software Requirements
Requirements vary per application. Visit  Adobe Help

 for more information
Software Included
Some of the software titles available with the campus license are:
Photoshop
Illustrator
InDesign
Adobe Muse
Dreamweaver
Adobe Stock
Flash Professional
Premiere Pro
After Effects
Adobe Audition
InCopy
For a complete list of all the software titles available with the campus license login to your Adobe Enterprise ID, click on Manage your account and click on View Plan.
Any software title not listed will need to be purchased indvidually from Adobe.
Eligibilty
CSUF students who are currently enrolled and are actively taking classes.
Prerequisites
An internet connection is required to download and authenticate with Adobe Cloud
Up to 12GB of hard drive space if installling all applications
Adobe Product Support
Find helpful tutorials and tips at:
Additional Help
Still have questions? Check out our FAQ on Adobe CC.
Adobe Creative Cloud Mobile Apps
Sketch, draw, paint, create layouts, edit photos, and make videos with Adobe's family of mobile apps. With Adobe CreativeSync, all your apps and assets are connected across your desktop and mobile devices, so you can do great work anywhere.
Mobile Apps