Activating your Adobe Creative Cloud Subscription
All files are installed over an internet connection so download times may vary depending on your speed.  Adobe Creative Cloud is an online subscription service which delivers software through internet downloads.
Please be sure to read these instructions thoroughly before beginning Adobe Creative Cloud installation
Step 1) Get License
You need to enter your CSUF username and password then follow the instructions to order the Creative Cloud software.
Adobe for Students

You will receive an email with a redeem code that acts as your Prepaid Card for software redemption.  Along with that is a URL to the Adobe Creative Cloud (Adobe CC) software download page.
---
 Step 2) Create An Adobe ID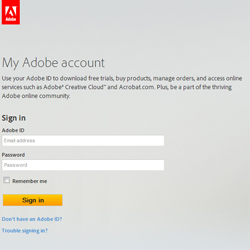 Creative Cloud requires that you check-in with Adobe via the internet. Your Adobe is required to launch your Creative Cloud applications.  If you have an existing Adobe account you do not need to create a new one.
Adobe ID Page

---
 Step 3) Sign In to Creative Cloud and Redeem Voucher
After your account is ready, sign in to the Creative Cloud system (Adobe ID).  You must redeem your code first before downloading & installing the software.
Access Redeem Page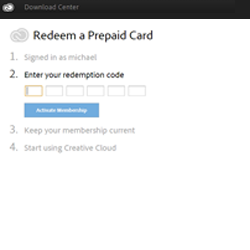 You will have received your confirmation email from step one above which acts like a Prepaid Card and will contain your redemption code.
Enter the code in the boxes provided.  When you are done press the button labeled Authorize Membership.
Please note that this process only needs to be completed once (per redeem code),  subsequent installs on your personal computers (up to two total) simply needs the Adobe Cloud Application and your Adobe ID login to install on additional computers.
---
 Step 4) Accepting Terms and Conditions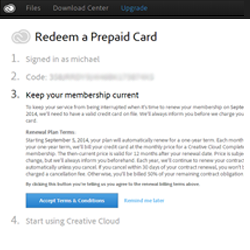 The membership will be processed and linked to your account. Before you can start to download applications you need to accept the terms and conditions from Adobe.
We encourage you to read these and understand the agreement. These terms are from Adobe and can not be altered by CSU Fullerton.
---
 Step 5)  Membership Term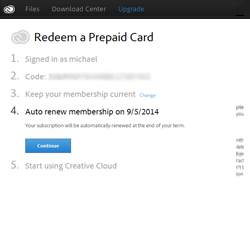 Once you have accepted the terms and conditions Adobe CC will activate your account and show you your renewal date.  The date is renewed a year from the day you activate your account.
If you need to activate your account next year and require a subscription fee you will need to use the same process as you did to first order the software from CSUF.  
Note:  Do not input any credit card information if you are prompted to do so.  Your redeem code is valid for a free one year subscription and does not require any form of payment.
---
Step 6) Finish Activation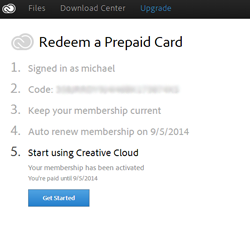 That ends the activation process.
You may now use the "Get Started" button to download the Adobe CC software management tool.  You can then pick and choose which software you want to download onto your computer.
---
Step 7) Download & Install Software