IBM Watson™ Analytics
As an enrolled student at Cal State Fullerton you are eligible to get a free subscription of Watson™ Analytics Student Edition.
Watson Analytics is truly about smart data discovery. It is a cloud-based analytics service that enables a business user to be a "citizen data scientist" and easily find answers within their own data. It automates the process of going from business question to actionable insights and reduces dependence on scarce analytics expertise. The easy-to-use interface combined with natural language interactions and cognitive capabilities guide you through advanced analytics so you can answer questions and discover new insights. A combination of exploration, discovery and visualizations enables you to create clear and compelling stories that lead you to the right conclusions and drive a common, forward-looking view of your business.
To get started, register below for your student license. You will receive an activation email to get into your account. *You must use your campus assigned student email address (@csu.fullerton.edu) to obtain your free license.
Register for Watson Analytics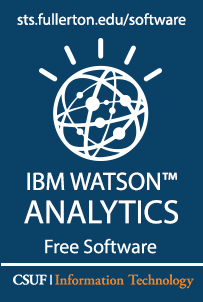 How to Request a Subscription
Click on the registration link above.
Register using your full CSUF student email address.
You will receieve an activation email to access your account.