OneDrive @ Cal State Fullerton
If you do not see OneDrive @ Cal State Fullerton when opening documents:
Use the Log In link below to access your OneDrive account.
If this is your first time using OneDrive, you will see an overview video while it activates your account.
The next screen should be your OneDrive web interface to your files.
You can now create files and folders on your OneDrive @ Cal State Fullerton.  This will be your home page for Office 365 from now on.
LOG IN
Microsoft OneDrive @ Cal State Fullerton is separate from a personal OneDrive account you may already have setup.  Use the Log In links from Cal State Fullerton pages to access your account which will be linked to yourstudent@csu.fullerton.edu email address.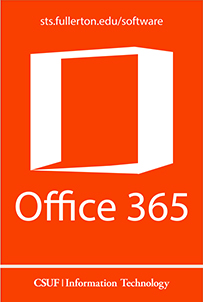 OneDrive @ Cal State Fullerton
This is your storage space for your student Office 365 account.This is equivalent to OneDrive for Business, for more information please click the button below.
ONEDRIVE FOR BUSINESS
Share Your Documents
Collaborate and work in real-time with others.  
SHARING DOCUMENTS
OneDrive Management
Learn about your OneDrive cloud storage.
ONEDRIVE HELP
Frequently Asked Questions
Office 365 is a new way to use Microsoft Office.  If you've got questions, we have some answers.
After You Graduate
Your OneDrive files are not deleted but your access to them will be restricted.  You will need to get your own subscription to OneDrive through Microsoft to continue using this service.