IMPORTANT:
ALL winter and spring 2021 INTERNSHIPS MUST BE VIRTUAL OR REMOTE
STUDENTS: CICE will not be accepting in-person appointments until further notice. Please call (657) 278-3746 or email cice@fullerton.edu with questions.
Partners: Please consult the Recruit Academic Interns page for information on how to offer virtual academic internship opportunities.
ATTENTION WINTER AND SPRING 2021 INTERNS

 

a list of approved vIRTUAL INTERNSHIPS IS NOW AVAILABLE IN

LOG IN AND CLICK THE "COVID-19 VIRTUAL INTERNSHIPS" LINK For a LIST OF APPROVED POSITIONS.

CONSULT YOUR DEPARTMENTS BEFORE APPLYING.
Welcome to CICE
The Center for Internships & Community Engagement (CICE) creates cooperative linkages between higher education, community organizations and professional offices and strives to create high quality, community-based experiences that benefit students, partner sites, and communities. We are committed to fulfilling the mission of the University to create "...experiences in and out of the classroom, [so that] students develop the habit of intellectual inquiry, prepare for challenging professions, strengthen relationships to their communities and contribute productively to society."
Community engagement through academic internships and service-learning is a high impact practice that prepares students for participation in a global society, broadens their educational experiences, facilitates lifelong habits of intellectual inquiry, and prepares them for successful careers.
CICE develops reciprocal partnerships with community organizations, public agencies, and industry that offer opportunities for students to learn through service and/or work experiences relevant to their studies. We facilitate and support the work of faculty in engaged teaching, learning and scholarship. We support the University through coordination of community engagement resources and procedures.
We invite you to browse this site's pages for students, faculty, and partners, and to read more about our successes.
CICE Vision
California State University, Fullerton prepares our diverse student body for academic and professional success. The Center for Internships & Community Engagement provides the infrastructure to ensure that up to one-third of all students each year participate in high impact practices that link degree, career and community through quality academic internships, service-learning courses, and community engagement programs.
CICE Mission
The Center for Internships & Community Engagement supports student learning that both inspires and transforms our students and the community, through academic internships, service-learning courses and community engagement programs offered locally, nationally, and internationally.
CICE Objectives
Build CSUF-wide capacity to advance community engagement.
Raise awareness and visibility for the importance of community engagement and its connection to CSUF strategic plan and goals.
Mobilize partnerships to fuel and expand community engagement.
Strengthen the capacity of the Center for community engagement.
Service-learning efforts at Cal State Fullerton are supported in part by the CSU Chancellor's Office Call to Service Initiative.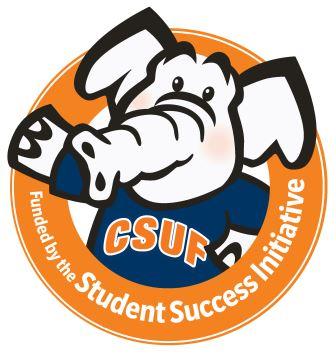 Student Success Initiative funds support CICE's efforts to increase the number of opportunities for students to participate in service-learning and academic internships.