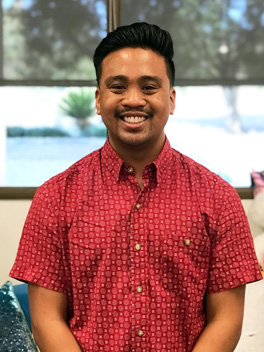 Chris Datiles, Coordinator
Pronouns: he/him/his
Email: chrisdatiles@fullerton.edu
Born in Honolulu, Hawaii and raised in the small city of American Canyon, CA, Chris received his B.A. in Ethnic Studies at UC San Diego where he was involved in the establishment of the campus' student-run recruitment and retention center.  Chris also received his M.S. in Multicultural Community Counseling from San Diego State University where he provided therapeutic services in City Heights and El Cajon.  Chris believes in the power of centering self-awareness, community care, and healing in students' identity development.  With over 6 years of experience working in campus cultural centers and LGBTQ centers, he looks forward to continue supporting students of color, LGBTQ students, and queer and trans students of color here  at Cal State Fullerton.
Albert Xiong, Graduate Student Assistant
Pronouns: he/him/his
Email: lgbtq-gsa@fullerton.edu
Albert is a second-year masters student studying counseling to become a marriage and family therapist, and received a BA in Psychology and Social Behavior from UC Irvine. He identifies as a gay, cisgender Chinese American. He serves as the LGBTQ Resource Center's graduate student assistant and is excited to interact with and serve the diverse student body. As a Chinese American, Albert is especially interested in the intersection between gay and Asian identities, especially in the socialization of gay Asian men. Feel free to drop by the center and give Albert a hello!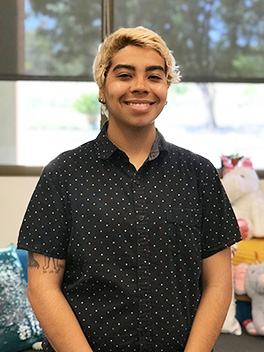 Ad, Communications & Graphic Design Lead
Pronouns: he/him/his
Email: lgbtq-comms@fullerton.edu
Ad is a fifth-year student pursuing a Bachelors in Entertainment Art & Animation. Identifying as a Latino trans man, Ad hopes to lessen the stigma of the queer community by being involved in a variety of Student Orgs and Clubs around campus. He hopes to develop content with an intersectional framework to provide adequate access to resources, build bridges between communities, and celebrate our pride.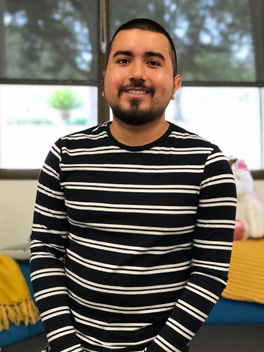 Isaiah, Community Engagement Lead
Pronouns: he/him/his
Email:  lgbtq-ce@fullerton.edu
Isaiah is a fourth year student at Cal State Fullerton pursuing a career in human services. He has worked at the LGBTQRC for one year and has been very grateful to connect to DIRC and expand his knowledge. In addition to working for DIRC, Isaiah has done work serving Latinx families and youth in Fullerton as a tutor for k through 12 youth. Isaiah is also very passionate about singing, having been involved in musical groups on campus, and he hopes to make his own music in the future.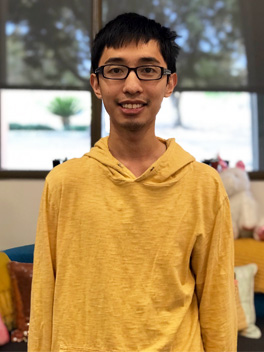 Matt, Community Success Lead
Pronouns: he/him/his
Email:  lgbtq-cs@fullerton.edu
Matt is a transfer student pursuing a Bachelors of Science in Computer Science and a minor in Art History. He places a lot of emphasis on equality and creating a safe work environment for LGBTQ people in a field that is primarily straight, white, and male. Alongside working with the LGBTQ center, he has created an internship to reach historically underrepresented minorities in computer science. He also works as an engineer and writer for an indie-game studio. As the community success lead, he strives to focus on providing students with resources to achieve academic goals and mental health resources.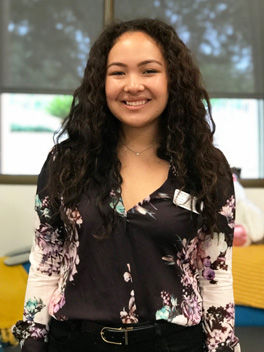 Patricia, Identity Development Programming Lead
Pronouns: she/her/hers
Email:  lgbtq-ip@fullerton.edu
Patricia is a second-year student pursuing a double-major in Comparative Literature and American Studies.  She identifies as a lesbian Filipino-American and is passionate about literature and media and its influence in identity awareness.  As a student lead, she hopes to initiate and expand dialogue regarding the depth of intersectionality and its effect on the culture of the LGBTQ community. In doing so, Patricia aims to cultivate spaces for LGBTQ individuals to safely explore the complexities of their identity within an encouraging, supportive environment.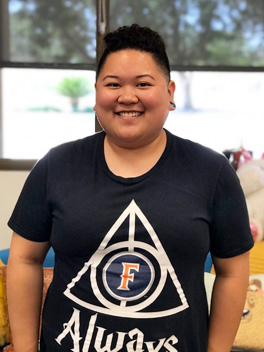 Bleu, Social Justice Educator Lead
Pronouns: she/her/hers and they/them/theirs
Email: lgbtq-sje@fullerton.edu
Bleu is a transfer student from Cypress College and is pursuing a Bachelor's in Sociology with a concentration in Social Inequalities, as well as double-majoring in American Studies. They are also a part of the Queer/Transgender People of Color Collective on campus and the National Undergraduate Fellowship Program cohort at CSUF. Identifying as a Queer, Pilipinx, person of color, Bleu is overwhelmingly excited to share their narrative, student life experience, and build community with folx in the LGBT Queer Resource Center. As the Social Justice Educator, they intend to create space for the community by cultivating programs for those seeking to learn and advocate for the LGBTQIA communities. Their goal is to break down dominant ideologies that prevent our students from seeing beyond the confines so that they can say, "I am my true, resilient self, authentically and unapologetically."