National Coming Out Day 2018
Thursday, October 11, 2018
---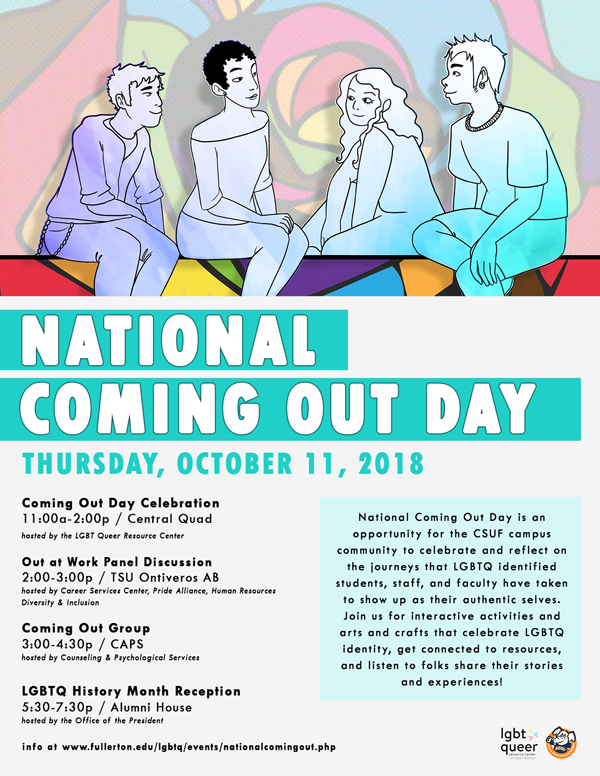 About
National Coming Out Day is an opportunity for the CSUF campus community to celebrate and reflect on the journeys that LGBTQ identified students, staff, and faculty have taken to show up as their authentic selves.
Join us for interactive activities that celebrate LGBTQ identity, conversations about coming in and coming out, get connected to resources, and listen to folks hare their stories and experiences!


Coming Out Day Celebration
11:00a-2:00p  -  Central Quad
hosted by the LGBT Queer Resource Center
Join us in the Central Quad to celebrate LGBTQ identity, get resources on coming in and coming out, and share your story if you'd like to!


Out at Work Panel Discussion
2:00-3:00p - TSU Ontiveros AB
hosted by Career Services Center, Pride Alliance, HRDI
Have you wondered what it's like to identify as LGBTQ and navigate the workplace?  Hear faculty and staff share their narratives and how you can navigate being out at work!


Coming Out Group
3:00-4:30p  -  CAPS
Need a space to process what it's been like to explore your identity?  Are you questioning your sexual orientation or gender identity?  Have you thought about coming out to friends or family?  Join CAPS in the Coming Out Group!


LGBTQ History Month Reception
5:30-7:30p  -  Alumni House
Hosted by the Office of the President
Celebrate LGBTQ identity and honor coming out stories with community and food!


Questions/Info: lgbtq@fullerton.edu